Hyperdrive 3.0, By ALRI, 90 Caps
Special Price
$29.95
Regular Price
$38.97
Hyperdrive 3.0 Benefits and Results:
Increased Metabolism †
Improved Energy & Focus †
Appetite Management †
Targets Visceral Fat Loss†
Frequently Bought Together
Details
Hyperdrive 3.0 By ALRI - 90 Caps - Weight Loss Support
Hyperdrive 3.0+ is a synergistic blend of potent herbal derivatives specifically selected to yield the most potent daytime weight loss formula available. Hyperdrive 3.0+ is specifically formulated for healthy adults seeking the most aggressive formulation for weight loss. This product is not intended for minors or recreational dieters. Instead, Hyperdrive 3.0+ is designed for responsible adults seeking dramatic results from the most efficacious combination of ingredients. Combined with proper diet and exercise, this advanced formula is sure not to disappoint!
HOW DOES HYPERDRIVE 3.0+ WORK?
Hyperdrive 3.0+ is a collection of today's truly effective energy boosters and nootropics! The correct synergy and ratios of the ingredients make HYPERDRIVE 3.0+ your obvious choice when it comes to intense, focused, undeniable energy.
So, whether you are looking for a supplement that delivers the best workouts of your life or you are just looking for a great clean energy burst during the day, HYPERDRIVE 3.0+ is for you. If you really want to make the most out of your workouts or find yourself needing a no-crash burst of mid-day energy, HYPERDRIVE 3.0+ is an absolute must have supplement!
Formulated for quick release intense energy! Hyperdrive 3.0+…Shift Your Weight Loss into Hyperdrive!
What's In ALRI Hyperdrive 3.0?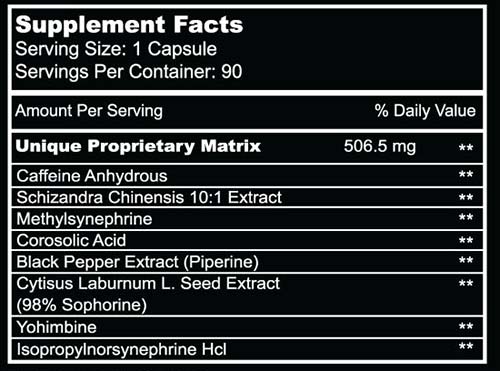 How to Take ALRI Hyperdrive 3.0:
As a dietary supplement, take 1 capsule of Hyperdrive 3.0 in the morning with food and 8 ounces of water. May cause sleeplessness. Do not take more than 2 capsules of Hyperdrive 3.0 in a 24-hour period. Store in a cool, dry place away from moisture and sunlight. Always keep tightly sealed.
Warnings:
NOT FOR USE BY INDIVIDUALS UNDER THE AGE OF 21 YEARS. DO NOT USE IF PREGNANT OR NURSING. KEEP OUT OF REACH OF CHILDREN. Consult a physician before using this product if you have or your family has a history of hypertension, heart, liver, kidney, or thyroid disease, diabetes, asthma, headaches, nervousness, anxiety, Parkinson's disease, glaucoma, difficult urinating, prostate enlargement, seizures, depression, psychiatric disease, or any other medical condition. Do not use this product if you are using a monoamine oxidase inhibitor (MAOI) or any other dietary supplement, prescription drug or any over-the-counter drug containing ephedrine, pseudoephedrine or phenylpropanolamine (ingredients found in certain allergy asthma, cough or cold and weight control products). Do not exceed recommended serving. Discontinue use and call a physician or licensed qualified health care professional immediately if you experience rapid heartbeat, dizziness, severe headache, shortness of breath or other similar symptoms. Individuals who consume caffeine with this product or who are sensitive to caffeine may experience serious adverse health effects. Improper use of this product may be hazardous to a person's health. Do not use during strenuous activity in high temperature conditions (greater than 8- degrees F). Drink at least 2 liters of water daily when using this product. This product may contain substance(s) which are banned by various sports organizations.
WARNING: this product can raise your blood pressure and interfere with other drugs you may be taking. Talk to your doctor about this product.
PLEASE NOTE: Product image is representative of the product offered but may not have the exact attributes. Please read product description for the specific attributes of this product.
PLEASE NOTE: The information above is intended for reference only. While we attempt to keep our information accurate, we cannot guarantee it is an accurate representation of the latest formulation of the product. If you have any concerns, please visit the vendor's web site. The information above are the views of the product's manufacturer, not the views of Same Day Supplements. These statements have not been evaluated by the Food and Drug Administration. This product is not intended to diagnose, treat, cure or prevent any disease.
*Prices are subject to change at any time and some items are limited to stock on hand.
More Information
More Information

| | |
| --- | --- |
| SKU | ALR-0001 |
| Weight | 0.2400 |
| Manufacturer | ALRI |
| UPC | 094922534743 |
Questions (0)