Chain'd Out - ALRI - BCAA
SKU
ALRI-CHAIN'D-OUT-POWDER
Benefits and Results:
Bioavailability and Utilization up to 200-300% Over Standard BCAAs †
Potent Anti-Catabolic and Anti-Cortisol Effects †
Enhanced Oxygenation and Nutrient Utilization †
Vegan Friendly & Gluten Free †
Frequently Bought Together
ALRI Chain'd Out - Amino Acids
What Is Chain'd Out?
ALRI Chain'd Out is a BCAA supplement with a 2:1:1 ratio of Leucine, Isoleucine, and Valine. Most BCAA supplements readily convert to sugar. But Chain'd Out was formulated to increase absorption by 47-60%. †
This means that more BCAA's go towards building lean muscle mass, increasing energy levels, improving recovery, extending workouts, and improving mental focus. †
How Does It Work?
Chain'd Out's Alpha-Hydroxy ester-protected BCAA's greatly avoids the normal BCAA conversion to blood sugar… called "gluconeogenesis" — even when dieting or during cardio. †
Chain'd Out contains structurally unique non-hormonal plant origin Branched Chain Amino Acids (BCAAs) Leucine, Valine and Isoleucine, which are derived from the assimilation of proteins. †
In addition, ALRI's Alpha-Hydroxy technology supports a much longer half-life of the all-important nutrients found in Chain'd Out's BCAAs (resulting in more lean muscle & better recovery times).
 By avoiding the normal conversion of BCAAs to glucose, your body gets 47-60% more of Chain'd Out BCAAs when compared to regular BCAAs. More muscle, quicker recovery. Use less, get more! †
Ingredients:
BCAA Malfactor 211 Matrix: 7000 mg †
LeuMal (Leucine Malate), IsoMal (Isoleucine Malate), ValMal (Valine Malate)
PerformActiv Proprietary Matrix Blend: 1800 mg †
Alanine, L-Theanine, CordyActiv (Dong Chong Xia Cao), RhoActiv (Rhodiola Rosea Extract), AppleActiv (Apple Peel Extract)
What Can I Expect?
Increased Lean Muscle Mass †
Optimal Vasodilation †
Enhanced Energy †
Reduced Fatigue †
Improved Focus †
Improved Mood †
Enhanced Stamina †
Accelerated Recovery †
Anabolic Activity †
Enhanced Endurance †
Protein Synthesis †
Enhanced Exercise Performance †
Who Should Take It / Who Shouldn't Take It?
This product is intended for active healthy adults who are looking for a supplement to help preserve lean muscle mass, recovery and induce anabolic activity.
Featured Customer Reviews:
Great BCAAs by Bruno
If you're still on the fence about using a BCAA supplement then you NEED this one. It's non-hormonal so it doesn't screw with your system or anything. It just provides good, clean physical energy and recovery. Highly recommended.
Excellent BCAA Supplement by Thiago
Innovative supplement with BCAA malate, increases stamina and strength. Also contains good antioxidants. Great product
FAQ:
Are there any stimulants in this product?
No, Chain'd Out is completely stim free.
How do BCAAs help build muscle?
BCAAs activate key enzymes and genetic factors in protein synthesis before, during and after physical exercise. BCAAs, specifically Leucine, have potent anabolic effects on protein metabolism by increasing the rate of protein synthesis in lean tissue and decreasing the rate of protein degradation in resting human muscle. †
When is the best time to take this product?
Chain'd Out can be enjoyed at any time. However, the most important times would be pre & intra work out and especially during cardio, to help with hydration, stamina, nutrient utilization, energy levels, and to help speed recovery.
Can I take Chain'd Out with HumaPro?
These products will work synergistically to support healthy lean muscle tissue and through nutrient repartitioning, avoid gluconeogenesis (conversion of amino acids to sugar) & help maintain healthy blood glucose levels. †
Similar Products:  
How Do I Take Chain'd Out?
Dosage and Directions:
As a dietary supplement, mix one (1) level scoop (10 grams) in 12 ounces of water and shake well, 1-3 times daily (Depending on bodyweight, consume the following servings before and during your workout).
Persons up to 150lbs: 1 Scoop before and during workouts
Persons 150-200lbs: 2 scoops before and during workouts
Persons 200lbs or more: 3 scoops before and during workouts
On Your Off Days: Take it between meals.
What's In ALRI Chain'd Out BCAA?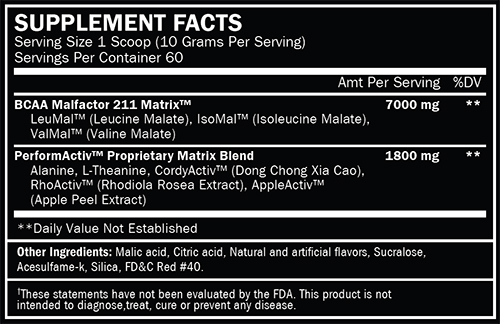 Warnings and Side Effects:
This product can affect different people differently but some reported side effects are as follows:
Anxiety
Rapid Heart Rate
Restlessness
Depression
NOT FOR USE BY INDIVIDUALS UNDER THE AGE OF 21. DO NOT USE IF PREGNANT OR NURSING. This product is intended for use by healthy individuals only. Do not use if you have a medical condition or are taking any prescription medication. Consult a physician prior to using this product if you have any pre-existing medical condition including diabetes or hypoglycemia or if you take any glucose-lowering agents or other drugs or supplements that affect blood sugar. Do not exceed recommended dosage.
Disclaimer:
PLEASE NOTE: Product images represent the product offered but may not contain exact attributes. Please read the product description for the specific attributes of this product.
†PLEASE NOTE: The intention of the information above is for reference only. It is our goal to maintain and display accurate information. Yet, we can't guarantee it represents the latest formulation of the product. If you have any concerns, please visit the manufacturer's website. The information above is not a representation of our views at Same Day Supplements. These are the views and information provided by the product's manufacturer. The Food and Drug Administration has not evaluated these statements. The intention of this product is not to diagnose, treat, cure or prevent any disease or illness.
*Prices are subject to change at any time and items may limit to stock on hand.
References:
In-stock orders placed before 3pm EST ship out the same day.
We offer many shipping options to countries like:
Brazil
United Kingdom
Canada
Germany
Australia
Japan
India
France
Israel
Worldwide
More Information

| | |
| --- | --- |
| SKU | ALRI-CHAIN'D-OUT-POWDER |
| Manufacturer | ALRI |
Customer Reviews
Yes

Good

excellent bcaa supplement

innovative supplement. with BCAA malate, increases stamina and strength. also contains good antioxidants. great product

Great BCAAs

If you're still on the fence about using a BCAA supplement then you NEED this one. It's non-hormonal so it doesn't screw with your system or anything. It just provides good, clean physical energy and recovery. Highly recommended.