Chain'd Out By ALRI, BCAA
SKU
ALRI-CHAIN'D-OUT-POWDER
Chain'd Out Benefits and Results:
Optimal Vasodilation †
Enhanced Energy, Focus, Mood, and Stamina †
Bioavailability and Utilization up to 200-300% Over Standard BCAAs †
Potent Anti-Catabolic and Anti-Cortisol Effects †
Enhanced Oxygenation and Nutrient Utilization †
Increased Lean Muscle Mass †
Vegan Friendly & Gluten Free †
ALRI Chain'd Out - Amino Acids
Let's set the record straight. What sets ALRI Chain'd Out apart from other BCAA products on the market is exactly this: ALRI Chain'd Out BCAA's Alpha-Hydroxy ester-protected BCAA's greatly avoid the normal BCAA conversion to blood sugar…it's called "gluconeogenesis" — even when dieting or during cardio.
In addition, ALRI's Alpha-Hydroxy technology supports a much longer half-life of the all-important nutrients found in ALRI Chain'd Out's BCAAs (resulting in more lean muscle & better recovery times). By avoiding the normal conversion of BCAAs to glucose your body gets 47-60% more of ALRI Chain'd Out BCAA when compared to regular BCAAs. Translation: More muscle, quicker recovery. Use less, get more!
So, does ALRI Chain'd Out BCAA convert to sugar? We know the Alpha-Hydroxy ester-protected BCAA's greatly avoids this conversation, as proven in this CLINICAL STUDY comparing ALRI Chain'd Out BCAA to another leading BCAA brand; however we want YOU to make that decision. Don't trust marketing, trust yourself. Take a blood glucose test before and after like in the study and see for yourself how ALRI Chain'd Out BCAA will positively affect your blood glucose!
Chain'd Out – Performance Enhancement with Branch Chain Amino Acids:
The true value of BCAAs is well established both in literature and in real world application. Never being satisfied with simply good or even just excellent, ALR Industries has taken BCAAs to the ultimate level for mind-blowing effects. Author L. Rea decided to turn the power way up on "anabolic drive" with ALRI Chain'd Out.
ALRI Chain'd Out utilizes Alpha-Hydroxy Technology to increase systemic bioavailability and lean tissue utilization by 47-60% thus making ALR's precise formula more rapidly-effective with a smaller dosage when compared to "standard" products in the marketplace.
Even more important is that the Alpha-Hydroxy ester-protected BCAA's greatly avoid gluconeogenesis (the breakdown to glucose for regular caloric utilization or fat storage) even when dieting, or during periods of stress (cardio, etc.). Add to this ALRI Chain'd Out's technology that increases the half-life of these all-important nutrients resulting in more muscle and faster recovery. If you paid for BCAAs, why are you getting 47-60% sugar?
ALRI Chain'd Out contains structurally unique non-hormonal plant origin Branched Chain Amino Acids (BCAAs) Leucine, Valene and Isoleucine, which are derived from the assimilation of proteins. BCAAs activate key enzymes and genetic factors in protein synthesis before, during and after physical exercise. BCAAs, specifically Leucine, have potent anabolic effects on protein metabolism by increasing the rate of protein synthesis in lean tissue and decreasing the rate of protein degradation in resting human muscle. Some "protected" BCAA structures just do it far better than others.
The scientifically-engineered formula within ALRI Chain'd Out is reinforced with the addition of potent anti-catabolic agents, anabolic co-factors and contains significant mood enhancing, plus energizing ingredients to support:
An incredible synergistic boost to the pro-anabolic drive
Focused energy and mood elevation (without any jitters or negative stimulant qualities)
Improved strength, endurance, stamina and recovery
Optimized vasodilation and nutrient utilization
Enhanced oxygenation and fights stress, fatigue as well as other counterproductive body processes
ALR Industries has taken the science of adaptogens well beyond anything seen before. ALRI Chain'd Out is clearly the most comprehensive and dominating BCAA formula on the market. You can actually see and feel the ALR difference from the first time you include ALRI Chain'd Out in your day's performance needs.
California Residents Prop 65 WARNING:
This product contains a substance known to the State of California to cause birth defects or other reproductive harm.
What's In ALRI Chain'd Out BCAA?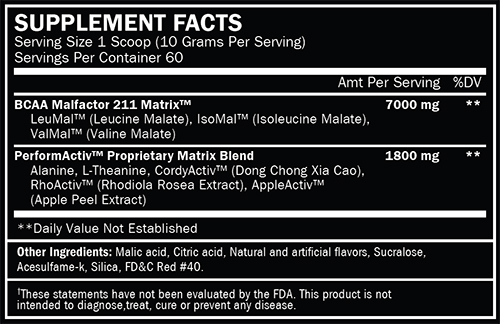 How to Take ALRI Chain'd Out BCAA:
As a dietary supplement, mix one (1) level scoop of ALRI Chain'd Out BCAA (10 grams) in 12 ounces of water and shake well, 1-3 times daily (Depending on bodyweight, consume the following servings before and during your workout).
Warnings:
NOT FOR USE BY INDIVIDUALS UNDER THE AGE OF 21. DO NOT USE IF PREGNANT OR NURSING. This product is intended for use by healthy individuals only. Do not use if you have a medical condition or are taking any prescription medication. Consult a physician prior to using this product if you have any pre-existing medical condition including diabetes or hypoglycemia or if you take any glucose-lowering agents or other drugs or supplements that affect blood sugar. Do not exceed recommended dosage.
PLEASE NOTE: Product image is representative of the product offered but may not have the exact attributes. Please read product description for the specific attributes of this product.
PLEASE NOTE: The information above is intended for reference only. While we attempt to keep our information accurate, we cannot guarantee it is an accurate representation of the latest formulation of the product. If you have any concerns, please visit the vendor's web site. The information above are the views of the product's manufacturer, not the views of Same Day Supplements. These statements have not been evaluated by the Food and Drug Administration. This product is not intended to diagnose, treat, cure or prevent any disease.
*Prices are subject to change at any time and some items are limited to stock on hand.
In-stock orders placed before 3pm EST ship out the same day.
We offer many shipping options to countries like:
Brazil
United Kingdom
Canada
Germany
Australia
Japan
India
France
Israel
Worldwide
More Information

| | |
| --- | --- |
| SKU | ALRI-CHAIN'D-OUT-POWDER |
| Manufacturer | ALRI |
Customer Reviews
Yes

Good

excellent bcaa supplement

innovative supplement. with BCAA malate, increases stamina and strength. also contains good antioxidants. great product

Great BCAAs

If you're still on the fence about using a BCAA supplement then you NEED this one. It's non-hormonal so it doesn't screw with your system or anything. It just provides good, clean physical energy and recovery. Highly recommended.