HumaPro Benefits and Results:
99:1 Positive Nitrogen Utilization To Waste Ratio (NNU-NPU) †
501% Greater Lean Mass Gain Than Whey Protein †
250% Greater Fat Loss Than Whey Protein †
Over 300% More Efficient Than Fish, Beef Or Other Meats †
Positive Nutrient Re-partitioning; Starve The Fat †
100% Pre Digested, No GI Discomfort, No Bloating †
Details
HumaPro By ALRI - Powder - Amino Acids
No Other Protein Compares to ALRI HumaPro:
ALRI introduces the revolutionary BCAA and Amino Acid, HumaPro. HumaPro is the product (protein, amino acid, BCAA) on the market that equal to nearly 6 grams of a whey protein isolate. Essentially it promotes a shorter recovery time, therefore allowing you to get back to training faster. Being that it is a time released formula, you're going to be receiving the benefits for up to 12 hours. In this anti-catabolic state, your muscle are being repaired instead of being broken down.
Economical: Costs less per serving than other proteins
Super Concentrated: *1 serving of ALRI HumaPro = a Whole Food Protein Equivalent of 25g averaged, with only 0.02 calories per serving
- 1 serving of HumaPro: 0.02 Calories, *25g Protein, 0g Carbs & 0g Fats.
- 4 oz. of Chicken Breast: 130 Calories, 24.20g Protein, 0g Carbs & 23.95g Fats.
- 5 oz. Lean Beef: 361 Calories, 24.38g Protein, 0g Carbs & 28.40g Fats.
By replacing the meat in just 2 meals per day, you can save about 500 calories! ALRI HumaPro is also Vegan Friendly, and contains NO: Gluten, Soy, Sugar, Lactose or Heavy Metals.
ALRI HumaPro – Bioavailability and Bio-utility of Essential Protein:
It has been said that whey protein is 100% bioavailable and is therefore 100% absorbed into the body. Bioavailability is how much of what you are ingesting is absorbed by the body yet it says nothing to how much is actually "utilized" by the body. The statements are correct about the 100% bioavailability yet the problem with this statement, and to your detriment, is that it is absorbed, processed through the kidneys and then expelled as bodily waste. Unlike whey protein supplements, ALRI HumaPro is designed to be fully absorbed and utilized by the human body. How can ALRI HumaPro do this and other proteins cannot?
Fundamentally, outside of taste, there isn't much difference between the whey protein supplements that are on the market. The reason is the "ratios" of Essential Amino Acids are still going to be the same in all the variations of whey protein. The problem with this is the ratios are not formulated specifically for the human body, but rather that of a cow.
ALRI HumaPro is formulated with all of the essential amino acids in the exact ratio and sequenced delivery for what the human body requires to fully utilize them. Furthermore, the unique delivery system of ALRI HumaPro is designed to have all of the essential Amino Acids arrive at the muscle tissue, at the same time. With other proteins they not only are in the incorrect ratios, but they also arrive at different times. This is something to think about when you see other products on the market that may seem to copy ALRI HumaPro. Years of science has been put into the unique delivery system behind ALRI HumaPro and the exact amino sequence. Don't fall for a copy-cat product – make sure you are using the original!
Understanding the Numbers Game.

Reduce Your Intake. Increase the Benefits.
One gram of protein = 4 calories. One gram of ALRI HumaPro = 0.004 calories. One serving of ALRI HumaPro = 0.02 calories.
A Net Nitrogen Utilization study has determined the percentage of Anabolized Amino Acids (UAA), also known as Net Nitrogen Utilization (NNU) and of Catabolized Amino Acids (UCA) in ALRI HumaPro provides a 99:1 NNU:UCA ratio so caloric value, based upon a clinical study, is believed to be 0.004 calories per gram, thus 0.02 calories per 5 gm serving.
The prescribing conversion ratio for ALRI HumaPro to averaged whole food proteins (WFP…like meat, fish, poultry, whey and soy proteins etc.) is:
1g ALRI HumaPro = 5g WFP
A 5g ALRI HumaPro serving (1 scoop/5 tabs) therefore = Whole Protein Equivalent of 25g averaged, at less than 1 calorie (0.02 to be exact)!
Why? Because ALRI HumaPro is nearly fully utilized as protein should be (as the source for a positive nitrogen balance resulting in greater protein synthesis rather than as raw materials the body makes into glucose). It quickly reaches lean tissue to be used at the cellular level, without interruption for digestive processes.
How? Say you are currently having 4 scoops of a whey protein supplement per day and each scoop has 25g of whey protein in it. That would be 100g of whey protein or 400-600 calories (depending on brand, flavor, etc.). To match this you would need just 4 scoops of ALRI HumaPro (the equivalent of 100g whole protein). At just 0.02 calories per serving, the 4 scoops of ALRI HumaPro would yield less than ONE calorie.
That is a difference of up to approximately 599 calories. Putting yourself in a 599 calorie deficit, all the while getting all the valuable muscle building nutrition you need that sets you up for losing body fat!
How Do I Take HumaPro?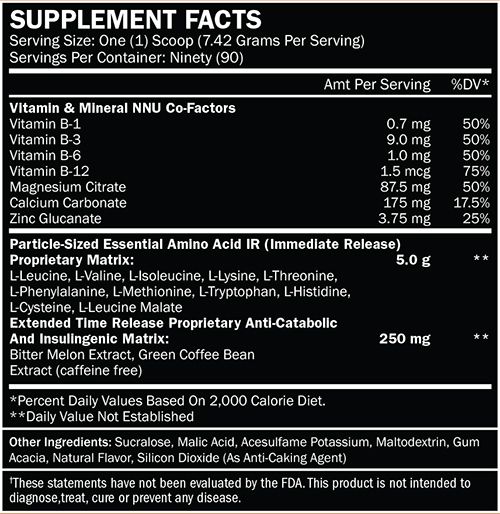 How Do I Take HumaPro?
Dosage and Directions:
Mix 1 scoop of Humapro with 8-10 ounces of cold water, 20 minutes prior to exercise and immediately after.
Drink 1-2 servings of ALRI Humapro powder 3 to 6 times daily.
HumaPro may be enjoyed with meals to improve nutrient partitioning potential.
Warnings and Side Effects:
Keep out of reach of children. Store in a cool, dry place. Not for use by pregnant or nursing women or individuals with hypoglycemia or diabetes. Individuals under the age of 18 years old should onlu use this product under the supervision of a physician. This product is intended for use by healthy individuals only. Do not exceed recommended dosage. Do not use in conjunction with glucose-lowering agents or other prescription medication. If you experience hyperglycemia, rapid heartbeat, dizziness, headaches, fever or stomach pain discontinue use immediately and consult a physician.

PLEASE NOTE: Product image is representative of the product offered but may not have the exact attributes. Please read product description for the specific attributes of this product.
† PLEASE NOTE: The information above is intended for reference only. While we attempt to keep our information accurate, we cannot guarantee it is an accurate representation of the latest formulation of the product. If you have any concerns, please visit the vendor's web site. The information above are the views of the product's manufacturer, not the views of Same Day Supplements. These statements have not been evaluated by the Food and Drug Administration. This product is not intended to diagnose, treat, cure or prevent any disease.
*Prices are subject to change at any time and some items are limited to stock on hand.
We have a large selection of in-stock ALRI products including and others for the lowest prices
It's always easy to shop for HUMAPRO® BY ALRI, POWDER at SameDaySupplements.com because you can browse by reviews, brand, prices or search for specific ingredients using our search tool. In-stock orders placed before 3pm EST ship out the same day. We also offer many shipping options to countries like Brazil, United Kingdom, Canada, Germany, Australia, Japan, India, France, Israel and worldwide.
More Information
More Information

| | |
| --- | --- |
| SKU | HUMAPRO-POWDER |
| Manufacturer | ALRI |
Questions (0)