HumaPro Powder - ALRI - Amino Acids
Benefits and Results:
99:1 Positive Nitrogen Utilization To Waste Ratio (NNU-NPU) †
501% Greater Lean Mass Gain Than Whey Protein †
250% Greater Fat Loss Than Whey Protein †
Over 300% More Efficient Than Fish, Beef Or Other Meats †
Positive Nutrient Re-partitioning; Starve The Fat †
100% Pre Digested, No GI Discomfort, No Bloating †
Frequently Bought Together
HumaPro By ALR Industries - Powder - Amino Acids
What is HumaPro?
HumaPro is a revolutionary BCAA and Amino Acid product. It may promote a shorter recovery time, therefore allowing you to get back to training faster.
Being that it is a time released formula, you're going to be receiving the benefits for up to 12 hours. In this anti-catabolic state, your muscle are being repaired instead of being broken down.
How Does It Work?
Ingredients:
Particle-Sized Essential Amino Acid IR (Immediate Release) Proprietary Matrix:
L-Leucine: may increase muscle growth and lean body†
L-Valine: promotes muscle growth and tissue repair.†
L-Isoleucine: helps endurance and assist in the repair and rebuilding of muscle.†
L-Lysine: supports collagen synthesis and healthy immune function.†
L-Threonine: produces collagen and may benefit immune health.†
L-Phenylalanine: an essential amino acid and the precursor of the amino acid tyrosine.
L-Methionine: supports detox mechanisms.†
L-Tryptophan: supports relaxation and promotes restful sleep.†
L-Histidine: supports blood, joint, and digestive health.†
L-Cysteine: offers structural support in your body. Healthy skin, hair and nails. †
L-Leucine Malate: aids in protein production and maintaining energy. †
Extended Time Release Proprietary Anti-Catabolic and Insulingenic Matrix:
Bitter Melon Extract: rich in vitamins and minerals and may promote heart and digestive health. †
Green Coffee Bean Extract (caffeine free): supports weight management and promotes metabolism.†
Featured Customer Reviews:
Review by Gaynita
Awesome product, amazing taste!!
Review by David
Mixes well in water, don't even need shaker bottle. Not chalky. Don't need to pour a cup of powder into a water to get 20+ g of protein.
FAQ:
How many flavors does it come in?
Currently there is 9 flavors. They are: Green Candy Apple, Rocket Pop, Mandarin Orange, Apple Cider, Sour Grape, Exotic Peach Mango, Southern Sweet Tea, Strawberry Kiwi and Fresh cut pineapple.
Does it only come in a powder form?
No, HumaPro is also available in a tablet (pills) form. It comes in two sizes, 300 tablets and 450 tablets. You can check out the product here: HumaPro Tablets.
What sizes does the powder come in?
There is two sizes: 45 Servings and 90 Servings.
HumaPro VS Whey Protein, how does it compare?
Say you are currently having 4 scoops of a whey protein supplement per day and each scoop has 25g of whey protein in it. That would be 100g of whey protein or 400-600 calories (depending on brand, flavor, etc.). To match this you would need just 4 scoops of ALRI HumaPro (the equivalent of 100g whole protein). At just 0.02 calories per serving, the 4 scoops of ALRI HumaPro would yield less than ONE calorie.†
Does it have BCAAs in it?
Yes it does. It contains all three ingredients that make up BCAAs: L-Leucine, L-Valine and L-IsoLeucine.
Does it have creatine?
No, this product does not have any creatine. You can stack it with creatine if you would like.
Does it have caffeine?
No, this product is caffeine free.
How Do I Take HumaPro Powder?
Dosage and Directions:
Mix 1 scoop of Humapro with 8-10 ounces of cold water, 20 minutes prior to exercise and immediately after. Drink 1-2 servings of ALRI Humapro powder 3 to 6 times daily.
For Best Results: Always drink one to two (1-2) servings 20 minutes prior to exercise or competition, and immediately after. Athletes may drink up to two (2) servings per use, up to six (6) times daily, at least two (2) hours apart.
HumaPro may be enjoyed with meals to improve nutrient partitioning potential.
What's In HumaPro?
Supplement Facts / Label: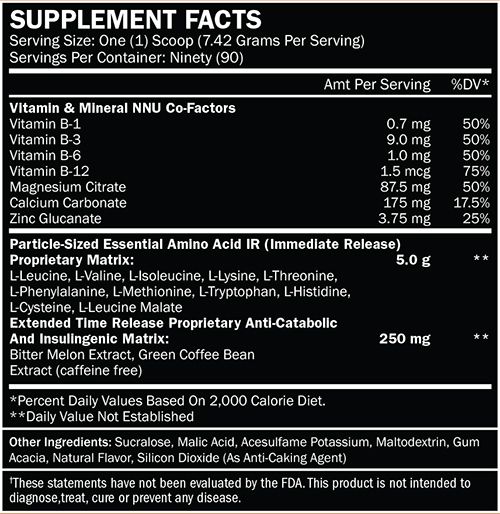 Warnings and Side Effects:
Keep out of reach of children. Store in a cool, dry place. Not for use by  pregnant or nursing women or individuals with hypoglycemia or diabetes.  Individuals under the age of 18 years old should only use this product  under the supervision of a physician.
This product is intended for use  by healthy individuals only. Do not exceed recommended dosage. Do not  use in conjunction with glucose-lowering agents or other prescription  medication.
 If you experience hyperglycemia, rapid heartbeat, dizziness,  headaches, fever or stomach pain discontinue use immediately and  consult a physician. 
Disclaimer:
PLEASE NOTE: Product images represent the product offered but may not contain exact attributes. Please read the product description for the specific attributes of this product.
†PLEASE NOTE: The intention of the information above is for reference only. It is our goal to maintain and display accurate information. Yet, we can't guarantee it represents the latest formulation of the product. If you have any concerns, please visit the manufacturer's website. The information above is not a representation of our views at Same Day Supplements. These are the views and information provided by the product's manufacturer. The Food and Drug Administration has not evaluated these statements. The intention of this product is not to diagnose, treat, cure or prevent any disease or illness.
*Prices are subject to change at any time and items may limit to stock on hand.
References:
In-stock orders placed before 3pm EST ship out the same day.
We offer many shipping options to countries like:
Brazil
United Kingdom
Canada
Germany
Australia
Japan
India
France
Israel
Worldwide
More Information

| | |
| --- | --- |
| SKU | HUMAPRO-POWDER |
| Manufacturer | ALRI |
Customer Reviews
THE POLISH ALL NATURAAAAL BIDYBIUILDER

HUMAPRO THE BEST AMINO ACID SUPLLEMENT FOR CUTTING LEANING TO 5 % BODY FAT EXCELLENT THAT SIMPLE !!!!!

Everyday product

This is by far one of my favorite products to send I don't like to run out. I like that it is sugar free and I can use this with 2 of my meals everyday to help with partitioning. This is worth try and better when using on a consistent basis.

HUMAPRO

Awesome product, amazing taste!!

re-order time

The product is the best, easy mix, great taste, no bloating.

Worth it!

Great product, some products can be harsh on my stomach. This does not whatsoever. Mixes easy, tastes great, can be taken late in the evening without keeping me up at night like my other aminos. Great prices guys, will order again!

Humapro

Product arrived in a timely manner. Price was right.

Great source of protein

Easy to digest. You can take before or after workout no problem. You can easily mix 1-2 scoops in 8-10oz of water. Not chalky.

Sucralose for me is counterproductive

I make my own kefir and yogurt and take prebiotics so finding out that the powders have sucralose is counterproductive for me. Not the fault of sameday supplements mind you, their service and communication has been wonderful. The ingredient label at ALR didn't show all the ingredients and I don't feel artificial sweeteners are suitable for me.

excellent taste

just got it yesterday, tried it today. great taste and mixes well.

Pre work out

Use it before my workout to give me added energy and up my protein intake