Cyclo-Creation - ALRI - 65 Servings
Benefits and Results:
Enhanced Anaerobic/Aerobic Capacity †
Enhanced Decrease in Myostatin Levels †
Increased Cellular IGF-1 †
a 2-5 Fold Delay in ATP Depletion †
Frequently Bought Together
Cyclo-Creation By ALRI - 65 Servings - Creatine
What is Cyclo-Creation?
Perform Better Longer and More Often… Never Settle for Average! Expect More: The New Standard in Performance Nutrition is Cyclo-Creation.
The Cyclo-Creation formulation is synergistically structured around a little known compound called cyclo-creatine phosphate (CCP). Cyclo-creatine phosphate is combined with an elite phosphate and recovery matrix for all athletes and sports players who need to naturally and safely (17,21) increase their VO2max and oxygen capacity before key events or training periods. When taken in the build-up to competition, cyclo-creatine phosphate + our elite phosphate and lactic acid buffering synergists, helps to prime your body with a scientific nutrient matrix proven to support prolonged enhanced anaerobic and aerobic exercise performance potential significantly. If you need a real performance edge – you need Cyclo-Creation.
Cyclo-Creation is not just another creatine hydrate, salt, alcohol or ester. Once metabolized by the body, those are all still just regular creatine once they enter the blood stream with different levels of creatine by-product waste. So what is the difference between them? Some have better solubility and absorption than others so some deliver more actual free creatine into the blood stream than others and some induce greater or lesser formation of the waste product creatine. It's simply dose dependent, but it is still creatine. Nevertheless, don't underestimate this important ergogenic: Creatine is certainly one of the most effective performance aids to date. Even after over 20 years of athletic use and scientific study validation, few performance nutrition products have been as safe or effective as creatine (17). Nonetheless, cyclo-creatine phosphate (CCP) has been in research since before the 70's and still ongoing. So Cyclo-Creation is far from a new compound nor is it lacking scientific research. However, Cyclo-Creation with cyclo-creatine phosphate from ALR Industries is beyond anything else currently available in performance nutrition that is intended to support significant increases in functional performance and work-load capacity. With the added post-performance benefits of greater functional lean muscle gains, greater recovery and fat loss, maybe it's time to try Cyclo-Creation and take that next big step toward your performance and physique goals.
Cyclo-Creation is the application of many years of studies and research to formulate a new generation in nutritional performance enhancement. At this time there is an on-going Medically Reviewed Clinical Study to validate the significant positive results experienced by the preliminary Cyclo-Creation test group study, a PhD White Paper review and a peer reviewed University study performed at Nova Southeastern University in collaboration with Billy Beck III Performance Center. Can you tell we are feeling rather excited about the formula preliminary study results so far? Just science applied…Not bragging…yet. What makes the pro-nutrients in Cyclo-Creation so special?
Ingredients:
Hyper-Anaerobic/Aerobic & Volumizing Matrix:
Cyclo-Creatine Phosphate - Supports cognitive improvements as well as an apparent therapy for CRT deficiency. †
Betaine Anhydrous - Helps to support normal functions of different parts of the body such as: blood, bones, eyes, heart, muscle, nerves, and the brain and increases athletic performance. †
Creatine Phosphate - This helps to create ATP which provides energy for muscle contractions. †
Taurine - Supports normal brain and heart functions and nerve growth. This can also help to lower blood pressure. †
Glycocyamine - This is used in your body to transport creatine to muscle tissue and increases muscle creatine levels. †
What can I expect?
Any Strength, Endurance or Performance Athlete can benefit from this:
To dramatically prolong lean tissue glycolysis, and exhibition of a 2-5-fold delay in depletion of both ATP and the total adenylate pool, for more reps, more sets and significantly longer performance at optimal levels with greater endurance.†
To significantly decrease serum levels of myostatin and increase GASP-1†:
Regardless of the sport or performance of our choice we need greater lean mass and faster recovery to do it better.†
Less of the lean tissue growth inhibitor myostatin means greater lean mass and recovery to perform better.†
For increased Cellular Glycogen/glucose 3-fold†: We don't need to explain that more cellular glycogen means elevated performance potential: For physique athletes it also means muscle volumization, without added functional movement loss.†
Featured customer reviews:
Richard
On my 3rd bottle of this stuff, awesome product and I feel pumped all the time.
Vicki
Cyclo-creatine has been studied to kill HER2+ cancer cells. Don't know what dosage to take, but I try to drink at least one serving a day.
FAQ:
Do this product come in any flavors?
This product only comes in unflavored to make it easier to mix with other supplements.
How many servings are there per container?
There are 45 servings per container.
Will this appear on a drug test?
This product may contain substances that are banned by various sports organizations. Please check with your regulatory body before using this product.
Can I take this if I am pregnant?
You should not use this if you are pregnant or nursing. If you are pregnant or nursing you should check with your health care professional before taking any supplements.
Comparable products:
Stacks:
If you are looking for a gluten free and vegan friendly amino acid supplement, we suggest trying: HumaPro Powder- Amino Acids.
If you are looking for a BCAA supplement that can enhance energy, focus, mood, and stamina, we suggest trying: Chain'd Out.
If you are looking for a supplement that can help aid in focus, energy, and weight loss, we suggest trying: Hyperdrive 4.0.
How do I take Cyclo-Creation?
Dosage and Directions:
During the initial five (5) day loading phase mix one (1) serving with eight-ten (8-10) ounces of water four (4) times daily. Thereafter take one (1) serving two (2) times daily. For best results take one (1) serving upon waking and one (1) serving post exercise. Cyclo-Creation may be mixed with HumaPro and/or Chain'd Out.
What's In ALRI Cyclo-Creation?
Supplement Facts / Label: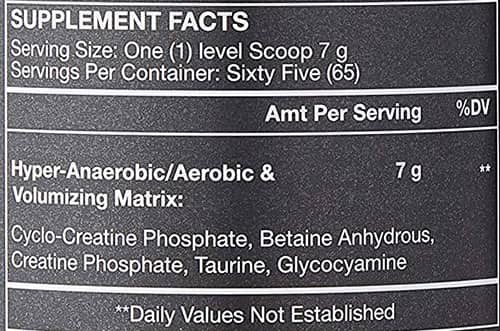 Warnings and Side Effects:
NOT FOR USE BY INDIVIDUALS UNDER THE AGE OF 18. DO NOT USE IF PREGNANT OR NURSING. Do not consume this product if you have a medical condition and/or are taking any prescription medication. Do not exceed recommended serving. Consult your physician before starting any dietary supplement and/or exercise program.
This product may contain ingredients that are banned by some sports organizations and/or increase risk of false positive on a drug test. Please consult with your sport organization or physician before taking this product.
Disclaimer:
PLEASE NOTE: Product images represent the product offered but may not contain exact attributes. Please read the product description for the specific attributes of this product.
†PLEASE NOTE: The intention of the information above is for reference only. It is our goal to maintain and display accurate information. Yet, we can't guarantee it represents the latest formulation of the product. If you have any concerns, please visit the manufacturer's website. The information above is not a representation of our views at Same Day Supplements. These are the views and information provided by the product's manufacturer. The Food and Drug Administration has not evaluated these statements. The intention of this product is not to diagnose, treat, cure or prevent any disease or illness.
*Prices are subject to change at any time and items may limit to stock on hand.
References:
Jason Michael Cholewa, Andrea Hudson, Taylor Cicholski, Amanda Cervenka, Karley Barreno, Kayla Broom, McKenzie Barch, and Stuart A. S. Craig (2018 Jul 31) The effects of chronic betaine supplementation on body composition and performance in collegiate females: a double-blind, randomized, placebo controlled trial https://www.ncbi.nlm.nih.gov/pmc/articles/PMC6069865/
Jakaria, Shofiul Azam, Md. Ezazul Haque, Song-Hee Jo, Md. Sahab Uddin, In-Su Kim, and Dong-Kug Cho (2019 May 21) Taurine and its analogs in neurological disorders: Focus on therapeutic potential and molecular mechanisms https://www.ncbi.nlm.nih.gov/pmc/articles/PMC6536745/
Maurizio Balestrino (2021 Apr 7) Role of Creatine in the Heart: Health and Disease https://www.ncbi.nlm.nih.gov/pmc/articles/PMC8067763/
In-stock orders placed before 3pm EST ship out the same day.
We offer many shipping options to countries like:
Brazil
United Kingdom
Canada
Germany
Australia
Japan
India
France
Israel
Worldwide
More Information

| | |
| --- | --- |
| SKU | ALR-0047 |
| Weight | 1.3000 |
| Manufacturer | ALRI |
| UPC | 094922393647 |
Customer Reviews
Cyclo Creation

On my 3rd bottle of this stuff,awesome product and I feel pumped all the time.

using for HER2+ breast cancer

Cyclo-creatine has been studied to kill HER2+ cancer cells. Don't know what dosage to take, but I try to drink at least one serving a day.