Hyperdrive 4.0, By ALRI, 60 Caps
Special Price
$29.95
Regular Price
$38.97
Hyperdrive 4.0 Benefits and Results:
Intense Focus †
Progressive Hyperactive Energy †
Targeted Subcutaneous Fat Loss †

Frequently Bought Together
Details
Hyperdrive 4.0 By ALRI - 60 Caps - Weight Loss Support
What Is Hyperdrive 4.0?
Hyperdrive 4.0+ is a synergistic blend of potent herbal derivatives specifically selected to yield the most potent weight loss formula available. Hyperdrive 4.0+ is specifically formulated for healthy adults seeking the most aggressive formulation for weight loss. This product is not intended for minors or recreational dieters.
Instead, Hyperdrive 4.0+ is designed for responsible adults seeking dramatic results from the most efficacious combination of ingredients. Anyone looking for delayed progressive time-released energy & focus – this is what we mean by "It Comes On As You Fade" – a GREAT afternoon 'pick me up'.
HOW DOES HYPERDRIVE 4.0+ WORK?
Hyperdrive 4.0+ is a collection of today's truly effective energy boosters and diet aid! The correct synergy and ratios of the ingredients make HYPERDRIVE 4.0+ your obvious choice when it comes to intense, focused, undeniable energy.
So, whether you are looking for a supplement that delivers the best workouts of your life or you are just looking for a great clean energy burst during the day, HYPERDRIVE 4.0+ is for you. HYPERDRIVE 4.0+ is used by many Bodybuilders during your final cutting phase for competition prep – especially the last 4 weeks. Endurance Athletes looking for a little less "stim", but still wanting a powerful focus & energy supplement to get through training, and help to lose a few pounds are also advocates for HYPERDRIVE 4.0+.
It comes on as you fade! Hyperdrive 4.0…Shift Your Weight Loss into Hyperdrive!
What's In Hyperdrive 4.0 By ALRI?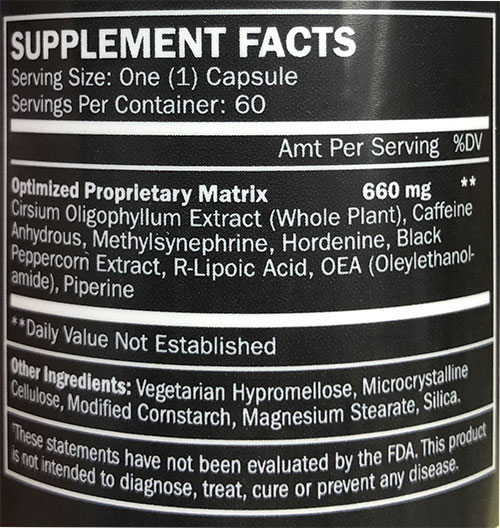 How Do I Take Hyperdrive 4.0 By ALRI?
Hyperdrive 4.0 Dosage: Read Entire Label Before Use: Take one (1) capsule of Hyperdrive 4.0 in the morning to test your personal needs and tolerance for the first two (2) days then take one (1) capsule of Hyperdrive 4.0 in the morning and one (1) capsule of Hyperdrive 4.0 in the afternoon if your personal needs and tolerance allows. Do not take after 5pm as energy aid products may cause restless sleep. Do Not consume more than two (2) capsules of Hyperdrive 4.0 daily.
Warnings and Side Effects:
Keep Out Of Reach Of Children. Not For Use By Individuals Under The Age Of 21. Do Not Use If Pregnant Or Nursing. Do not use if you have a medical condition or are taking any prescription medication. Consult a physician prior to using this product if you have any pre-existing medical condition including, but not limited to, hypertension, cardiac arrhythmia, stroke, heart, liver, kidney or thyroid disease, diabetes, asthma, headaches, nervousness, anxiety, Parkinson's disease, glaucoma, difficulty urinating, prostate enlargement, seizures, depression, psychiatric disease or any other medical condition. Do not use this product if you are using a monoamine Oxidase inhibitor (MAOI) or any other dietary supplement, prescription drug or any over-the-counter drug containing ephedrine, pseudoephedrine or phenylpropanolamine (ingredients found in certain allergy, asthma, cough or cold and weight control products). If you experience rapid heartbeat, dizziness, headaches, fever, nausea, shortness of breath or any other adverse reaction discontinue use immediately and consult a physician. Discontinue use 2 weeks prior to surgery. Individuals who consume caffeine with this product or who are sensitive to caffeine may experience serious adverse health effects. Improper use of this product may be hazardous to a person's health. Drink plenty of water when using this product. Do not exceed recommended serving. Do not consume with alcohol or other stimulants. Do not use for more than 5 out of 7 consecutive days for a maximum of 6 weeks before taking a 2 week break. This product may contain substance(s) which are banned by various sports and other organizations. Use of this product could trigger a failed drug test from various sports and other governing authorities. Read entire label prior to use.
WARNING: this product can raise your blood pressure and interfere with other drugs you may be taking. Talk to your doctor about this product.
PLEASE NOTE: Product image is representative of the product offered but may not have the exact attributes. Please read product description for the specific attributes of this product.
† PLEASE NOTE: The information above is intended for reference only. While we attempt to keep our information accurate, we cannot guarantee it is an accurate representation of the latest formulation of the product. If you have any concerns, please visit the vendor's web site. The information above are the views of the product's manufacturer, not the views of Same Day Supplements. These statements have not been evaluated by the Food and Drug Administration. This product is not intended to diagnose, treat, cure or prevent any disease.
*Prices are subject to change at any time and some items are limited to stock on hand.
We have a large selection of in-stock ALRI products including and others for the lowest prices
It's always easy to shop for Hyperdrive 4.0, By ALRI, 60 Caps at SameDaySupplements.com because you can browse by reviews, brand, prices or search for specific ingredients using our search tool. In-stock orders placed before 3pm EST ship out the same day. We also offer many shipping options to countries like Brazil, United Kingdom, Canada, Germany, Australia, Japan, India, France, Israel and worldwide.
More Information
More Information

| | |
| --- | --- |
| SKU | ALR-0041 |
| Weight | 0.1700 |
| Manufacturer | ALRI |
| UPC | 094922393654 |
Questions (0)