AllWhey Gold - Allmax Nutrition
Benefits and Results:
100% Whey Protein Source†
Lab Tested & Certified†
Guaranteed: Informed Choice†
Frequently Bought Together
AllWhey Gold by AllMax Nutrition - Protein
What Is It?
Allmax AllWhey Gold used only the most superior blend of whey protein available. To ensure high quality purity, this Whey protein goes through a microfiltration process that removes non-protein components, like lactose and fat, allowing for improved absorption. †
Cross-flow, ultra-filtered, non-denatured whey protein isolate and whey protein concentrate combined delivers everything your body needs without anything extra. †
Allmax AllWhey Gold has 24g of protein in every serving which is immediately useable by your body thanks to added enzymes that support higher levels of protein digestion and absorption. †
Additionally, this protein does not contain any banned substances, gluten, added sugars, or added aminos. †
How Does It Work?
Research shows that consuming high levels of protein after exercise can help muscles recover and adapt faster.†
With the body primed for growth, a rapidly digestible protein source helps turn the body from a catabolic (muscle-wasting) state to an anabolic (muscle-building) state. †
Whey is recognized as one of the best post-workout protein sources. With its high biological value, it gets absorbed and utilized faster than any other source. †
Additionally, its complete amino acid profile, high in naturally occurring essential branched chain amino acids (BCAAs), allows whey to accelerate protein synthesis and muscle growth. †
What Should I Expect?
Since it doesn't have any stimulants, you won't immediately feel or notice a difference after taking a serving. Results are best achieved when taking for at least 8 weeks.
Who Should Take It/ Who Shouldn't Take It?
AllWhey Gold is for anyone who is looking to gain quality, lean muscle. Although it's extremely popular with bodybuilders and powerlifters, anyone can use AllWhey Gold. It's also helpful for women who have trouble gaining weight.
Featured Customer Reviews:
By Rachael
First time trying this protein, flavor was delicious! Blend great… will definitely purchase again.
FAQ:
Does this contain any banned substances?
Every ingredient added and every lot produced is laboratory-tested for purity and potency to ensure consistent product quality and integrity every time, guaranteed. AllWhey Gold goes through the exclusive Allmax 5-Stage Quality Testing protocol.
How many times a day should I take this?
We recommend taking 1 scoop before or after exercise, or whenever you desire a high-protein, high-quality drink.
How long will it take to see results?
We recommend that you supplement with AllWhey Gold at least once a day along with a healthy weight training regimen and diet for at least 6-8 weeks.
Can I drink this on non-training days?
Yes, absolutely! Be sure to monitor your physical requirements and maintain adequate hydration.
Comparisons:
Vs. Isoflex
This protein has zero fat and zero sugar. Additionally contains 27 grams of protein and 1 gram of carbs.
Vs. AllWhey Classic
This has a blend of only whey protein concentrate and isolate. It has 30 grams of protein, 6 grams of sugar and 9 grams of carbs.
Vs. Dymatize ISO 100
Contains only 110 calories, 25 grams of protein and 1 gram of carbs per scoop.
Contains 120 calories, 3 grams of carbs and 24 grams of protein per scoop.
Stackable Products:
By adding other supplements including Creatine, Glutamine, and Taurine, you can make an even more powerful post- workout recovery product.
How Do I Take It?
Dosage and Directions:
Blend, Mix or Shake 1 rounded scoop (30 g) with 7 oz (200 mL) of cold water or low-fat milk, depending on desired taste and consistency, anytime you want a premium and satisfying high-protein beverage.
What's In AllWhey Gold?
Supplement Facts / Label: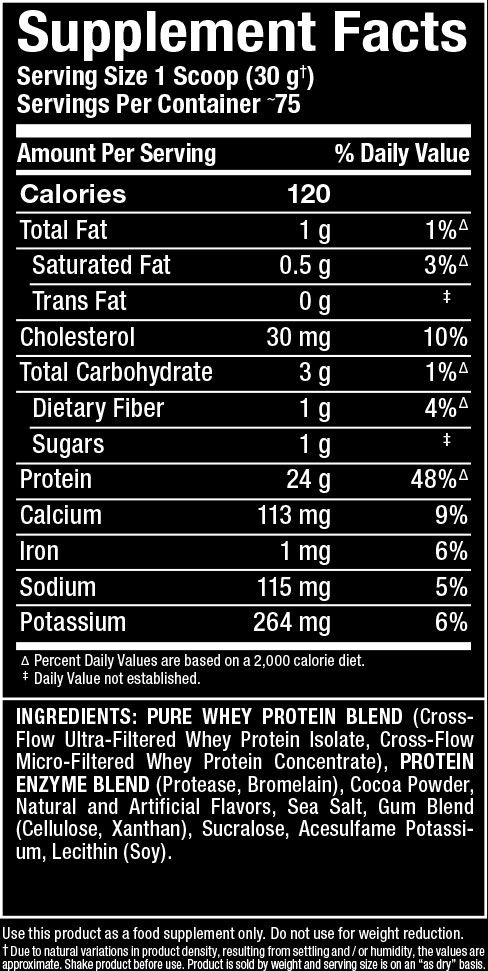 Warnings and Side Effects:
Use only as directed. For adult use only. Consult a health care practitioner prior to use if you:
Are pregnant or breastfeeding
Have Liver or Kidney Disease
Have been instructed to follow a low protein diet.
Do not use if outer seal is broken. Store in a cool, dry place. Keep out of reach of children. For additional information, see allergen warning.
Allergen Warning: Contains Milk (Whey). Produced in a facility that also handles soy, egg, peanut, tree nuts, fish, crustaceans and shellfish products.
Disclaimer:
PLEASE NOTE: Product images represent the product offered but may not contain exact attributes. Please read the product description for the specific attributes of this product.
†PLEASE NOTE: The intention of the information above is for reference only. It is our goal to maintain and display accurate information. Yet, we can't guarantee it represents the latest formulation of the product. If you have any concerns, please visit the manufacturer's website. The information above is not a representation of our views at Same Day Supplements. These are the views and information provided by the product's manufacturer. The Food and Drug Administration has not evaluated these statements. The intention of this product is not to diagnose, treat, cure or prevent any disease or illness.
*Prices are subject to change at any time and items may limit to stock on hand.
References:
West DWD, Abou Sawan S, Mazzulla M, Williamson E, Moore DR. (Jul 2017) Whey Protein Supplementation Enhances Whole Body Protein Metabolism and Performance Recovery after Resistance Exercise: A Double-Blind Crossover Study. https://pubmed.ncbi.nlm.nih.gov/28696380/
Davies RW, Carson BP, Jakeman PM. (Feb 2018) The Effect of Whey Protein Supplementation on the Temporal Recovery of Muscle Function Following Resistance Training: A Systematic Review and Meta-Analysis. https://pubmed.ncbi.nlm.nih.gov/29462923/
In-stock orders placed before 3pm EST ship out the same day.
We offer many shipping options to countries like:
Brazil
United Kingdom
Canada
Germany
Australia
Japan
India
France
Israel
Worldwide
More Information

| | |
| --- | --- |
| SKU | ALLWHEY-GOLD |
| Manufacturer | AllMax Nutrition |
Customer Reviews
Rach

First time trying this protein, flavor was delicious! Blends great...will definitely purchase again.