Gold Standard Whey Protein By Optimum Nutrition
Gold Standard Whey Benefits and Results:
24 Grams of Whey Protein Isolates †
More Than 5 Grams of BCAAs in Each Serving †
"Gold Standard" for Protein Quality †
More Information

| | |
| --- | --- |
| SKU | GOLD-STANDARD-WHEY |
| Manufacturer | OPTIMUM NUTRITION |
Details
Gold Standard Whey By Optimum Nutrition - Protein
Gold Standard Whey Overview:
If you're looking for a protein that delivers exactly what you need, you do want to settle anything less than the standard; The Gold Standard. Optimum Nutrition's attention to detail when formulating Gold Standard Whey. Whey protein isolates being of the purest forms of whey that currently exist, rate highly among the best proteins. This is why its seen first on the label for gold standard whey. With whey isolate being the base of this formula and alongside ultra-filtered whey concentrates, Gold Standard whey packs 24 grams of protein into every serving. But the attention to detail doesn't stop there. ON also makes mixability and flavoring a priority. So you can meet your nutritional requirements and enjoy them too.
Typical Amino Acid Profile (milligrams per serving):
Essential Amino Acids- Tryptophan 405, Valine 1422, Threonine 1654, Isoleucine 1573, Leucine 2531, Lysine 2233, Phenylalanine 748, Methionine 492
Conditionally Essential Amino Acids- Arginine 505, Cystine 494, Tyrosine 703, Histidine 423, Proline 1509, Glutamine and Precursors 4082
Nonessential Amino Acids-Aspartic Acid 2508, Serine 1126, Glycine 412, Alanine 1180.
THE TRUE STRENGTH OF WHEY
Whey Protein Isolates (WPI) are the purest form of whey protein that currently exists. WPIs are costly to use, but rate among the best proteins that money can buy. That's why they're the first ingredient you read on the Gold Standard 100% Whey label. By using WPI as the primary ingredient along with premium ultra-filtered whey protein concentrate (WPC), we're able to pack 24 grams of protein into every serving to support your muscle building needs after training. ON's attention to detail also extends to mixability. This superior quality powder has been instantized to mix easily using a shaker cup or just a glass and spoon. There's no doubt that this is the standard by which all other whey proteins are measured.
Gold Standard Whey: Beyond The Basics
Whey Protein Isolate (WPI) Main Ingredient
Whey Protein Microfractions from Whey Protein Isolates & Ultra-Filtered Whey Protein Concentrate
Over 4 Grams of Glutamine & Glutaminc Acid in Each Serving
More Than 5 Grams of the Naturally Occurring Branched Chain Amino Acids (BCAAs) Leucine, Isoleucine, and Valine in Each Serving
The "Gold Standard" for Protein Quality
What's In Optimum Nutrition Gold Standard Whey?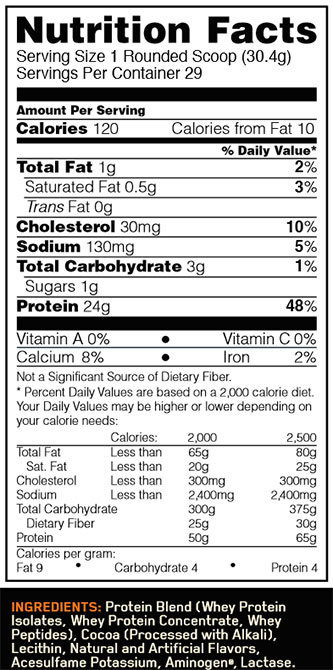 How to Take Optimum Nutrition Gold Standard Whey:
Blender: Add one scoop of On Gold Standard Whey to a blender filled with 6-8 fl oz of your favorite beverage. Blend for 20-30 seconds. Add 1-2 ice cubes then blend for an additional 30 seconds.
Shaker: (Easier: quick and convenient) Fill a shaker bottle with 6-8 fl oz of your favorite beverage. Add one scoop of On Gold Standard Whey. Cover and shake for 25-30 seconds. Enjoy.
Glass and Spoon: (Easiest: fast and simple) Simply add one scoop of ON Gold Standard Whey to a tall glass. Add 6-8 fl oz of your favorite beverage. Mix with a spoon for about 20 seconds or until powder is well disbursed. Store in a cool, dry place.
Think Outside The Glass: Gold Standard Whey can be used for more than just protein shakes. Try mixing a scoop of Gold Standard Whey into oatmeal, yogurt, or the milk that you pour over your morning breakfeast ceral. Better yet, increase the protein content of muffins, cookies, brownies, etc. by adding a scoop or two to your baked goods recipes.
Suggested Use: Consume approximately 1 gram of protein per pound of body weight per day through a combination of high protein foods and protein supplements. For the best results, consume your daily protein allotment over several small meals spread evenly throughout the day.
Shake Up Your Shake: By adding a few high-energy ingredients to your shake you can blend up a delicious meal: try adding Fresh or Frozen fruits ( strawberries, bananas, etc.), peanut butter, flaxseed oil, unflavored yogurt, coconut, slivered almonds, or other ingredients.
Stack Your Shake: By adding other supplements including creatine, glutamine, taurine you can make an even more powerful post- workout recovery product.
Warnings:
Allergen Information: This product contains whey derived from dairy, wheat, and lecithin (to improve mixability) derived from soybeans.Keep out of reach of children. Do not use as a sole sources of nutrition for weight loss or maintenance.
PLEASE NOTE: Product image is representative of the product offered but may not have the exact attributes. Please read product description for the specific attributes of this product.
PLEASE NOTE: The information above is intended for reference only. While we attempt to keep our information accurate, we cannot guarantee it is an accurate representation of the latest formulation of the product. If you have any concerns, please visit the vendor's web site. The information above are the views of the product's manufacturer, not the views of Same Day Supplements. These statements have not been evaluated by the Food and Drug Administration. This product is not intended to diagnose, treat, cure or prevent any disease.
*Prices are subject to change at any time and some items are limited to stock on hand.
More Information
More Information

| | |
| --- | --- |
| SKU | GOLD-STANDARD-WHEY |
| Manufacturer | OPTIMUM NUTRITION |
Questions (0)