Universal Nutrition Shock Therapy, Pre Workout
SKU
UNIVERSAL-SHOCK-THERAPY
Universal Shock Therapy Benefits and Results:
Pumps and Cell Volumization †
Extreme Energy and Focus †
Strength and Performance †
Universal Shock Therapy - Pre Workout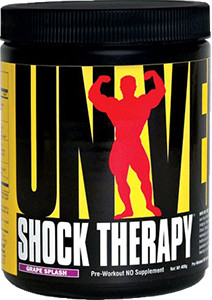 A "pumping" all-in-one pre-workout powerhouse, the all new Universal Shock Therapy does away with flat, lifeless workouts and zero motivation and drive. Combining patented ingredients and proven performance compounds in a delicious, mouth-watering formula with cell volumizers, energy substrates, focus agents, a new creatine complex, antioxidants and more, this comprehensive supplement will give you powerful pumps and lock you in the zone and help you dominate in the gym. With the anabolic nutrients of the Universal Shock Therapy formula coursing through your veins, your "pumps" will be insane. Freaky. Vascular. Intense. For a bodybuilder, the pump is everything. Just ask the legends... They know the deal. Volumized. Energized. Powerized. Primed to perform. The best workouts of your life. All just one delicious serving away. So chug away before you lift with the brand new, completely overhauled Shock Therapy. Only from Universal.
Who We Are: Universal Nutrition has been providing cutting edge and staple nutritional supplements to bodybuilders and hard training athletes the world over since 1977. As time passes, certain ideals never go out of style. Honesty. Integrity. Respect. These are the values we uphold and are the bedrock upon which we built our business. What It Is: So much of the pursuit of bodybuilding is mental. Without that mental edge, without that pinpoint focus and the ability to generate the intensity needed to take your physique to the next level, you'll go nowhere. Universal Shock Therapy sets a new standard for pre-workout NO supplements.
Universal Shock Therapy harnesses the power of the NO boosters, muscle volumizers, energy substrates, antioxidants and nootropics and fuses them into a single cutting-edge supplement. If you're looking for pumps, muscle volume, vasularity, power and performance. Universal Shock Therapy is the answer. If you require mental focus, drive and gym intensity and want to take your pre-workout supplementation to the next level. Shock Therapy delivers. How We Back It Up: What is on the label is in the bottle and what is in the bottle will help you reach your goals. We guarantee it. Our word is our bond.
What's In Universal Shock Therapy?
How to Take Universal Shock Therapy:
For performance enhancement use Universal Shock Therapy 30 minutes preworkout. Depending on factors such as bodyweight, experience and stimulant tolerance, use 1-2 scoops of Universal Shock Therapy per training session. Athletes weighing more than 200 lb may require 1.5 to 2 total scoops of Universal Shock Therapy. Always start with a single scoop (or less) serving in order to assess individual tolerance. Do not exceed 2 scoops of Universal Shock Therapy in a single 24-hour period. Do not take within 6-8 hours of bedtime.
Warnings:
This product is not for use by anyone under the age of 18. Do not take this if you have or are at risk for any medical condition or disease. Please consult with a physician before using this product, especially if you are using any prescription drug, over-the-counter medication, or supplements. Immediately discontinue use if any side effects occur. For State of California: this product contains a chemical known to the State of California to cause birth defects or other reproductive harm. Keep out of reach of children. Athletes should consult with their sanctioning authority before use. Do not exceed recommended dose. These statements have not been evaluated by the Food and Drug administration. This product is not intended to diagnose, treat, cure, or prevent any disease. Mad in a GMP facility on equipment that processes milk, soy, egg, peanuts, treenuts, fish, shellfish, and wheat.
PLEASE NOTE: Product image is representative of the product offered but may not have the exact attributes. Please read product description for the specific attributes of this product.
PLEASE NOTE: The information above is intended for reference only. While we attempt to keep our information accurate, we cannot guarantee it is an accurate representation of the latest formulation of the product. If you have any concerns, please visit the vendor's web site. The information above are the views of the product's manufacturer, not the views of Same Day Supplements. These statements have not been evaluated by the Food and Drug Administration. This product is not intended to diagnose, treat, cure or prevent any disease.
*Prices are subject to change at any time and some items are limited to stock on hand.
In-stock orders placed before 3pm EST ship out the same day.
We offer many shipping options to countries like:
Brazil
United Kingdom
Canada
Germany
Australia
Japan
India
France
Israel
Worldwide
More Information

| | |
| --- | --- |
| SKU | UNIVERSAL-SHOCK-THERAPY |
| Manufacturer | UNIVERSAL NUTRITION |
Customer Reviews
Initial reaction

It does seem to add a heightened focus to my workout but still waiting to see about extra burst of energy, extra pump while working out . Have only begun using it for a few days, maybe it takes a while before it starts to have a noticeable effect. Would like to hear some feedback on this if possible?

Excelente Produto

Comprei para testá-lo. O resultado é rápido.
Recomendo!

so good!

excellent product, in addition to the cost benefit.

Great pre workout

Shock Therapy was the perfect pre-workout for me. Nothing to crazy but it wasn't weak either. I felt the effects about 20 mins after taking it. Lasted throughout my workout. Never had a bad workout with Shock therapy. I Would Recommend.

goooood

very good product .. that's a great strength
used and recommend.
energy strength