Broken Arrow Pre Workout – REPP Sports w/ CitraFuze
In stock
SKU
BROKEN-ARROW-PRE-WORKOUT
Benefits and Results:
Atomic Energy†
Laser Guided Focus†
Explosive Pumps†
Rapid Injection†
30 Servings†
Frequently Bought Together
BROKEN ARROW PRE WORKOUT - REPP SPORTS – HIGH STIM PRE WORKOUT
What is REPP Sports Broken Arrow?
REPP Sports Broken Arrow is a high stimulant pre workout. Unlock your true potential in every workout. The unique stack of ingredients in Broken delivers an explosive workout experience.
Due to the intense energy complex in a single serving of Broken Arrow, we recommend it to advanced users. We don't care how tough you think you are.
Don't say we didn't warn you. It contains over 14 GRAMS of active ingredients. That is right. No micro scoops.
How Does It Work?
Ingredients:
Sodium (from Sodium Bicarbonate): is the monosodium salt of carbonic acid with alkalinizing and electrolyte replacement properties.†
L-Citrulline Malate: may help increase nitric oxide production leading to better blood flow, pumps, and vasodilation.†
Beta Alanine: may help buffer lactic acid build up which can enhance stamina and reduce fatigue.†
L-Taurine: may boost athletic performance and can even improve body composition.†
L-Tyrosine: may help enhance focus and alertness.† This may help you focus on your workouts in the gym.†
Caffeine (from Anhydrous and Citrate): may increase energy and focus.†
Alpha GPC (Alpha Glycerylphosphorylcholine) 50%: a neurotransmitter that is involved in memory and other cognitive functions.†
CitraFuze Stim Blend: considered a DMAA-like stimulant. May promote energy, and focus.†
Black Pepper Extract (95% Piperine): may help increase the absorption of the other ingredients in the product.†
Who Should / Shouldn't Take It

Broken Arrow is ideal for those who have a higher stimulant tolerance and is looking for a intense pre workout. If you are someone that is caffeine sensitive and gets jittery off one cup of coffee this product isn't for you.
Featured Customer Reviews:
Eric: Love this
This is one of the only pre workouts I can go to again and again. The DMHA and caffeine content is strong and effective! The spiked punch is my favorite flavor.
FAQ:
How much caffeine does Broken Arrow Pre Workout have?
There is 350 mg of caffeine in one full scoop. Broken Arrow is intended for use only by athletes with high tolerance to stimulants. One serving contains a total of 800 mg stimulant and focus complex.
Is Broken Arrow Pre Workout Safe?
This product is safe when taken as directed and if you meet the critique for the product listed in the warnings.
What flavors are there?
Currently, there is 8 flavors. They are: Guava Melon, Hail Storm, Sour Gummy, Lime Ice, Spiked Fruit Punch, Rainbow, Galaxy Burst, Voodoo.
Would I fail a drug test?
It depends what exactly you are being tested for. The best thing to do is to contact the governing body before taking the product to make sure it is okay to take.
What is the difference between the new and old formula?
Not alot has been changed between the two formulas. There is about 200mg less of Alpha GPC and REPP Sports dropped Acetyl L-Carnitine. They added and CitraFuze blend. You shouldn't notice a big difference between the new and old formulas you may even find it stronger.
Does it have DMAA/DMHA?
No this product no longer contains these stimulants.
How long does it last?
It varies person to person. Rougly it should last 1-2 hours.
Does it have creatine?
No, it is creatine free. You may stack it with creatine if you would like.
Is it banned?
No, Broken Arrow Pre Workout has never been banned.
Similar Alternative Products:
Broken Arrow VS SuperPump Aggression: They share a lot of the same ingredients. The big difference between the two is that Broken Arrow has the CitraFuze blend while SuperPump Aggression is loaded with 400mg caffeine and yohimbe.†
Broken Arrow VS Bucked Up: Bucked Up is an ideal beginners pre workout as it contains a mild amount of stimulants while having a good blend of energy, focus and pumps. Broken Arrow would be the stronger pre workout and should be used by advanced users.
Stackable Products:
For A Leaner Physique: Stack with Raze Mass Caps to reduce body fat and increase lean muscle growth.†
For Harder, Dryer Muscles: Stack with Arimivar. Suppress estrogen and support lean muscle growth while increasing strength and stamina.†
How Do I Take Broken Arrow Pre Workout?
Suggested Dosage and Directions:
We recommend assessing your tolerance by starting with an half scoop. Mix with 8-10 oz of water before training. Once tolerance has been assessed you may increase to 1 level scoop before training. DO NOT EXCEED 1 SERVING IN ANY 24 HOUR PERIOD.
As a precautionary measure, it is recommended not to take Broken Arrow more than 3 days in a row. We recommend taking a MINIMUM of a 2-3 day washout.
To avoid sleeplessness, do not take within 6 hours of sleep. Drink 64 oz of water daily when using Broken Arrow to ensure optimal health.
What's In Broken Arrow Pre Workout?
Supplement Facts / Label: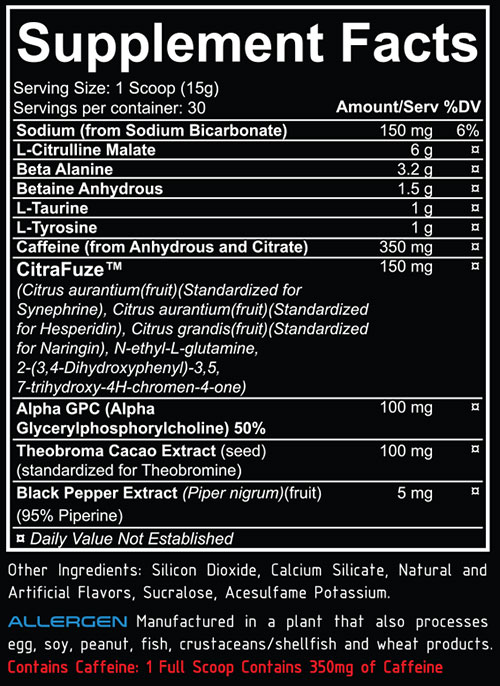 New Formula Supplement Facts / Label:
Warnings and Side Effects:
Read entire label before taking this product. This product is only intended to be consumed by healthy adults, 18 years of age or older. Each serving (1 scoop) contains 350mg of caffeine. Do not use this product if you are pregnant, nursing, or are currently taking nitrates for chest pain or if you are taking medication used to treat erectile dysfunction such as PDE-5 inhibitors.
Before using this product, consult a licensed, qualified, healthcare professional. Use only as directed. Keep out of reach of children. Discontinue use if you experience any adverse effects.
This product contains ingredients that may be banned by some sports organizations and/or increase risk of false positive on a drug test. Please consult with your sport organization or physician before taking this product.
Disclaimer:
PLEASE NOTE: Product images represent the product offered but may not contain exact attributes. Please read the product description for the specific attributes of this product.
†PLEASE NOTE: The intention of the information above is for reference only. It is our goal to maintain and display accurate information. Yet, we can't guarantee it represents the latest formulation of the product. If you have any concerns, please visit the manufacturer's website. The information above is not a representation of our views at Same Day Supplements. These are the views and information provided by the product's manufacturer. The Food and Drug Administration has not evaluated these statements. The intention of this product is not to diagnose, treat, cure or prevent any disease or illness.
*Prices are subject to change at any time and items may limit to stock on hand.
Other Information:
Visit REPP Sports' website for more information.
In-stock orders placed before 3pm EST ship out the same day.
We offer many shipping options to countries like:
Brazil
United Kingdom
Canada
Germany
Australia
Japan
India
France
Israel
Worldwide
More Information

| | |
| --- | --- |
| SKU | BROKEN-ARROW-PRE-WORKOUT |
| Manufacturer | REPP Sports |
Customer Reviews
Review Disclaimer:
The reviews posted below are based on individual customer experiences and not views or guarantees from SameDaySupplements.com. These results are not be typical. Actual results may vary.
Top customer reviews
Good solid pre workout for intermediate pre workout users

It is all around well balanced and good Only bad parts are (that are very small and nit picky) is the scoop dosent fit back into the tub until you use a lot of the pre. It also falls into the trap that most pre falls into it tasting like battery acid. It tastes good at first but the after taste is terrible.

very good

help to get massive results in training. very tasty.

Awesome

Great product. Tastes great and and gave me tons of energy.

amazing taste

I love the Rainbow pre-workout, it has a amazing taste. I truly recommend this flavor to others who haven't tried it yet.

Nothing Special

The flavor is rather week. There are better products out there.

Insane Pumps

This pre workout gave me the best pumps I have ever had! You can really tell the difference the L-Citrulline Malate makes in the pre workout. The energy and pumps are unmatched. You can't go wrong with Broken Arrow!

Way too clumpy

Arrived solid as a brick. I emailed customer service and they suggested putting it in the freezer. I barely helped. It was still like scooping hard ice cream. I haven't had this issue when I've purchased this preworkout elsewhere. Disappointing.

Broken Arrow

Fast delivery. Great product. Always gets me going and keeps my energy, focus, pumps up during the workout. Love it, will continue to buy.

Best workout flavor

It was a sample, but I liked soo much.