Mesomorph® Pre Workout by APS Nutrition®, 388 Grams
SKU
MESOMORPH-PRE-WORKOUT
Mesomorph Pre Workout Benefits and Results:
Aids in Energy †
Promotes Muscle Pumps †
Laser Like Focus †
Perfect For Both Men and Women †
More Information

| | |
| --- | --- |
| SKU | MESOMORPH-PRE-WORKOUT |
| Manufacturer | APS Nutrition |
Details
Mesomorph by APS Nutrition - Pre Workout

What Is Mesomorph?
Chances are if you have been looking for a pre workout you already heard about mesomorph. The hype is real. Don't believe us, look at the over 192 reviews (and counting) we have on it. The proof is in the formula.
Mesomorph was the first to deliver full clinical doses of its key active ingredients. Mesomorph contains 25 servings per tub.You may be thinking, why 25 and not 30 servings like everyone else? Generally, the higher the stimulant content the lower the servings. Yeah, its strong!
To make it simple for you... Mesomorph has been the KING of pre-workout powders since 2015! It's so popular that there is actually multiple reddit threads about it. Mesomorph is an complete pre-workout with No fillers and no crash! All Results! Isn't this what you have been looking for?
Mesomorph represents an all-purpose energy, focus, hydration and exercise performance drink. Looking for more energy, laser like focus, and enhanced stamina? Try Mesomorph. Are you ready to reach new PRs?
Mesomorph Available Flavors For Sale:
Listed by Popularity:
Rocket Pop
Tropical Punch
Green Apple Candy
Pink Lemonade
Tutti Frutti
Snow Cone
Grape
Watermelon
Carnival Cotton Candy
Pineapple
Each flavor receives a ton of positive reviews.
Common Questions About Mesomorph Pre Workout:
APS Nutrition Mesomorph is one of the top pre workouts of 2019. We've received plenty of questions about it. Here are a couple of questions and answers that we get asked the most:
Do I Need To Cycle Mesomorph Pre Workout?
We do recommend to cycle Mesomorph but it isn't necessary. As with any product with stimulants you begin to build a tolerance. After about 8 to 10 weeks of use, we recommend that you take a break. We recommend to take at least 2-4 weeks off. After taking the break you may resuming usage.
Is Mesomorph Banned?
No, mesomorph has never been banned and is here for the long run. However, the original formula is no longer available.
Is There Caffeine In Mesomorph Pre Workout?
APS Nutrition confirmed there is approximately 300 mg of caffeine per scoop of mesomorph.
Why Am I Feeling a Pins and Needles?
This is cause by the ingredient Beta Alanine. That warm tingle sensation is mesomorph at work. Although it can be strong in some, it is not harmful in any way and will subside once body adjusts.
Why You Can't Find This At Big Name Stores?
Mesomorph's old formula used to contain a hardcore stimulant. This is why you won't find this at GNC, Amazon, Walmart, Bodybuilding, Vitamin Shoppe and others.
Whats The Difference Between The Old and New Formula?
We have actually made a in-dept blog post about this. So check out our Old Vs New Mesomorph article.
What Can I Stack With Mesomorph?
If you want to make mesomorph an even more effective pre workout, then you could stack a non-stim pump product with it. We recommend Hydromax. We have a pre workout stack available with Hydromax.
Mesomorph Pre Workout Reviews:
So what about the results? Don't take our word for it, read all of our customer feedback on Mesomorph (Scroll down to the bottom of the page). Here's a couple of reason why customers buy Mesomorph Pre Workout:
Review by JP  Posted on 6/30/19
It's a great boost to kick your workout up.
Review by Pete Posted on 6/24/19
Fantastic- clean energy, instantly noticeable pump. I have no crash and feel great, honestly, all day. Awesome product and I've tried some serious stuff
Review by Mick Posted on 5/11/19
Best tasting mesomorph so far. Crazy energy! Fantastic muscle pump. Used to only workout with C4 for only an hour. Mesomorph will keep you going for at least 2 hours
Mesomorph Pre Workout Ingredients:
What's inside each scoop?
Synthenox-Carnosine / Nitric Oxide Complex:
Beta Alanine
L-Citrulline DL-Malate 2:1
Arginine Alpha Ketogluttarate
Mesoswell-Cell Volumizing ATP Matrix:
Di-Creatine Malate
L-TaruineCreatine Nitrate
Ascorbic Acid
Creatinol-O-Phosphate
Agmatine Sulfate
Neuromorph-Neuro Energized Stimulant Matrix:
Glucoronolactone
Methylxanthine Anhydrous
Senegalia Berlandieri Extract (Leaves)
Theobromine
Naringin (fruit)
Isopropylnorsynephrine HCL
What's In Mesomorph Pre Workout?
Mesomorph Pre Workout Supplement Facts / Label: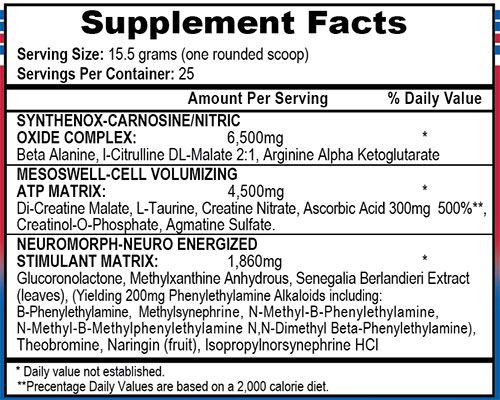 How Do I Take Mesomorph Pre Workout?
Dosage and Directions:
It is recommended to assess your tolerance first before taking a full scoop. Start by taking a half scoop for the first couple of days until tolerance has been assessed.
Training Days:
Mix 1 scoop of Mesomorph with 8-10 oz of water 30-40 minutes before exercise on a empty stomach. Perfect for cardio days as well.
Non-Training Days:
Consume up to 1 scoop of Mesomorph mixed in water on an empty stomach whenever you need the energy.
How to pronounce Mesomorph?
 You may be thinking, why is this even a question? Well believe it or not, we keep getting two different pronunciations for it.
 If you google how to pronounce mesomorph this is what comes up but this isn't how APS pronounces it. 
Version 2 (Correct way): mess-o-morph 
If you call us up to place an order, this is how we will pronounce it. This is also the way APS Nutrition pronounces it.
Why Is Mesomorph So Effective?
Its all in the ingredients. Having the right dosage and combination of ingredients is what sets Mesomorph apart. 
6500mg of Nitric Oxide Complex for skin tearing pumps
4500mg of Cell Volumizing Complex for Muscle Hydration
1860mg of Stimulant Complex for Supercharged Energy & Focus
Mesomorph Benefits and Results:
What results can I expect when taking Mesomorph?
Mesomorph helps improve strength from right in the formula. The Cell Volumizing Complex contains 3 types of Creatine. Creatine helps with energy levels, strength, and keeps the muscle cells hydrated.
The combination of Beta-Alanine, L-Citrulline Malate and AAKG works to help buffer lactic acid.
The combination of Senegalia Berlanderi, Caffeine and other stimulants delivers all day energy. 
Mesomorph contains 3 different types of creatine :
Creatine Nitrate
Creatinol-O-Phosphate
Di-Creatine Malate
This combination of creatines and taurine work to improve recovery.
The combination of NO Complex and Cell Volumizing Complex aids vascularity.
As mentioned above, Mesomorph contains 3 types of Creatine. But within the same complex, there is Agmatine Sulfate. Agmatine Sulfate helps promote cell hydration by inhibition (blocking) of nitric oxide synthase.
Lactic Acid and Toxin Elimination †
The Nitric Oxide Complex helps fiend off waste products, i. e. lactic acid. Build up of lactic acid limits the number of reps you plan to do or cause you to burn out a little faster.
Antioxidants isn't generally the first feature you think of in a pre workout. But it has it's place in Mesomorph. L-Ascorbic Acid or Vitamin C has antioxidant properties. This means it promotes neuro-protective effects and even may improve blood flow.
I'm Not A Mesomorph Body Type, Can I Still Take It?
Of course you can. Mesomorph referrers to the ideal body type. People with this body type tend to have a more athletic or medium build. With an advantage of building muscle and losing fat with ease. Sounds great doesn't it?

Not to worry! No matter your body type, Mesomorph Pre workout can help you unleash your true potential! 
If you're an Mesomorph, Ectomorph or Endomorph let APS Mesomorph PWO help you reach your goals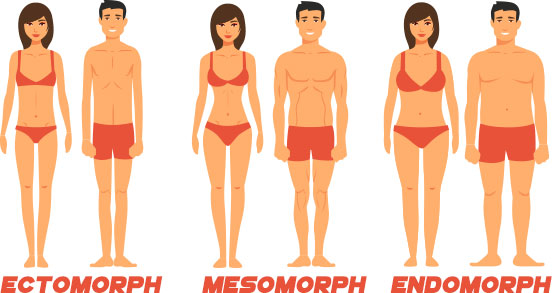 Warnings and Side Effects:
Read entire label before taking this product. As with any supplement, check with your physician prior to use. Do not use this product if you have any current or previous medical condition of any kind. Such conditions may include but are not limited to the following:
High or low blood pressure
Stroke
Arrhythmias
Palpitations
As well as any heart, thyroid, or liver condition. Seizures, anxiety or depression, prostate enlargement or inflammation. Do not use if you are nursing or pregnant. Do not use if you are taking an MAOI. If any adverse symptoms occur discontinue use immediately and consult a physician. Keep out of reach of children.
Before beginning any program of weight loss, consult your health care practitioner. These statements have not been evaluated by the FDA. This product is not intended to diagnose, treat, cure or prevent any disease.
PLEASE NOTE: Product images represent the product offered but may not contain exact attributes. Please read product description for the specific attributes of this product.
† PLEASE NOTE: The intention of the information above is for reference only. It is our goal to maintain and display accurate information. Yet, we can't guarantee it represents the latest formulation of the product. If you have any concerns, please visit the manufacturer's web site. Also the information above is not a representation of our views at Same Day Supplements. These are the views and information provided by product's manufacturer. The Food and Drug Administration has not evaluated these statements. The intention of this product is not to diagnose, treat, cure or prevent any disease or illness.
*Prices are subject to change at any time and items may limit to stock on hand.
More Information
More Information

| | |
| --- | --- |
| SKU | MESOMORPH-PRE-WORKOUT |
| Manufacturer | APS Nutrition |
Questions (0)