MRM BCAA + G (Powder)
Benefits and Results:
Supports muscle size and strength†
Supports muscle recovery†
Reduce fatigue and muscle soreness†
No artificial flavors, sweeteners or colors†
Frequently Bought Together
BCAA+G – MRM – Muscle Recovery†
What is MRM BCAA+G?
BCAA+G™ contains a precise blend of branched-chain amino acids (BCAAs) and L-Glutamine, which are clinically proven to be essential for building muscle size and strength. † BCAA+G™ increases protein synthesis, nitrogen retention and most importantly protects hard earned muscle from the stress of heavy training and intense exercise. Clinical investigations have proven that the amino acids in BCAA+G™ help the body recover quicker after intense training and promote lean muscle gains. †
During intense training or dieting, muscle tissue can decrease, drastically reducing protein synthesis, or the ability to build muscle. Research has indicated that BCAAs and Glutamine supplementation support the free amino acid pool in the muscle tissue necessary for supporting protein synthesis and allowing the body to build lean muscle mass. Because the body cannot manufacture its own BCAAs, their importance is vital for maximum muscle growth and recovery. †
Take BCAA+G™ during and/or after exercise to maintain metabolic rate and discourage muscle wasting. †
How does MRM BCAA+G work?
BCAAs, leucine, valine, and isoleucine are a group of three essential amino acids that are structurally different from other amino acids and are primarily metabolized in skeletal muscle. The rate limiting enzyme in BCAA breakdown is branched-chain keto acid dehydrogenase, which is highly active in skeletal muscle tissue.
Exercise promotes increased BCAA oxidation for its use as an energy source and fuel for workout. † This increased breakdown of BCAA helps maintain energy levels by providing carbon as a direct energy source and glucose levels by providing substrates for the citric acid cycle and gluconeogenesis.* Because BCAA can serve as a "fuel" for skeletal muscle, intra-workout supplementation can support endurance and sports performance. †
Leucine stimulates protein synthesis through activation of mTOR, supporting muscle synthesis.
Glutamine is a nonessential amino acid that has multiple roles in the body. Glutamine can support digestive health as an energy source for intestinal cells. † It acts mainly as a "nitrogen shuttle" between organs, supporting nitrogen balance throughout the body and a precursor for amino acids and nucleotide synthesis. †
Glutamine is also a powerful cell volumizer, also called cell swelling, which can stimulate anabolic pathways (synthesis of proteins and glycogen) and inhibits catabolic pathways (protein degradation). †
During times of stress, such as exercise, skeletal muscle is broken down to provide sufficient glutamine and BCAAs into the body's free amino acid pool. † Restoring BCAAs and glutamine levels after exercise is vital to recovery and supporting this free amino acid pool so less muscle breakdown takes place. †
Why choose MRM BCAA+G?
MRM BCAA+G™ is the ultimate muscle recovery formula nutritionally engineered for today's serious athlete and health enthusiasts. †
Ingredients:
Vitamin B6 (as Pyridoxine HCl)
L-Leucine
L-Valine
L-Isoleucine
L-Glutamine
FAQ:
What is the safe age for people to use this product?
MRM's HMB is intended for adults over the age of 18.
Can I take this product before my work out?
Yes, but the best time to take this product is during or after you work out.
Is this product safe for consumption while pregnant or nursing?
Yes, this product is safe. MRM does recommend informing your doctor of any supplement you take or plan to take if you are pregnant or nursing.
Comparisons:
Xtend BCAA (30 / 90 Servings) – Scivation
Provides:
Support Muscle Growth †
Support Recovery †
Replenishes Electrolytes †
Muscle Protein Synthesis †
Provides:
Leucine, Isoleucine, & Valine in 2:1:1 Ratio †
Activates Protein Synthesis †
Supports Muscle Recovery †
Reduces Muscle Breakdown †
Best BCAA Shredded™ By BPI Sports
Provides:
Lean Muscle †
Enhanced Recovery †
Pumps †
Weight Loss †
How do I take MRM BCAA+G?
Dosages and Directions:
Take 3 scoops per day before or after exercise, or as directed by your healthcare professional.
Please Note: BCAA+G does not mix well in water and must be shaken or swirled prior to each drink. Also, BCAA+G can be consumed as powder directly into the mouth followed by water.
What's In MRM BCAA + G?
Supplement Facts / Label: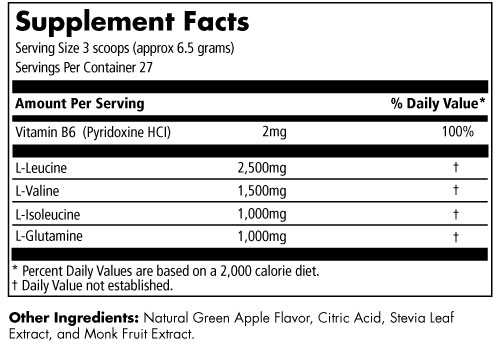 Warnings and Side Effects:
This product is manufactured in a facility that processes other products that contain milk or egg.
Disclaimer:
PLEASE NOTE: Product images represent the product offered but may not contain exact attributes. Please read the product description for the specific attributes of this product.
†PLEASE NOTE: The intention of the information above is for reference only. It is our goal to maintain and display accurate information. Yet, we can't guarantee it represents the latest formulation of the product. If you have any concerns, please visit the manufacturer's website. The information above is not a representation of our views at Same Day Supplements. These are the views and information provided by the product's manufacturer. The Food and Drug Administration has not evaluated these statements. The intention of this product is not to diagnose, treat, cure or prevent any disease or illness.
*Prices are subject to change at any time and items may limit to stock on hand.
Other:
Trisha A. VanDusseldorp, Kurt A. Escobar, Kelly E. Johnson, Matthew T. Stratton, Terence Moriarty, Nathan Cole, James J. McCormick, Chad M. Kerksick, Roger A. Vaughan, Karol Dokladny, Len Kravitz and Christine M. Mermier (2018 Oct 1.) Effect of Branched-Chain Amino Acid Supplementation on Recovery Following Acute Eccentric Exercise https://www.ncbi.nlm.nih.gov/pmc/articles/PMC6212987/
Dong-Hee Kim, Seok-Hwan Kim, Woo-Seok Jeong and Ha-Yan Lee (2013 Nov 28.) Effect of BCAA intake during endurance exercises on fatigue substances, muscle damage substances, and energy metabolism substances https://www.ncbi.nlm.nih.gov/pmc/articles/PMC4241904/
In-stock orders placed before 3pm EST ship out the same day.
We offer many shipping options to countries like:
Brazil
United Kingdom
Canada
Germany
Australia
Japan
India
France
Israel
Worldwide
More Information

| | |
| --- | --- |
| SKU | MRM-BCAA-G-POWDER |
| Manufacturer | MRM |
Customer Reviews
Review Disclaimer:
The reviews posted below are based on individual customer experiences and not views or guarantees from SameDaySupplements.com. These results are not be typical. Actual results may vary.
Top customer reviews