Uni-Vite By Universal Nutrition - Multi-Vitamin - 120 Capsules
Benefits and Results:
Precisely Dosed For Performance Athletes †
Comprehensive Micronutrient Profile †
Supports Optimal Performance, Strength, and Vitality †
Loaded With Antioxidants †
Uni-Vite By Universal Nutrition - 120 Caps - Multi-Vitamin
What Is Uni-Vite and How Does It Work?
Universal Nutrition's Uni-Vite is a complete and comprehensive multivitamin that comes equipped with over 50 nutrients vital for ensuring optimal performance, strength, vitality, and virility. †
Designed specifically for elite strength athletes and bodybuilders who need and expect more, Uni-Vite is potent, powerful, and effective. †
Uni-Vite should be the nutritional cornerstone of any serious strength athlete who seeks value and results. †
Ingredients:
Vitamin A (as carotenoids [ß-carotene, α-carotene]): 250 mcg
Vitamin C (as ascorbic acid, ascorbyl palmitate): 250 mg
Vitamin D (as cholecalciferol): 20 mcg
Vitamin E (as dl-α, d-ß, d-Y, d-△ tocopherols & tocotrienols): 67 mg
Vitamin K (as phytonadione): 40 mcg
Thiamin (as thiamin mononitrate): 50 mg
Riboflavin: 50 mg
Niacin (as niacinamide): 50 mg
Vitamin B6 (as pyridoxine HCI): 50 mg
Folate: 667 mcg (400mg folic acid)
Vitamin B12 (as cyanocobalamin, methylcobalamin): 50 mcg
Biotin: 100 mcg
Pantothenic Acid (as d-Ca pantothenate): 50 mg
Choline (as bitartrate): 6 mg
Calcium (as Ca carbonate): 125 mg
Iodine (from kelp [whole plant]): 25 mcg
Magnesium (as Mg oxide): 75 mg
Zinc (as Zn oxide): 15 mg
Selenium (as selenomethionine): 70 mcg
Copper (as Cu chelate): 2 mg
Manganese (as Mn sulfate): 2 mg
Chromium (as Cr chloride): 120 mcg
Molybdenum (as Mo chelate): 75 mcg
Uni-Vite Performance Blend: 970 mcg
Virility Blend: 375 mg

Stinging Nettle (root), Panax Ginseng (root), Ginkgo Biloba (leaf), Ashwagandha Extract (whole plant), L-Arginine, Lycopene

Antioxidant Blend: 150 mg

Citrus Bioflavonoids (peel), Grapeseed Extract, Alpha Lipoic Acid, Pine Bark Extract, Coenzyme Q10, Lutein

Sports Performance Blend: 200 mg

Green Tea Leaf Extract, Choline Bitartrate, Inositol, Para-aminobenzoic Acid, L-Carnitine, L-glutamine, Eleutherococcus Senticosus (root)

Phytonutrient Blend: 195 mg

Alfalfa (herb), Spirulina (whole plant), Chlorella (whole plant), Garlic (bulb), Flaxseed Powder, Celery (seed)

Digestive Blend: 50 mg

Ginger Root, Bromelain, Papain, Lipase, Inulin
What Can I Expect?
Healthy Brain Function †
Eye Health †
Cardiovascular Health †
Boost Immune System Function †
Healthy Skin and Hair †
Reduce Cancer Risk †
Metabolism Maintenance †
Balance Hormones †
Improve Well-Being †
Who Should Take It / Who Shouldn't Take It?
This product is intended for healthy adults, bodybuilders or athletes who are seeking an advanced, complete multivitamin to support their performance. †
Frequently Asked Questions:
Can this be used for weight loss?
Calorie intake and expenditure will determine weight loss or gain. However, adding this product to your diet will help your body function with efficiency. †
Are there any side effects with taking this?
Consumers have reported dark urine after taking this product. For this reason, we recommend taking the serving throughout the day with a cup of water; 1 tablet per meal. More importantly, urine color often indicates hydration status. It is recommended to drink at least 8-10 cups of water per day.
Comparison
Vs. Animal Pak
This product contains most of the same vitamins and minerals at similar doses. The major difference is the addition of all the essential and non-essential amino acids.
Vs. Opti-Men
This product is a complete Nutrient Optimization System that provides 75+ active ingredients in 4 blends specifically designed to support the nutrient needs of active men.
This product is a complete, hi-potency and performance multivitamin with higher doses key vitamins and minerals, as well as L-Carnitine and Beta Alanine.
How Do I Take It?
Dosage and Directions:
Take 4 capsules daily with food. Up to 8 capsules may be taken daily, 4 each in the AM and PM.
What's In Universal Nutrition Uni-Vite?
Supplement Facts / Label: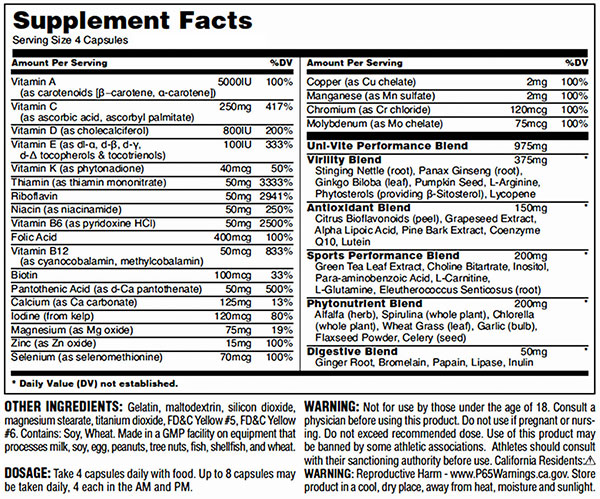 Warnings and Side Effects:
This product is not for use by anyone under the age of 18. Please consult with a physician before using this product, especially if you are using any prescription drug, over-the-counter medication, or supplements.
Disclaimer:
PLEASE NOTE: Product images represent the product offered but may not contain exact attributes. Please read the product description for the specific attributes of this product.
†PLEASE NOTE: The intention of the information above is for reference only. It is our goal to maintain and display accurate information. Yet, we can't guarantee it represents the latest formulation of the product. If you have any concerns, please visit the manufacturer's website. The information above is not a representation of our views at Same Day Supplements. These are the views and information provided by the product's manufacturer. The Food and Drug Administration has not evaluated these statements. The intention of this product is not to diagnose, treat, cure or prevent any disease or illness.
*Prices are subject to change at any time and items may limit to stock on hand.
References:
Manish D Paranjpe, Alfred C Chin, Ishan Paranjpe, Nicholas J Reid, Phan Q Duy, Jason K Wang, Ross O'Hagan, Artine Arzani, Arsalan Haghdel, Clarence C Lim, Vwaire Orhurhu, Ivan Urits, Anh L Ngo, Benjamin S Glicksberg, Kathryn T Hall, Darshan Mehta, Richard S Cooper, Girish N Nadkarni. (Nov 2020). Self-reported health without clinically measurable benefits among adult users of multivitamin and multimineral supplements: a cross-sectional study. https://pubmed.ncbi.nlm.nih.gov/33148746/
Mary L Fantacone, Malcolm B Lowry, Sandra L Uesugi, Alexander J Michels, Jaewoo Choi, Scott W Leonard, Sean K Gombart, Jeffrey S Gombart, Gerd Bobe, Adrian F Gombart. (Aug 2020). The Effect of a Multivitamin and Mineral Supplement on Immune Function in Healthy Older Adults: A Double-Blind, Randomized, Controlled Trial. https://pubmed.ncbi.nlm.nih.gov/32823974/
In-stock orders placed before 3pm EST ship out the same day.
We offer many shipping options to countries like:
Brazil
United Kingdom
Canada
Germany
Australia
Japan
India
France
Israel
Worldwide
More Information

| | |
| --- | --- |
| SKU | UN-0211 |
| Weight | 0.3200 |
| Manufacturer | UNIVERSAL NUTRITION |
| UPC | 039442048806 |
Customer Reviews
bom

Embalagem diferente, porem aparenta ser mesma receita!! capsulas pequenas e de facil uso! (Different packaging, but it seems to be the same recipe !! Small and easy to use capsules!)

Produto de qualidade

Ótimo produto, realmente cumpre o que tem no rótulo, estou muito mais disposto, vlw universal e samedaysupplements.com
Great product, really does what it has on the label, I'm much more willing, vlw universal and samedaysupplements.com

Gostei

Estava precisando de algumas Vitaminas e não pensei 2 vezes para comprar