Animal Pak (Powder and Pills) - Universal Nutrition
Benefits and Results
Complete Multivitamin †
Antioxidants †
Adaptogens †
Amino Acids †
Digestive Enzymes †
Animal Pak By Universal Nutrition - Vitamins / Minerals
What Is It?
Animal Pak by Universal Nutrition provides your body with everything it needs whether you're bulking, cutting or just maintaining.
This multivitamin and performance pack covers all the bases, including the essentials and some important extras.
Each of the 11 tablets included in each Pak has been specifically formulated to maximize your body's potential.
How Does It Work?
The foundation of the Pak starts with mega-doses of all the necessary vitamins and minerals. These are crucial for our body to develop and function optimally.
It also includes extras, like performance optimizers, antioxidants, natural herbs, and digestive enzymes. This product has been trusted by bodybuilders and power-lifters for over 35 years!
Ingredients:
Vitamin A (as beta carotene, acetate): Promotes good eyesight. †
Vitamin C (as ascorbic acid): Antioxidant and enhances immune function. †
Vitamin D (as cholecalciferol): Helps absorb Calcium; supports strong bones. †
Vitamin E (as d-αlpha tocopheryl succinate): Antioxidant protects from free radicals. †
Vitamin K (as phytonadione, menaquinone):may help keep bones healthy.†
Thiamin (as mononitrate): Helps process carbohydrates into energy, vital role in muscle contraction and conduction of nerve signals. †
Riboflavin: Helps maintain body's energy supply. †
Niacin (as niacinamide): lower cholesterol and support brain function. †
Vitamin B6 (as pyridoxine HCL): Helps maintain energy stores and supports creation of red blood cells. †
Folate: Antioxidant that helps produce and maintain new cells. †
Vitamin B12 (as methylcobalamin): Supports healthy nerves and blood cells. †
Biotin: Vital for healthy for hair, skin, and nails. †
Pantothenic Acid (as d-calcium pantothenate): Supports healthy blood cells. †
Choline (as bitartrate): may help regulate memory, mood, muscle control, and other functions.†
Calcium / Phosphorus: Crucial for muscle contraction, nerve transmission, and strong bones. †
Iodine (as potassium iodine): Supports healthy Thyroid function. †
Magnesium (as oxide): Supports healthy nerve, muscle and immune function. †
Zinc (as oxide): Helps immune system function. †
Selenium (as sodium selenite): Antioxidant that helps prevent cell damage. †
Copper (as sulfate): Helps maintain healthy circulatory system. †
Manganese (as sulfate): Supports healthy brain and nervous system function. †
Chromium (as chloride): Important in breakdown of fats. †
Potassium (as sulfate): Vital for muscle contraction and cardiovascular function. †
Amino Acid Complex: Building blocks of muscle growth and development. †

Alanine, Arginine, Aspartic Acid, Cystine, Glutamic Acid, Glutamine, Glycine, Hydroxyproline, Histidine, Isoleucine, Leucine, Lysine, Methionine, Phenylalanine, Proline, Serine, Threonine, Tryptophan, Valine, Ornithine

Liver Detox Complex:

Milk Thistle (seed): Supports healthy liver function and cholesterol levels. †
Hawthrone (berry): Supports antioxidant and anti-inflammatory effects. †
Red Beet Root: Supports improved blood flow and increased exercise performance. †
N-Acetyl Cysteine: Helps with chronic respiratory conditions, fertility and brain health. †
Turmeric Root: Supports antioxidant and anti-inflammatory effects. †

Protein Complex:

Whey Protein Concentrate: Promotes muscle growth. †
Beef and Liver Blend (Beef protein isolate, liver):Supports muscle growth and improved recovery and performance. †
Performance Complex

Eleutherococcus Senticosus (root): similar to Ginseng, behaves as an antioxidant to help protect cells from damage. †
L-Taurine: Supports heart health and treatments of high blood pressure and cholesterol. †
Para-Aminobenzoic Acid (PABA): Supports healthy circulatory system. †
Choline Bitartrate: Supports production of neurotransmitters. †
Inositol: Aids in blood glucose control and supports neurotransmitter levels. †
Carnitine: Aids in converting long-chain fatty acids to produce energy. †

Antioxidant Complex

Pine Bark Extract: Supports anti-inflammatory effects †
Alpha Lipoic Acid (ALA): Behaves as antioxidant and helps breakdown carbohydrates for energy. †
Grapeseed Extract: May help control cholesterol levels and reduce swelling. †
Coenzyme Q10 (CoQ10): Antioxidant that protects cells from damage. †
Lutein: Anti-inflammatory effects and supports healthy eye function. †
Lycopene: Antioxidant; Supports healthy heart function. †

Digestive Enzyme Complex and Absorption Complex:

Inulin: Supports digestive health. †
Ginger Root:  Supports stimulating food digestion and absorption. †  
Bromelain: May help reduce swelling. †
Acid Protease: May help digestion and decrease inflammation. †
Papain: Anti-inflammatory effects and supports digestive health. †
Lipase: Enzyme that helps breakdown fats into energy. †
Black Pepper Extract (fruit) as BioPerine): Improves blood sugar levels and may lower cholesterol levels. †

Energy and Focus Complex:

Tyrosine: Helps to improves alertness, attention, and focus. †
Green Tea Leaf Extract: Promotes weight loss and exercise recovery. †
D-Glucuronolactone: Supports energy boosting and improved athletic performance. †
Coffee Bean Extract (polyphenols): Promotes weight loss and a boost in energy. †
*Made in a GMP facility on equipment that processes milk, soy, egg, peanuts, tree nuts, fish, shellfish, and wheat.*
Compared to Animal Pak Powder: Both multivitamins contain the same vitamins and minerals in the same amounts. Additionally, the powder has the same amino acids but in less quantities.
What Should I Expect?
Unlike Pre-workouts or fat-burners, you will not immediately feel anything directly after taking this product. Routine use of this product over time may promote an overall sense of well-being (feeling healthy).
Who Should Take It/ Who Shouldn't Take It?
This product is intended only for healthy adults (Men or Women) who are not using any prescription medications.
Those who are pregnant, nursing or have a medical condition should not take this product without consulting a medical physician.
Reviews:
Best Multi-Vitamin I have Ever Used!! By Bruno
Took 1 pack a day and provided me with great energy level, good pumps in the gym, somewhat quicker recovery and helped with staying tighter. Great foundation for any diet and I would recommend this product before anything else. Take this product as your foundation of vitamins and minerals and then stack other products such as creatine, glutamine, and BCAA's on top of that! THE ONLY ISSUE I HAVE: Is that there are 11 tablets to consume and some of them are the size of a 9mm bullet. My suggestion is crush them up and mix it into your coffee or morning shake if you cannot consume 11 tablets comfortably.
Animal Pak #1 By Luan
An excellent pack, improved my performance in the gym, on the days I take I had more energy. I highly recommend!
Complete Multi-Vitamin
Animal Pak will supply all your vitamin and mineral needs, also helps improve workout results. Excellent product, I recommend!
FAQ:
When is the best time to take the Pak?
The best time to take would be with any meal with at least 12 oz. of water.
Does it help build muscle or burn fat?
This product was not designed to directly build muscle or burn fat. Multivitamins provide essential components your body needs to function with efficiency.
Does these damage kidneys?
When directions are followed, along with adequate hydration and calorie intake, this product will not cause kidney damage. Animal Pak has been on the market for nearly 35 years!
Why is my urine bright yellow?
This is usually caused by high concentrations of B-Vitamins. Riboflavin is specifically known to darken the color of urine. Although this is harmless, it is important to maintain adequate hydration throughout the day.
Can I take on an empty stomach?
Taking this without a meal may cause stomach upset and nausea. Taking with a meal will increase absorption and decrease these negative side effects.
Can I take Animal Cuts and Pak together?
Yes! We recommend taking each at different times of the day to facilitate absorption.
Can I take with creatine?
Yes, this product is safe to take with creatine.
Are there any side effects?
Mild side effects may occur such as diarrhea, nausea and cramps. To minimize symptoms we recommend taking the product with a meal and plenty of water.
Do I need to cycle Animal Pak?
There is no need to cycle Animal Pak for it is a multivitamin.
Is this product vegan?
No, the product contains ingredients derived from animal sources.
Can women take this product?
Yes, women can also take this product!
Comparisons:
Vs. ON Opti-Men
Opti-Men is a simple and complete Nutrient Optimization System that provides 75+ active ingredients in 4 blends specifically designed to support the nutrient needs of active men. This product contains many of the same ingredients and stands as a strong competitor to Animal Pak.
Vs. GNC Mega Men Sport
Sport is a great multivitamin for athletes. This product contains all of the same vitamins and minerals, however contains only the three branched-chain amino acids. Designed specifically for men, this multivitamin supports colon and prostate health.
Vs. Sentry
Most multi-vitamins contain ingredients in amounts that are well above the percent daily value. Sentry is nothing like this, in fact, this product has the most balanced ingredients. On average, each ingredient in this product achieves 100% or slightly over the daily recommended value.
How Do I Take It?
Dosage and Directions:
Take 1 to 2 packs with breakfast or any other meal, with plenty of water. For those who compete or are training with higher intensity, two packs are suggested.
Powder: Take 1 to 2 scoops with 6-12 oz. of your beverage of choice with breakfast or any other meal. For those who compete or are training with higher intensity, two scoops are suggested.
What's in Animal Pak Pills?
Supplement Facts / Labels:
Animal Pak Powder Supplement Facts / Label: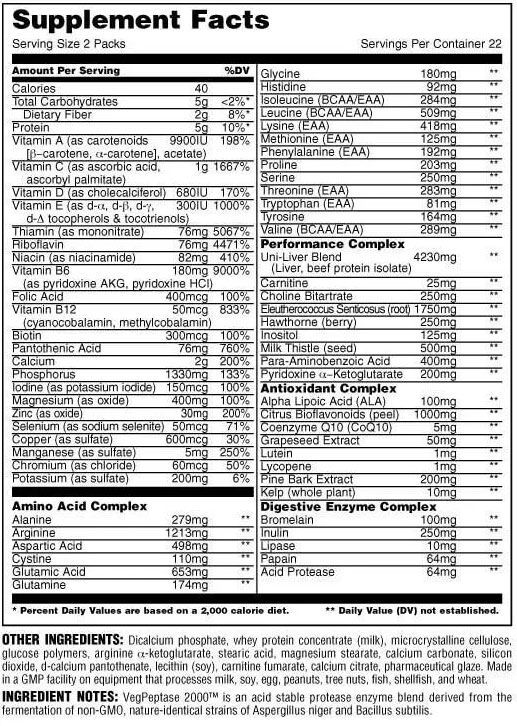 Warnings and Side Effects:
Not intended for use by those under the age of 18. This is a potent bodybuilding supplement. Before using this product be sure to seek advice from your physician, especially if you are using any prescription drug, over-the-counter medication, or supplements.
Do not take this if you have or are at risk for any medical condition or disease. Immediately discontinue use if any side effects occur.
California Residents: WARNING- Reproductive Harm – www.P65Warnings.ca.gov.
Keep out of reach of children. Athletes should consult their sanctioning authority before use. Do not exceed recommended dose. Store product in a cool, dry place, away from heat, moisture and sunlight.
Disclaimer:
PLEASE NOTE: Product images represent the product offered but may not contain exact attributes. Please read the product description for the specific attributes of this product.
†PLEASE NOTE: The intention of the information above is for reference only. It is our goal to maintain and display accurate information. Yet, we can't guarantee it represents the latest formulation of the product. If you have any concerns, please visit the manufacturer's website. The information above is not a representation of our views at Same Day Supplements. These are the views and information provided by the product's manufacturer. The Food and Drug Administration has not evaluated these statements. The intention of this product is not to diagnose, treat, cure or prevent any disease or illness.
*Prices are subject to change at any time and items may limit to stock on hand.
References:
Volpi E, Kobayashi H, Sheffield-Moore M, Mittendorfer B, Wolfe RR. (August, 2003). Essential amino acids are primarily responsible for the amino acid stimulation of muscle protein anabolism in healthy elderly adults. https://www.ncbi.nlm.nih.gov/
Macpherson H, Pipingas A, Pase MP. (February, 2013). Multivitamin-multimineral supplementation and mortality: a meta-analysis of randomized controlled trials. https://www.ncbi.nlm.nih.gov/
In-stock orders placed before 3pm EST ship out the same day.
We offer many shipping options to countries like:
Brazil
United Kingdom
Canada
Germany
Australia
Japan
India
France
Israel
Worldwide
More Information

| | |
| --- | --- |
| SKU | ANIMAL-PAK |
| Manufacturer | UNIVERSAL NUTRITION |
Customer Reviews
animal pak

muito bom recomendo (very good, I recommend)

top

recomendo

O TRADICIONAL QUE VALE!

O tradicional que vale a pena, pode comprar. Ajuda a melhorar performance, melhor disposição, pump, vc percebe na medida dos dias conforme o uso. Recomendo. (The traditional one is worth buying. It helps to improve performance, better disposition, pump, you notice in the measure of the days according to the use. I recommend.)

All Joe product working good

Very good flavour

top

muito bom recomendo (very good, I recommend)

Very Good"

Excellent supplements. I will buy more !!!

Top demais!!!

Super recomendo!!! (Super recommend !!!)

Great

Great stuff .good prices . Fast shipping

BEST WEBSITE IN THE WORLD

Site of trust and security in my purchases.
All well packaged and still in the cardboard box.
Other than the discount coupon at the end of my purchase.
Congratulations samedaysupplements !!!

Excellent supplement!

I really enjoyed this supplement and plan to buy more often. I found it very efficient.