Vitastack Multi Vitamin - Allmax Nutrition - 30 Packs
Benefits and Results:
7 Functions = 9 Pill Pack! †
Complete, High Dose Nutrient, Vitamin and Mineral Stack †
Fulfills Nutritional Needs of Intense Training †
Frequently Bought Together
Vitastack By Allmax Nutrition - 30 Packs - Multi-Vitamin
What Is It?
Allmax has combined decades of their supplement knowledge in order to create the most complete 9 pill, 7 function multivitamin pack; Vitastack!
This high-dosed multi-vitamin, mineral and nutrient pack supplies your body with everything you need for improved performance, recovery, and growth. †
Specifically designed and engineered for intense training sessions, Vitastack offer every essential nutrient in dosages only hard-training athletes and bodybuilders need to accommodate their excessive physical demands. †
How Does It Work?
Unfortunately, many of the hardest training athletes fail to reach their goals because they demand too much from their bodies without providing the necessary fuel and support.
Over time, excessive demand plus an ineffective diet can lead to nutritional deficiencies and ultimately stop progress.
Allmax simplified vitamin supplementation with this one easy-to-take stack that will provide you with the most effective dosages of the most essential nutrients to restore, replenish and support your body's needs! †
Ingredients:
Anabolinex (Anabolic Support Complex)

Contains important Essential Amino Acids used to stimulate protein synthesis. †

Electrofuse (Electrolyte Support)

Often lost through sweat, Calcium, Phosphorus, and Potassium are included to support optimal hydration and reduce cramping. †

Skeletocore (Nutritional Bone / Cartilage Support)

MSM, Glucosamine and Chondroitin are critical ingredients used to relieve, lubricate, repair and support healthy joints. †

Energoforce (Neurotropic Mental Focus Compound)

Taurine and L-Tyrosine are included to help improve focus, alertness and exercise performance. †

Cardiopulse (Source of Omega-3 Fatty Acids)

EPA and DHA are known to support brain function, healthy cardiovascular system, reduce triglycerides, and reduce inflammation. †

Metabocore (Digestive Aid / Anabolic Nutrient Support)

Includes enzymes (Protease, Amylase, and Lipase) to assist in the breakdown of Proteins, Carbohydrates and Fats into their smallest units. †

Immunocharge (Antioxidant Immune Support)

These ingredients function to reduce any potential DNA damage to our cells. †
What Should I Expect?
Unlike pre-workouts and fat-burners, you won't immediately feel anything after taking this product unless you are sensitive to Vitamin B3 (Niacin), which may cause temporary mild flushing accompanied by itching.
Adequate Hydration †
Improved Endurance †
Increased Strength †
Increased Muscle Mass †
Healthy Joint Support †
Reduced Inflammation †
Improved Physical Performance †
Accelerated Recovery †
Who Should Take It/ Who Shouldn't Take It?
This product can be taken by just about anyone, man or woman, ranging from the Amateur Athlete to Competitive Bodybuilders. †
FAQ:
When should I take the Pack?
It is recommended to take 1 stack pack in the morning with adequate water and food.
Do I need to cycle this product?
There is no need to cycle this product.
Can Women take the Vitastack?
Yes, of course! There are no gender specific ingredients in Vitastack.
Can I stack this with protein or preworkout?
Yes absolutely, in fact, it is recommended. Vitastack provides your body with complete vitamins and minerals while protein will help increase your caloric intake, leading to muscle growth.
Are there any side effects with taking this product?
Side effects with Vitastack are uncommon and if occurs, discontinue use and contact your primary healthcare provider. Please take as directed, with food and water.
Comparisons:
Vs. Animal Pak By Universal Nutrition
Offered in Powder and Pak form. This product contains most of the same foundational ingredients such as complete Vitamins/ Minerals, Digestive Enzymes, and Antioxidants. Also included is all the Branched Chain Amino Acids.
This product includes complete Vitamins/ Minerals while also including Carnitine and Beta-Alanine. These additional ingredients aid in the conversion of fat for energy, as well as improve muscle endurance and decrease fatigue.
This product by GAT offers complete Vitamin/ Minerals for male athletes, in addition contains ingredients intended to support testosterone levels.
How Do I Take It?
Dosage and Directions:
Take 1 STACK PACK (9 Pills) once daily with water. Take with food. Consult a healthcare practitioner for use beyond 4 weeks.
What's In Allmax Vitastack?
Supplement Facts / Label: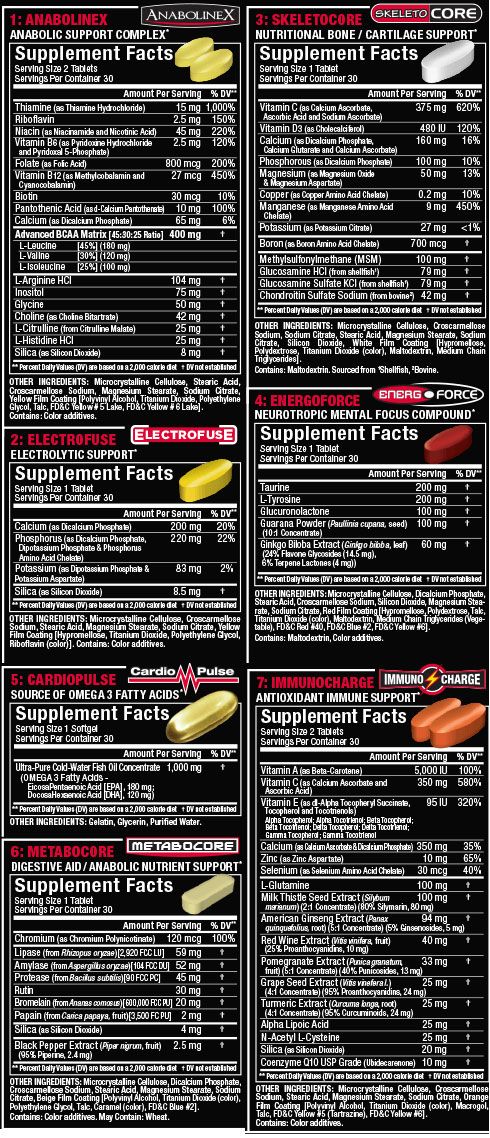 Warnings and Side Effects:
Not intended for persons under 18. Consult a health care practitioner before use if you are pregnant, nursing, taking medication or have a medical condition. Do not exceed recommended serving. consult a health care practitioner prior to use if you have:
gastrointestinal lesions / ulcers
are taking anticoagulants / blood thinners
anti-inflammatory agents or antibodies
before having surgery
or if you are a diabetic currently using blood-sugar lowering medication.
Discontinue use and consult a healthcare practitioner if you experience symptoms of hypoglycemia including feelings of anxiety, dizziness, tremor, sweating, nausea or headache. May cause temporary mild flushing accompanied by itching for people sensitive to Vitamin B3 (Niacin).
Discontinue use 2 weeks prior to surgery. Take a few hours before or after taking other medications. If symptoms persist or worsen, discontinue use and consult a health care practitioner. Improper use of this product will not improve results and is not advised. Use only as directed.
Do not use if packaging has been tampered with. Store in a cool, dry place and keep out of direct sunlight. Keep out of reach of children.
CALIFORNIA WARNING: Lead is known to the state of California to cause birth defects or reproductive harm. Consuming this product can expose you to more than 0.0000005 g of lead. For more information go to www.P65Warnings.ca.gov
ALLERGEN WARNING: Produced in a facility that also handles Milk, soy, Wheat, Egg, Peanuts, Tree Nuts, Fish & Shellfish products.
Disclaimer:
PLEASE NOTE: Product images represent the product offered but may not contain exact attributes. Please read the product description for the specific attributes of this product.
†PLEASE NOTE: The intention of the information above is for reference only. It is our goal to maintain and display accurate information. Yet, we can't guarantee it represents the latest formulation of the product. If you have any concerns, please visit the manufacturer's website. The information above is not a representation of our views at Same Day Supplements. These are the views and information provided by the product's manufacturer. The Food and Drug Administration has not evaluated these statements. The intention of this product is not to diagnose, treat, cure or prevent any disease or illness.
*Prices are subject to change at any time and items may limit to stock on hand.
References:
Lubis AMT, Siagian C, Wonggokusuma E, Marsetyo AF, Setyohadi B. (Apr 2017) Comparison of Glucosamine-Chondroitin Sulfate with and without Methylsulfonylmethane in Grade I-II Knee Osteoarthritis: A Double Blind Randomized Controlled Trial. https://pubmed.ncbi.nlm.nih.gov/28790224/
Kidd PM. (Sept 2007) Omega-3 DHA and EPA for cognition, behavior, and mood: clinical findings and structural-functional synergies with cell membrane phospholipids. https://pubmed.ncbi.nlm.nih.gov/18072818/
In-stock orders placed before 3pm EST ship out the same day.
We offer many shipping options to countries like:
Brazil
United Kingdom
Canada
Germany
Australia
Japan
India
France
Israel
Worldwide
More Information

| | |
| --- | --- |
| SKU | AMN-0063 |
| Weight | 1.2400 |
| Manufacturer | AllMax Nutrition |
| UPC | 665553200859 |