Benefits and Results:
Increases Lean Muscle †
Improves Recovery †
Weight Management †
22 Grams of Ultra-Premium Protein Per Serving †
Sustained Release Multi-Functional Micellar Protein Matrix †
Syntha-6 Protein By BSN
What Is It?
BSN SYNTHA-6 is an ultra-premium protein powder with 22g protein per serving and the best tasting BSN protein on the market. This product is the go-to protein for any nutrition or exercise regimen because it is designed to suit a variety of active lifestyles and diet plans. † The high standard of quality protein comes with taste to match, thanks to the BSN exclusive flavor technology.
How Does It Work?
Ingredients:
Total Calories: 200 per serving.
Total Carbohydrates: 15 g per serving.
Total Protein: 22 g per serving.
Protein Matrix:
Whey Protein Concentrate- Supports muscle growth.†
Whey Protein Isolate- Supports muscle growth.†
Calcium Caseinate- Helps in fat breakdown and amino acids absorption.†
Micellar Casein- Supports greater strength and endurance, better muscle gains, and improved metabolic rates and resistance training.†
Milk Protein Isolate- Aids in loss of body weight and fat mass through enhanced satiety, while promoting skeletal muscle growth and function through anabolic effects of dairy protein-derived branch chain amino acids. †
Egg Albumen- Very rich in protein and helps maintain blood pressure. †
Glutamine Peptides- Known to increase the release of growth hormone in the body Improvement in nitrogen balance.†
Sunflower Creamer:
Sunflower Oil- Supports energy and increased immune system.†
Corn Syrup Solids- Known to provide energy for the body and are clinically shown to be readily digestible.†
Dipotassium Phosphate- Supports the production of ATP and the energy your body gives off.†
Soy Lecithin- Helps to improve heart health and digestion. †
Tocopherols- Known to help to protect your body from damaging compounds called free radicals. †
MCT Powder:
Medium Chain Triglycerides- Known to increase muscle mass and strength. †
Nonfat Dry Milk- Helps to increase the amount of protein and energy your body makes. †
Silicon Dioxide- Serves as an anti-caking agent to avoid clumping.†
What Can I Expect?
BSN broke through the whey protein flavor barrier once and for all with the introduction of SYNTHA-6. Available in over 10 decadent flavors, it mixes like a delicious milkshake and is designed for any individual who wants to supplement daily protein intake to help reach their nutritional and physique goals. †
Featured Customer Reviews:
Review by Leonardo:
For me the best whey, very good quality, good muscular response
Review by Eduardo:
Awesome taste and brings excellent proteins
Review by Fabricio:
Awesome product. Always on my diet program. Good taste and handful amount of proteins.
FAQ:
What flavors are currently available for this product?
The flavors that are currently available for this product from the manufacturer are: Vanilla, Chocolate, Strawberry, Salted Caramel, Pumpkin Pie, Peanut Butter Cookie, Cookies & Cream, Cinnamon Bun, Chocolate Peanut Butter, and Chocolate Cake Batter.
When should I take this?
If you do not decide to eat before your workout then take it before, but if not then take it as a post workout.
I want to gain more weight, but in muscle. Is this a good product for it?
Yes, any quality protein supplement will help you, this one however TASTE GREAT and you will look forward to drinking it. If you have a solid training program you will do just fine. †
How quickly will you see results?
It is different for everyone as everybody is different, but if you have a solid training program and are taking this as directed you should begin to see results before you finish the container. †
Comparable products:
Stacks:
If you feel your body is missing out on Glutamine and are looking for a Glutamine substitute, we suggest taking: BSN Glutamine. †
If you are missing that extra energy boost at the gym and want a supplement to give that to you, then we suggest taking: NO Xplode / EndoRush. †
If you feel as your body requires more amino acids then what is it naturally creating, we suggest taking: Amino X. †
If you are looking for a supplement that will help you with endurance, recovery, and muscle growth, we suggest taking: Cellmass 2.0. †
How Do I Take It?
Dosage and Directions:
Take one scoop with 4-5 oz. of cold water of any beverage of your choice.
To increase your protein intake preserving and to achieve an amazing milkshake taste, use non-fat or low fat milk.
What's In It?
Supplement Facts / Label: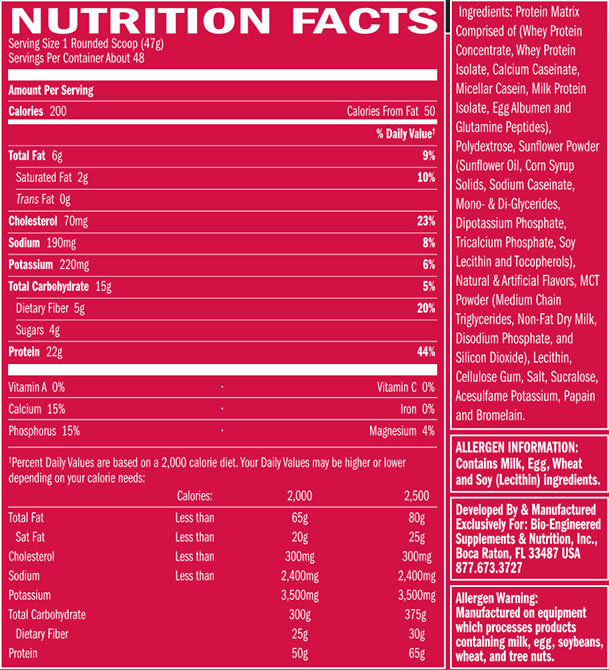 Warnings and Side Effects:
Allergen Warning: Contains milk, egg, wheat, peanut and soy (lecithin) ingredients.
Disclaimer:
PLEASE NOTE: Product images represent the product offered but may not contain exact attributes. Please read the product description for the specific attributes of this product.
†PLEASE NOTE: The intention of the information above is for reference only. It is our goal to maintain and display accurate information. Yet, we can't guarantee it represents the latest formulation of the product. If you have any concerns, please visit the manufacturer's website. The information above is not a representation of our views at Same Day Supplements. These are the views and information provided by the product's manufacturer. The Food and Drug Administration has not evaluated these statements. The intention of this product is not to diagnose, treat, cure or prevent any disease or illness.
*Prices are subject to change at any time and items may limit to stock on hand.
References:
In-stock orders placed before 3pm EST ship out the same day.
We offer many shipping options to countries like:
Brazil
United Kingdom
Canada
Germany
Australia
Japan
India
France
Israel
Worldwide
More Information

| | |
| --- | --- |
| SKU | SYNTHA-6 |
| Manufacturer | BSN |
Customer Reviews
ótimo

ótimo

Exercente produto

Sabor exercente! (Exercising taste! )

bom@bom

bom muito bom (good very good)

Top

Top

Top!!!

Top!!!

Excelente

Muito gostoso o sabor. (Very yummy flavor. )

Bom produto.

Não pude consumir por causa do leite, mas adubei as orquídeas. Gratidão.

Excellent product

high quality protein

Good product

Good taste and mixes easily.

okay could taste better

It's okay could be better