NO Xplode Pre Workout By BSN
Benefits and Results:
Explosive Energy †
Intense Focus †
Extreme Muscle Pumps †
Maximize Performance †
Enhanced Endurance †
NO Xplode By BSN - Pre Workout Igniter
What Is It?
BSN NO Xplode Pre Workout is the most complete energy performance supplement designed specifically for athletes and body builders. †
This pre-workout igniter helps deliver intense energy and endurance, supports mental focus and muscular strength, and provides second-to-none intensity to help athletes of all levels maximize their workout performance. †
How Does It Work?
With 275mg of caffeine and 1.8g of Beta-Alanine, this pre-workout promotes a powerful mind-muscle connection.† This mind-muscle connection will help you achieve a greater workout and help push your body past previous limits. †
Ingredients:
Myogenic Matrix:
Creatine Blend (Creatine Monohydrate, Creatine Anhydrous), Taurine, Di-Calcium Phosphate, Di-Sodium Phosphate, AstraGIN Proprietary Blend [Astragalus membranaceus Extract (root), Panax notoginseng Extract (root)]
Endura Shot:
CarnoSyn Beta-alanine, Potassium Bicarbonate, Sodium Bicarbonate, Magnesium Oxide, Cholecalciferol
Thermic Energy
N-Acetyl-Tyrosine, L-Tyrosine, Caffeine Anhydrous, Grapefruit Bioflavonoid Complex
N.O. Alpha Fusion
L-Citrulline Malate, Danshen Extract (salvia miltiorrhiza)(root), Grape Skin Extract, Phyllanthus emblica Extract (fruit) (CAPROS), Howthorn Extract (aerial parts), Folic Acid
Shock Composite
DMAE Bitartrate (2-Dimethylaminoethanol), DL-Phenylalanine, Nicotinic Acid, Calcium D-Pantothenate, Toothed Clubmoss Extract (aerial parts), Thiamin HCL, Pyridoxine HCL, Cyanocobalamin
What Should I Expect?
Intense Energy †
Increased Strength †
Laser Focus †
Extreme Muscle Pumps †
Improved Athletic Performance †
Enhanced Endurance †
Who Should Take It/ Who Shouldn't Take It?
This product is intended for adult 18 years or older, athletes and bodybuilders who are looking for a clean and complete pre-workout to enhance their performance during exercise.†
Featured Customer Reviews:
Awesome! By Alan
This stuff start working really fast. It made me really hyper and energetic to work out! This stuff really works!! The taste is not the greatest but the results definitely make up for it.
NO Xplode- PUMP! By Arthur
Great pre-workout, you can feel it acting in every workout. Give you lots of energy. You can see results in weeks!
FAQ:
How much caffeine is in each scoop?
There is 275mg of caffeine in each serving.
Will this make me fail a drug test?
Before trying this product we recommend consulting with your sport organization or physician.
Can women take this product?
Yes! Women can definitely take this product.
Can I take this on my off- days?
We recommend only taking this product on training days.
Comparisons:
Vs. Assault Sport by Muscle Pharm
This product contains similar amounts of caffeine and beta-alanine and also includes 3g of creatine.
Vs. BSN Endorush
This pre-workout has a similar energy complex, but has more ingredients to support muscle pumps.
This product has 300 mg of caffeine and functions mainly to boost energy and focus during exercise.
How Do I Take It?
Dosage and Directions:
Mix 1 scoop with 4-6 fl oz of cold water and consume 20-30 minutes before training. Do not shake. Stir Powder.
What's In BSN NO Xplode?
Supplement Facts / Label: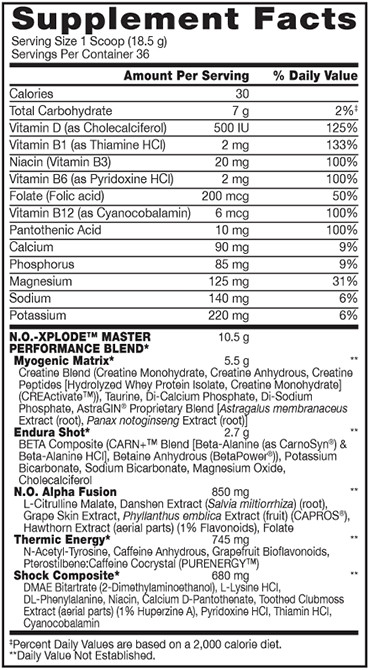 Warnings and Side Effects:
Consult your physician before using this product if you are taking any medications or are under a physician's care for a medical condition. Not for use by those under the age of 18, women that are pregnant, trying to get pregnant, or nursing, or those that are sensitive to Beta-Alanine, Caffeine or Niacin. Do not consume caffeine from other sources while taking this product as too much caffeine may cause nervousness, irritability, sleeplessness, and occasionally rapid heartbeat. Beta-Alanine and Niacin may cause a harmless, temporary tingling or flushing sensation.
Do not combine with alcohol. Do not exceed 2 scoops within any 24 hour period, consumed at least 4 hours apart. Consume as part of a healthy diet and exercise program, and drink roughly 100 fl. oz. of water per day. Exercise may increase your need for additional fluid intake. Keep out of reach of children. Store in a cool, dry place away from sunlight.
This product contains ingredients that may be banned by some sports organizations and/or increase risk of false positive on a drug test. Please consult with your sport organization or physician before taking this product.
Disclaimer:
PLEASE NOTE: Product images represent the product offered but may not contain exact attributes. Please read the product description for the specific attributes of this product.
†PLEASE NOTE: The intention of the information above is for reference only. It is our goal to maintain and display accurate information. Yet, we can't guarantee it represents the latest formulation of the product. If you have any concerns, please visit the manufacturer's website. The information above is not a representation of our views at Same Day Supplements. These are the views and information provided by the product's manufacturer. The Food and Drug Administration has not evaluated these statements. The intention of this product is not to diagnose, treat, cure or prevent any disease or illness.
*Prices are subject to change at any time and items may limit to stock on hand.
References:
Matheus Silva Norberto, Ricardo Augusto Barbieri, Danilo Rodrigues Bertucci, Ronaldo Bucken Gobbi, Eduardo Zapaterra Campos, Alessandrou Moura Zagatto, Ellen Cristini De Freitas, Marcelo Papoti (July 2020). Beta alanine supplementation effects on metabolic contribution and swimming performance. https://pubmed.ncbi.nlm.nih.gov/32711541/
Brian Cunniffe, Maria Papageorgiou, Barbara O'Brien, Nathan A Davies, George K Grimble, Marco Cardinale (Sept 2016). Acute Citrulline-Malate Supplementation and High-Intensity Cycling Performance. https://pubmed.ncbi.nlm.nih.gov/26808848/
In-stock orders placed before 3pm EST ship out the same day.
We offer many shipping options to countries like:
Brazil
United Kingdom
Canada
Germany
Australia
Japan
India
France
Israel
Worldwide
More Information

| | |
| --- | --- |
| SKU | NO-XPLODE-BSN |
| Manufacturer | BSN |
Customer Reviews
good

good

TOP

Melhor pré treino que já experimentei até hoje com boa vasodilatação e pump para treino. Sensacional!!!!. Pretendo manter uso dele por um bom tempo. Em relação ao pedido, recebi sem nenhum tipo de cobrança. Muito obrigado equipe Same day!!!!


This is the best pre workout I've ever experienced until now with good vasodilation and pump for training. Sensational !!!! I intend to keep using it for a long time. Regarding the request, I received without any kind of Duties, taxes or fees. Thank you so much Same day Team!!!!


!

Ótimo

Pré-treino de qualidade com bons efeitos de na vascularização e consequentemente na força, até agora não tive nenhum colateral ruim e aprovo o produto e o site, recomendo.

Parece bom

Parecebom, ainda estou aguardando chegar

Strong

This PW is very strong


Excelent!

Excelente! Comprei no dia 30/07/2016 e recebi no dia 08/08/2016, sem tributação, sem taxas, sem nada! Direto em minha casa! meu pedido tinha 2,6kg e o valor de $156,00. Recomendo!!!!

No Xplode - BSN

Excellent pre-workout, strength, pump, vasodilation ... did very well with this supplement, it does what it promises!

PUMP!

great pre workout, you can feel it acting in every workout,gives u lot of energy.you can see the results in weeks

excellent pre workout

this without doubt in the top 3 pre workouts I've ever made.

focus
force
Pump
And moderate vasodilator

CLASSIC PRODUCT, SAME AMAZING PUMP

As one of the first NO powders out there, NO Xplode is still one of my favorite. The formula has changed a few times over the years but the same great pump and insane energy you feel has never changed! BSN has done an incredible job with delivering us with a product that not only works great but tastes great in nearly every flavor! Lemonade being my favorite :)