NO Xplode Pre Workout By BSN
NO Xplode Benefits and Results:
Supports Explosive Energy †

Enhances Endurance †

Maximum Performance †

Improves Mental Focus †
NO Xplode By BSN - Pre Workout Igniter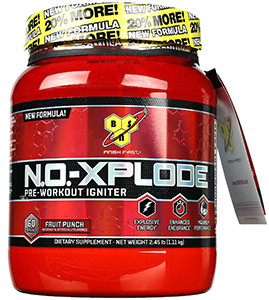 In 2004 BSN had shaken sports nutrition with their introduction of the first complete pre workout, NO Xplode. Since then the team of experts at BSN have revolutionized their product to a whole new level. With the help of feedback from users, the team at BSN was able to create a crafted formula designed to deliver explosive energy, enhanced endurance, and maximize your performance; all within a 17% reduction in serving size. But the changes don't stop here, NO Xpolde also features an even greater taste and ensures their superior mixability. This re-engineered formula is designed to help athletes find their limits and push past them. Push yourself and your workout as far as you can. Then, push further with No Xplode.
How Will NO XPLODE enhance my workout?
To achieve the most effective training session, both mental and physical energy are a must. Focus is then needed to harness this energy and drive a strong mind-muscle connection. This mind-muscle connection will help you achieve a greater workout intensity* and help push your body past previous limits. At BSN, we know that a pre-workout supplement should support all of these benefits. We designed NO XPLODE, our complete pre-workout igniter, to help deliver increased energy and endurance, support mental focus and muscular strength*, and provide second-to-none intensity to help athletes of all levels maximize workout performance.
NO Xplode's Advanced Ingredient Technology Features:
Explosive Energy
To maximize every moment of your workout and achieve your best results, you need energy. Equally as important is to channel that energy, ensuring a mind-muscle connection.Our Thermic Energy blend helps deliver explosive energy, enhancing your workout intensity from start to finish.
Enhanced Endurance
Your body responds to the amount of work you do over a period of time. Whether you're in the gym or on the field, our Endura Shot blend, featuring a concentrated beta-alanine blend, helps enhance your workout capacity, giving you the opportunity to exercise longer.
Maximum Performance
Muscular strength, power and endurance are supported by creatine in the body. The innovative ingredient technology of our Myogenic Matrix, featuring an advanced creatine blend, helps every athlete reach their goal of maximizing performance.
Our Best Tasting NO XPLODE Ever
BSN pros understand how to make a product that is both effective AND tastes great. We have applied this knowledge to the new NO XPLODE, creating 5 amazing flavors: Fruit Punch, Blue Raz, Watermelon, Grape, and Green Apple.
QUALITY & SAFETY
Quality and safety is the cornerstone on which all BSN products are formulated and manufactured. Our stringent ingredient and manufacturing requirements are best in class. From the raw materials we select, to our state-of-the-art manufacturing facilities, this unrelenting commitment to superior quality ensures the safety and potency of every product we produce.
What's In BSN NO Xplode?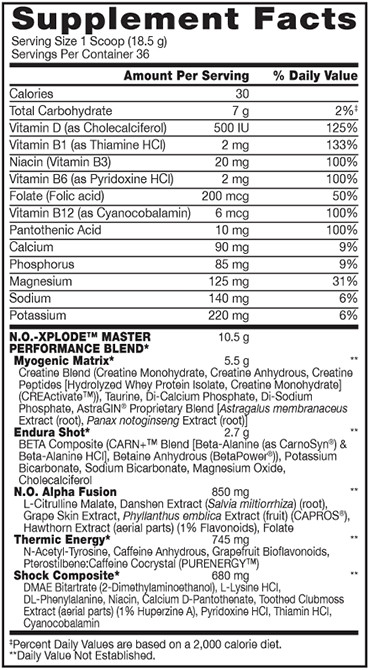 How to Take BSN NO Xplode:

Mix 1 scoop of NO Xplode with 4-6 oz of cold water and consume 20-30 minutes before training. Do not take more than 2 scoops at a time or in 1 day. Approximately 200mg of caffeine per serving of NO Xplode. WHILE MIXING NO XPLODE, DO NOT SHAKE. STIR POWDER WITH UTENSIL.
WARNING:
CONSULT YOUR PHYSICIAN BEFORE USING THIS PRODUCT IF YOU ARE TAKING ANY MEDICATION OR ARE UNDER A PHYSICIAN'S CARE FOR A MEDICAL CONDITION. NOT FOR USE BY THOSE UNDER THE AGE OF 18, WOMEN THAT ARE PREGNANT, TRYING TO GET PREGNANT, OR NURSING, OR THOSE THAT ARE SENSITIVE TO BETA-ALANINE, CAFFEINE OR NIACIN. DO NOT CONSUME CAFFEINE FROM OTHER SOURCES WHILE TAKING THIS PRODUCT AS TOO MUCH CAFFEINE MAY CAUSE NERVOUSNESS, IRRITABILITY, SLEEPLESSNESS, AND OCCASIONALLY RAPID HEARTBEAT. BETA-ALANINE AND NIACIN MAY CAUSE A HARMLESS, TEMPORARY TINGLING OR FLUSHING SENSATION. Do not combine with alcohol. Consume as part of a healthy diet and exercise program, and drink at least 100 oz of water per day. Exercise may increase your need for additional fluid intake. Keep out of reach of children. Store in a cool dry place away from direct sunlight.
PLEASE NOTE: Product image is representative of the product offered but may not have the exact attributes. Please read product description for the specific attributes of this product.
PLEASE NOTE: The information above is intended for reference only. While we attempt to keep our information accurate, we cannot guarantee it is an accurate representation of the latest formulation of the product. If you have any concerns, please visit the vendor's web site. The information above are the views of the product's manufacturer, not the views of Same Day Supplements. These statements have not been evaluated by the Food and Drug Administration. This product is not intended to diagnose, treat, cure or prevent any disease.
*Prices are subject to change at any time and some items are limited to stock on hand.
In-stock orders placed before 3pm EST ship out the same day.
We offer many shipping options to countries like:
Brazil
United Kingdom
Canada
Germany
Australia
Japan
India
France
Israel
Worldwide
More Information

| | |
| --- | --- |
| SKU | NO-XPLODE-BSN |
| Manufacturer | BSN |
Customer Reviews
good

good

TOP

Melhor pré treino que já experimentei até hoje com boa vasodilatação e pump para treino. Sensacional!!!!. Pretendo manter uso dele por um bom tempo. Em relação ao pedido, recebi sem nenhum tipo de cobrança. Muito obrigado equipe Same day!!!!


This is the best pre workout I've ever experienced until now with good vasodilation and pump for training. Sensational !!!! I intend to keep using it for a long time. Regarding the request, I received without any kind of Duties, taxes or fees. Thank you so much Same day Team!!!!


!

Ótimo

Pré-treino de qualidade com bons efeitos de na vascularização e consequentemente na força, até agora não tive nenhum colateral ruim e aprovo o produto e o site, recomendo.

Parece bom

Parecebom, ainda estou aguardando chegar

Strong

This PW is very strong


Excelent!

Excelente! Comprei no dia 30/07/2016 e recebi no dia 08/08/2016, sem tributação, sem taxas, sem nada! Direto em minha casa! meu pedido tinha 2,6kg e o valor de $156,00. Recomendo!!!!

No Xplode - BSN

Excellent pre-workout, strength, pump, vasodilation ... did very well with this supplement, it does what it promises!

PUMP!

great pre workout, you can feel it acting in every workout,gives u lot of energy.you can see the results in weeks

excellent pre workout

this without doubt in the top 3 pre workouts I've ever made.

focus
force
Pump
And moderate vasodilator

CLASSIC PRODUCT, SAME AMAZING PUMP

As one of the first NO powders out there, NO Xplode is still one of my favorite. The formula has changed a few times over the years but the same great pump and insane energy you feel has never changed! BSN has done an incredible job with delivering us with a product that not only works great but tastes great in nearly every flavor! Lemonade being my favorite :)