SUPERSTROL 7 BY BLACKSTONE LABS™, 60 TABS
Superstrol 7 Benefits and Results:
Lean, Dry, Hard Gains †
Increase Performance, Speed, and Power †

Non-Liver Toxic, Doesn't Convert To Estrogen †



Frequently Bought Together
Details
Superstrol 7 By Blackstone Labs - 60 Tabs - Muscle Builder
What Can You Expect From Superstrol 7
Superstrol 7 helps promote muscle growth through 3 mechanisms; increasing your natural DiHydro-Testosterone(DHT), increasing your metabolism, and improving your overall anabolic processes.
How Does Superstrol 7 Work?
Superstrol 7 Contains 3 special ingredients that target each mechanism; Epiandrosterone, 7-Keto DHEA, and Ecdybolin.
Epiandrosterone (Epi-Andro) helps promote the increase your natural DHT through a conversion taken in the body. Because Epi-Andro is a non-methylated compound, users don't have to worry over toxicity to your liver.
So why would you want to increase your DHT?
Well Increasing DHT, which is 5 times more androgenic than testosterone, can promote the increase in lean muscle gains and even help with weight loss.
To help take your muscle growth even further, Superstrol-7 contains , 7-Keto DHEA. This compound is unlike other forms of DHEA. 7-Keto DHEA doesn't metabolize into sex hormones; meaning users will get the benefit of taking a DHEA product without the risk of side effects.
So what kind of benefits can you expect from 7-Keto DHEA?
7-Keto DHEA has the responsibility in your body to activate the breakdown of fatty acids and carbohydrates. This in returns helps improve your metabolic rate and overall body mass index.
Lastly..
Superstrol 7 features Ecdybolin. This compound is a considered an adaptogen. Adaptogens are great for helping your cope with stressors. As a result, it promotes protein synthesis, weight loss, recovery time and even improves your quality of sleep (and more!).
Superstrol 7 Ingredients:
50mg of (25r)-5-alpha-spirostan-2alpha
100mg of epiandrosterone

25mg of 7-hydroxy DHEA
What's In Superstrol 7?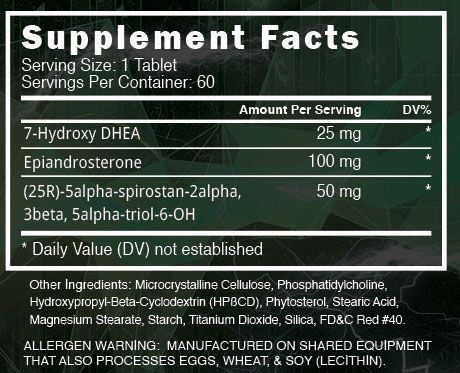 How Do I Take Superstrol 7?
Dosage and Directions:
As a dietary supplement, take 1 tablet of Superstrol 7 twice per day. Do not exceed (2) tablets daily. Store in a cool, dry place, away from light.
Warnings and Side Effects:
KEEP OUT OF REACH OF CHILDREN. NOT FOR USE BY INDIVIDUALS UNDER THE AGE OF 18 YEARS. Consult a physician or licensed qualified health care professional before using this product if you have, or have a family history of prostate cancer, prostate enlargement, heart disease, low "good" cholesterol (HDL), or over the counter drug. Possible side effects include acne, hair loss, hair growth on the face (in women), aggressiveness, irritability, and increased levels of estrogen. Discontinue use and call a physician or licensed qualified health care professional immediately if you experience rapid heartbeat, dizziness, blurred vision, or other similar symptoms. This product contains steroid hormones that may cause increased facial and body hair, voice deepening. If you are at risk for prostate or breast cancer, you should not use this product. Do not use if governed by anybody that prohibits hormone use.
PLEASE NOTE: Product image is representative of the product offered but may not have the exact attributes. Please read product description for the specific attributes of this product.
† PLEASE NOTE: The information above is intended for reference only. While we attempt to keep our information accurate, we cannot guarantee it is an accurate representation of the latest formulation of the product. If you have any concerns, please visit the vendor's web site. The information above are the views of the product's manufacturer, not the views of Same Day Supplements. These statements have not been evaluated by the Food and Drug Administration. This product is not intended to diagnose, treat, cure or prevent any disease.
*Prices are subject to change at any time and some items are limited to stock on hand.
We have a large selection of in-stock BlackStone Labs products including and others for the lowest prices
It's always easy to shop for SUPERSTROL 7 BY BLACKSTONE LABS™, 60 TABS at SameDaySupplements.com because you can browse by reviews, brand, prices or search for specific ingredients using our search tool. In-stock orders placed before 3pm EST ship out the same day. We also offer many shipping options to countries like Brazil, United Kingdom, Canada, Germany, Australia, Japan, India, France, Israel and worldwide.
More Information
More Information

| | |
| --- | --- |
| SKU | BSL-0087 |
| Weight | 0.1300 |
| Manufacturer | BlackStone Labs |
| UPC | 696302495417 |
Questions (0)