Super Cuts 3 - Universal Nutrition - 130 Tablets
Benefits and Results:
Maximizes Metabolic Potential †
Fat Burning and Emulsification †
With Green Tea Extract †
Enhances Lean Mass †
Super Cuts 3 by Universal Nutrition - 130 Tabs - Fat Burner
What Is It?
Universal Super Cuts 3 is formulated to maximize your metabolic potential and help promote fat burning. †
Super Cuts 3 is a potent formula designed to help optimize fat metabolism, fat emulsification, fat burning, and enhance lean mass. †
How Does It Work?
Super Cuts 3 contains key active ingredients and compounds such as natural diuretics, insulin potentiators, energizers and fat emulsifying lipotropics. These ingredients work together to help support fat burning. †
Ingredients:
L-Carnitine (as L-Carnitine fumarate): 600mg †
Lecithin (soy) (providing linoleic acid and oleic acid): 500mg †
Choline Bitartrate: 300mg †
Inositol: 500mg †
DL-Methionine: 200mg †
Taraxacum (root): 250mg †
Grapefruit Powder (peel): 125mg †
Green Tea Leaf Extract (EGCG): 125mg †
Uva Ursi (leaf): 200mg †
Cayenne (fruit): 50mg †
What Can I Expect?
Reduced Body Fat †
Natural Energy †
Accelerated Metabolism †
Lean Body Definition †
Enhanced Fat Breakdown †
Excess Water Removal †
Who Should Take It / Who Shouldn't Take It?
This product is intended for healthy adults who are seeking a dietary supplement to help accelerate metabolism and increase fat loss potential.
Featured Customer Reviews:
Amazing! By Arthur
A supplement with a powerful formula that helps a lot on fat loss, good price.
Frequently Asked Questions:
How much caffeine does this product contain?
This product does not contain any caffeine, instead includes natural energizers such as Green Tea Leaf Extract.
Are there are any side effects with taking this product?
When taken as directed, users have not experienced any major side effects. Please drink plenty of water to ensure adequate hydration.
Is this a diuretic?
Yes, there are natural diuretics in this formula, including Uva Ursi, which helps promote the removal of excess water weight.
Can women take this product?
Yes, absolutely. There are no gender specific ingredients in this product.
Similar Products:
Vs. Animal Cuts
This product contains more stimulants and water excreting ingredients. It is also available as a powdered formula.
Vs. Ripped Fast
This product contains more diuretic ingredients and contains 125mg of caffeine.
How Do I Take It?
Dosage and Directions:
Take three tablets three times daily with at least 8 oz. of cold liquid. For best results, take this supplement half an hour before exercise and bedtime.
What's in Universal Nutrition Super Cuts 3?
Supplement Facts / Label: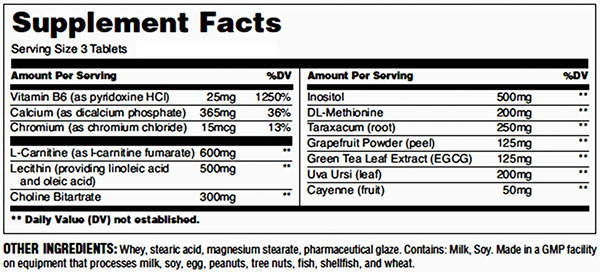 Warnings and Side Effects:
This product is not for use by any individual under the age of 18. Please consult with a physician before using this product. Do not take this product if you have or are at risk for any medical condition or disease including but not limited to:
Diabetes
Asthma
Depression
Recurrent Headaches
Glaucoma
Difficulty Urinating
Prostate Enlargement
Seizure Disorder
High Blood Pressure
High Cholesterol
Arthritis
Heart Disease
Stroke
Are pregnant
Suffering from any inflammatory diseases.
Be sure to talk to your physician before using this product if you are using any prescription drug, over-the-counter medication, or supplements. Not for use by children, patients, pregnant or nursing women. Immediately discontinue use and consult your physician if:
Dizziness
Sleeplessness
Tremors
Nervousness
Agitation
Headache
Heart Palpitations
or any side effects occur.
Discontinue use two weeks prior to surgery. Store this product in a cool, dry place, away from heat, moisture and sunlight. Do not exceed recommended dose.
The use of this product may be banned by some athletic associations. Athletes should consult with their sanctioning authority before use.
Disclaimer:
PLEASE NOTE: Product images represent the product offered but may not contain exact attributes. Please read the product description for the specific attributes of this product.
†PLEASE NOTE: The intention of the information above is for reference only. It is our goal to maintain and display accurate information. Yet, we can't guarantee it represents the latest formulation of the product. If you have any concerns, please visit the manufacturer's website. The information above is not a representation of our views at Same Day Supplements. These are the views and information provided by the product's manufacturer. The Food and Drug Administration has not evaluated these statements. The intention of this product is not to diagnose, treat, cure or prevent any disease or illness.
*Prices are subject to change at any time and items may limit to stock on hand.
References:
Lixia Chen, Huanbiao Mo, Ling Zhao, Weimin Gao, Shu Wang, Meghan M Cromie, Chuanwen Lu, Jia-Sheng Wang, and Chwan-Li Shen. (Feb 2017). Therapeutic properties of green tea against environmental insults. https://www.ncbi.nlm.nih.gov/pmc/articles/PMC5124528/
Roger Fielding, Linda Riede, James P. Lugo, Aouatef Bellamine. (March 2018). l-Carnitine Supplementation in Recovery after Exercise. https://www.ncbi.nlm.nih.gov/pmc/articles/PMC5872767/
In-stock orders placed before 3pm EST ship out the same day.
We offer many shipping options to countries like:
Brazil
United Kingdom
Canada
Germany
Australia
Japan
India
France
Israel
Worldwide
More Information

| | |
| --- | --- |
| SKU | UN-0020 |
| Weight | 0.9000 |
| Manufacturer | UNIVERSAL NUTRITION |
| UPC | 039442060624 |
Customer Reviews
amazing!

a supplement with a powerful formula that helps a lot on fat loss,good price.