Ripped Fast Fat Burner - Universal Nutrition - 120 Capsules
Benefits and Results:
Herbal Based Formula †
Fast-Acting Thermogenics †
Energizing Nutrients †
Enhances Metabolism and Fat Burning †
Frequently Bought Together
Ripped Fast By Universal Nutrition - 120 Caps - Fat Burner
What Is It?
Universal Nutrition's Ripped Fast is a powerful, herbal based solution to achieving a shredded, lean physique. †
Ripped Fast provides a complete solution by helping your body shed excess water weight, and releasing and burning stored body fat. The stimulants found in Ripped Fast will also help curb appetites and provide additional focus and energy. †
How Does It Work?
Universal's Ripped Fast contains high potency lipotropics, energizers and herbals to reduce water retention. Plus, Ripped Fast contains choline, inositol, and chromium picolinate, three important lipotropic and insulin-regulating nutrients. †
Ripped Fast is manufactured using only select natural and pharmaceutical grade raw materials for optimum purity and absorption. Encapsulation of this product provides the highest nutritional potency recommended by doctors. †
Ingredients:
Caffeine Anhydrous: 125mg
Green Tea Leaf Extract (EGCG): 250mg
Diuretic and Metabolic Complex: 1000mg
Alfalfa (herb)
Dandelion (root)
Uva Ursi (leaf)
Cayenne (fruit)
Cha-De-Bugre (aerial parts)
Lipotropic Complex: 750mg
Choline Bitartrate
Lecithin
Inositol
What Can I Expect?
Improve Physical Performance †
Enhance Stamina & Endurance †
Improved Recovery Time
Reduced Body Fat †
Reduced Water Retention †
Appetite Suppression †
Energy & Focus Boost †
Who Should Take It / Who Shouldn't Take ?
This product is intended for healthy adults who are looking for a dietary supplement that can support weight loss, remove excess water weight, and provide energy and focus during exercise.
Featured Customer Reviews:
Fat Burning to the Max! By Mary G.
Love the Universal line, have been struggling with stubborn belly fat but this has helped jump start my weight loss!
Frequently Asked Questions:
How much caffeine is in this product?
Each serving contains 125mg of caffeine.
Does this contain DMAA or DMHA?
No, this product contains neither DMAA nor DMHA.
Are there any side effects with taking this product?
When taken as directed, users have not experienced any serious side effects.
Comparisons:
Vs. REPP Sports Raze Fat Burner
This product contains more focus and thermogenesis inducing ingredients and also includes Yohimbine HCL.
Vs. Animal Cuts By Universal Nutrition
This product contains 8 different complexes, each with a specific purpose. Animal Cuts combines a fat burner, thermogenic, and diuretic all in one product.
Vs. Oxy Xtreme - Brand New Energy
Oxy Xtreme contains a few, powerful ingredients including Kanna, Caffeine and Yohimbine.
How Do I Take It?
Dosage and Directions:
As a dietary supplement, take 1 to 4 capsules daily with 8 oz of your beverage of choice. Best when taken 30 minutes before working out.
What's In Universal Nutrition Ripped Fast?
Supplement Facts / Label: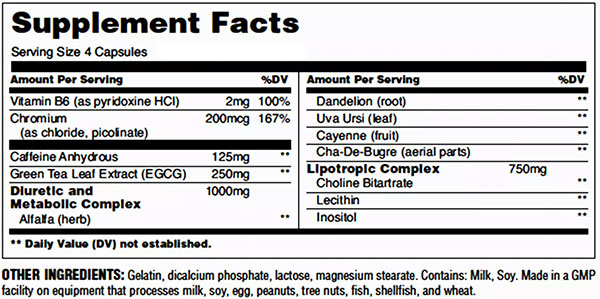 Warnings and Side Effects:
Not for use by those under the age of 18. Consult a physician before using this product. Do not use if pregnant or nursing. Contains caffeine: Do not exceed recommended dose; Do not use in combination with other caffeinated products or stimulants. Discontinue use and consult your healthcare professional if dizziness, sleeplessness, tremors, nervousness, headache or heart palpitations occur. Use of this product may be banned by some athletic associations. Athletes should consult with their sanctioning authority before use. Store product in a cool, dry place, away from heat, moisture and sunlight.
Disclaimer:
PLEASE NOTE: Product images represent the product offered but may not contain exact attributes. Please read the product description for the specific attributes of this product.
†PLEASE NOTE: The intention of the information above is for reference only. It is our goal to maintain and display accurate information. Yet, we can't guarantee it represents the latest formulation of the product. If you have any concerns, please visit the manufacturer's website. The information above is not a representation of our views at Same Day Supplements. These are the views and information provided by the product's manufacturer. The Food and Drug Administration has not evaluated these statements. The intention of this product is not to diagnose, treat, cure or prevent any disease or illness.
*Prices are subject to change at any time and items may limit to stock on hand.
References:
I-Ju Chen, Chia-Yu Liu, Jung-Peng Chiu, Chung-Hua Hsu. (June 2016). Therapeutic effect of high-dose green tea extract on weight reduction: A randomized, double-blind, placebo-controlled clinical trial. https://pubmed.ncbi.nlm.nih.gov/26093535/
Reza Tabrizi, Parvane Saneei, Kamran B Lankarani, Maryam Akbari, Fariba Kolahdooz, Ahmad Esmaillzadeh, Somayyeh Nadi-Ravandi, Majid Mazoochi, Zatollah Asemi. (Oct 2018). The effects of caffeine intake on weight loss: a systematic review and dos-response meta-analysis of randomized controlled trials. https://pubmed.ncbi.nlm.nih.gov/30335479/
In-stock orders placed before 3pm EST ship out the same day.
We offer many shipping options to countries like:
Brazil
United Kingdom
Canada
Germany
Australia
Japan
India
France
Israel
Worldwide
More Information

| | |
| --- | --- |
| SKU | UN-0144 |
| Weight | 0.3400 |
| Manufacturer | UNIVERSAL NUTRITION |
| UPC | 039442046314 |
Customer Reviews
Fat Burning to the Max!

Love the Universal line, have been struggling with stubborn belly fat but this has helped jump start my weight loss!