REPP Sports Raze Fat Burner - 45 Capsules
Benefits and Results:
Thermogenic Fat Burner†
Metabolism Accelerator†
Pure Energy and Focus†
Extreme Weight Loss†
Frequently Bought Together
REPP Sports Raze - 45 Caps - Thermogenic
What is it?
RAZE is an intense energy and weight loss supplement. It is only intended for adult athletes with a high tolerance for stimulants. This isn't your typical fat burner. It can also boost libido.
It is one of the strongest fat burners without ephedra.
How does it work?
As with any product, it's all about the ingredients. They are work together to have you achieve your weight loss goals. Giving you the energy boost and suppressed appetite you need when you are a calorie restricted diet.
Ingredients:
What's inside each pill?
Caffeine Anhydrous / Caffeine Citrate: can aid in energy, focus, and is also a natural diuretic. †
CitraFuze (Citrus Aurantium (fruit)(Standardized for Synephrine): suppresses appetite. †
Citrus Aurantium (fruit)(Standardized for Hesperidin): suppresses appetite. †
Citrus Grandis (fruit) (Standardized for Naringin): help support the heart and cardiovascular system.†
N-ethyl-L-Glutamine: aids in focus.†
2-(3,4-Dihydroxyphenyl)-3,5, 7-trihydroxy-4H-chromen-4-one)
Theobroma Cacao (seed)(standardized for Theobromine): aids in energy.†
Cayenne Pepper: boosts thermogenesis and decrease appetite. †
Acetyl L-Tyrosine: It may increase attention. †
Choline Bitartrate: can aid in focus. †
Mucuna Pruriens Extract: Can lower stress, reduce anxiety, improve focus, boost libido and improve mood. †
Black Pepper Extract (Piper nigrum)(fruit)(95% Piperine): Can help increase the absorption of all of the other ingredients. †
Yohimbine HCL: Helps increase energy and decrease appetite. Attack fat stored around love handles and stomach. †
What Can I Expect?
Sustained no-crash energy †
Ultra mental focus and clarity †
Controlled cravings and improved metabolism †
Who should take it?
If you are looking to lose weight and want a product that you can feel working.... Raze is for you.
This product isn't for everyone. Raze is for people who have a strong tolerance to caffeine.
Who shouldn't take it?
Anyone that is sensitive to:
The effects of caffeine
The effects of This is associated with giving some users the "cold sweats".
Featured Customer Reviews:
Here is a couple of reviews from customers who bought the product:
Seriously Good Review by Alison
The energy, focus, and HEAT, all amazing. I try a lot of fat burners, but this one I plan to stick with. Def. recommend. But be cautious as the energy can be intense for newer users.
Excellent Product Review by Angela
I have used this supp for quite some time now, and tried others, but gone back to this one. I have had to adjust how I take it (due to some initial unpleasant side effects), but it keeps me going on long 16+ hr work days.
FAQ:
How much caffeine does it have?
Each serving has 275mg of caffeine. This is about 3 cups of coffee.
Do I need to cycle it?
DO NOT use RAZE for longer than 60 days continuously.
Is the Raze RTD the same product?
No. The raze pill form is a fat burner while the Raze RTD is a energy drink.
What are the other ingredients in this?
Gelatin (capsule), silicon dioxide, and magnesium stearate.
When is the best time to take this?
The manufacturer recommends taking this with breakfast.
Similar Alternative Products:
Stacks Well With:
How Do I Take It?
Suggested Dosage and Directions:
Use with caution. As with any dietary supplement, test your body's tolerance first.
Start by taking 1 capsule daily with breakfast every morning for the first 3 days. Effects should be long lasting, but if they continue over 15 hours, adjust routine to 1 serving every other day.
Over time, dosage may be increased. You can take a second pill NO LESS THAN 8 HOURS after the previous pill.
For added performance: Drink 64 ounces of water daily while using this product.
To avoid sleeplessness: Do not take 5 within 5 hours of bedtime. DO NOT consume more than 2 servings in any 24 hour period.
What's In Raze Fat Burner?
Supplement Facts / Label: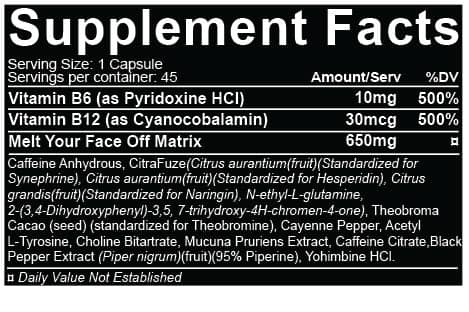 Warnings and Side Effects:
Not intended for use by persons under 18. Do not use if pregnant or nursing. Discontinue use and consult a medical doctor if you experience unusual symptoms. Consult a medical doctor before use if you have been treated for or diagnosed with, or have a family history of any medical condition, or if you are using any prescription or over-the-counter drug(s). Consult a medical doctor before starting a diet or exercise program.
One serving of this product contains 275mg of caffeine, as much as approximately 3 cups of coffee. Caffeine sensitive individuals may experience symptoms including (but not limited to) restlessness, nervousness, tremors, headache, anxiety, palpitations, increased heart rate or difficult sleeping.
DO NOT exceed recommended dosage. Improper use of this product will not improve results and can be extremely dangerous. Take only as directed. KEEP OUT OF REACH OF CHILDREN. DO NOT use Raze for longer than 60 days continuously.
This product may contain ingredients that are banned by some sports organizations and/or increase risk of false positive on a drug test. Please consult with your sport organization or physician before taking this product.
Disclaimer:
PLEASE NOTE: Product images represent the product offered but may not contain exact attributes. Please read the product description for the specific attributes of this product.
†PLEASE NOTE: The intention of the information above is for reference only. It is our goal to maintain and display accurate information. Yet, we can't guarantee it represents the latest formulation of the product. If you have any concerns, please visit the manufacturer's website. The information above is not a representation of our views at Same Day Supplements. These are the views and information provided by the product's manufacturer. The Food and Drug Administration has not evaluated these statements. The intention of this product is not to diagnose, treat, cure or prevent any disease or illness.
*Prices are subject to change at any time and items may limit to stock on hand.
Other Information:
Visit REPP Sports' website for more information.
In-stock orders placed before 3pm EST ship out the same day.
We offer many shipping options to countries like:
Brazil
United Kingdom
Canada
Germany
Australia
Japan
India
France
Israel
Worldwide
More Information

| | |
| --- | --- |
| SKU | REP-0001 |
| Weight | 0.160000 |
| Manufacturer | REPP Sports |
| UPC | 851090006560 |
Customer Reviews
Review Disclaimer:
The reviews posted below are based on individual customer experiences and not views or guarantees from SameDaySupplements.com. These results are not be typical. Actual results may vary.
Top customer reviews
One capsule works all day

Love the energy and appetite suppression. Just one capsule works the whole day!!

Aleksandrs Iscenko

Amazing product ???? ...!!!! 5 ✨️

Amazing

I have been taking this since January and I have lost 115lbs. This has helped me go from a size 4XL to a size Medium in less than a year. It's amazing and I recommend it to anyone that is trying to lose weight!

Best fat burner out there!

Give me all day energy and actually works!

Best fat burner available

Works all day off one pill!

Best fat burner

Works all day on one pill just make sure you drink water! I average 1lb a day on these!

Best on the market!

Works like a charm! I have lost on average 1lb a day!! Has no crash feeling and works from morning to night.

Different ingredients?

I've taken these pills in the past. The bottle I received seems like the pills are not the same. They help a lot to get a good work out but these did absolutely nothing. I opened the tablets and they even look different powder wise. Disappointed

Best Fat burner!

This product works! I love the all day energy plus it delivers actual results!