Solaray Berberine - 500 mg - 60 Veg Capsules
Benefits and Results:
Promotes AMPK Activation, Immune Function, GI Health and More †
Sourced From Oregon Grape and Barberry Bark †
Keto-Friendly, Lab-Tested Formula †
Frequently Bought Together
Berberine - Solaray - 60 Veg Capsules - Supports Immune Function
What is Solaray Berberine?
Solaray Berberine 500 delivers the highly sought-after golden yellow alkaloid known as Berberine and is directly sourced from Oregon grape and barberry bark. Berberine has long been a staple of the Ayurvedic tradition and it boasts a wide range of health and wellness benefits that include support for GI tract health, immune function, and healthy blood glucose levels already within the normal range, metabolic health and digestive function. † Further, Berberine promotes AMPK activation, which boosts healthy glucose utilization, metabolism and ketone synthesis. †
Don't wait; it's time to incorporate this outstanding lab- verified Berberine supplement to your health and wellness portfolio!
For more information about Berberine check out our blog post: The Ultimate Guide to Berberine Supplements: Boost Your Health Naturally (Review And Guide).
Why choose Solaray Berberine?
Solaray Berberine is thought to support immune function and joint health; Berberine may also support digestive health, cardiovascular health and more. This is designed to support AMPK activation. †
Ingredients:
Berberine HCL (from Indian Barberry) (Berberis) aristata) (root extract)
Featured Customer Reviews:
Betty: Great product
This product lives up to its name. Works really well for what it claims.
JV: Great Berberine
This product has lowered my A1C.
Mike: Helps curb my appetite
I was surprised. But it helped me curb my appetite...quite remarkable.
FAQ:
What are the other ingredients?
The other ingredients are: Vegetable Cellulose Capsule and Whole Rice Concentrate.
Is this product Non-GMO?
Many of the Solaray products are certified as being Non-GMO. This Solaray Berberine isn't certified as Non-GMO but the brand tests for herbicides, pesticides, microbes, bacteria, heavy metals, purity, and potency and would be safe to consume.
Does this contain wheat or corn?
Wheat and corn are major allergens and would be listed on the label. This does not have either allergen on the label. I hope this helps and thanks for considering Solaray!
Is the rice used as a filler or is that what the capsules are made from?
The whole rice concentrate is used as a flow agent during manufacturing. Please contact the manufacture if you have any other questions.
Comparable Products:
NOW Berberine Glucose Support - 90 Softgels
Provides:
Supports Glucose Metabolism †
Supports Glucose and Lipid Levels Already Within the Normal Range †
Combined with MCT Oil for Optimal Berberine Absorption †
How do I take Solaray Berberine?
Dosages and Directions:
Use only as directed. Take one Veg Cap daily with a meal or glass of water.
Store in a cool, dry place.
What's In Solaray Berberine?
Supplement Facts / Label: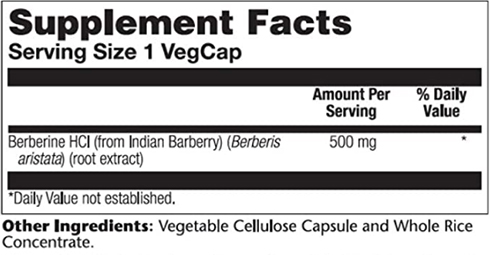 Warnings and Side Effects:
Do not use if safety seal is broken or missing. Keep out of reach of children. Keep your licensed health care practitioner informed when using this product. Do not use if you are pregnant or nursing.
Disclaimer:
PLEASE NOTE: Product images represent the product offered but may not contain exact attributes. Please read the product description for the specific attributes of this product.
†PLEASE NOTE: The intention of the information above is for reference only. It is our goal to maintain and display accurate information. Yet, we can't guarantee it represents the latest formulation of the product. If you have any concerns, please visit the manufacturer's website. The information above is not a representation of our views at Same Day Supplements. These are the views and information provided by the product's manufacturer. The Food and Drug Administration has not evaluated these statements. The intention of this product is not to diagnose, treat, cure or prevent any disease or illness.
*Prices are subject to change at any time and items may limit to stock on hand.
Other:
Cathy Creger Rosenbaum, Dónal P O'Mathúna, Mary Chavez, Kelly Shields (2010 Mar-Apr) Antioxidants and antiinflammatory dietary supplements for osteoarthritis and rheumatoid arthritis. https://pubmed.ncbi.nlm.nih.gov/20232616/
Pan Xiong, Li Niu, Sam Talaei, Hamed Kord-Varkaneh, Cain C T Clark, Mihnea-Alexandru Găman, Jamal Rahmani, Masoumeh Dorosti, Seyed Mohammad Mousavi, Meysam Zarezadeh, Hossein Taghizade-Bilondi, Jitao Zhang (2020 May) The effect of berberine supplementation on obesity indices: A dose- response meta-analysis and systematic review of randomized controlled trials. https://pubmed.ncbi.nlm.nih.gov/32379652/
In-stock orders placed before 3pm EST ship out the same day.
We offer many shipping options to countries like:
Brazil
United Kingdom
Canada
Germany
Australia
Japan
India
France
Israel
Worldwide
More Information

| | |
| --- | --- |
| SKU | SR-0002 |
| Weight | 0.180000 |
| Manufacturer | Solaray |
| UPC | 076280477054 |
Customer Reviews
Review Disclaimer:
The reviews posted below are based on individual customer experiences and not views or guarantees from SameDaySupplements.com. These results are not be typical. Actual results may vary.
Top customer reviews
Great product

This product lives up to its name. Works really well for what it claims.

Great Berberine

This product has lowered my A1C.

Helps curb my appetite

I was surprised. But it helped me curb my appetite...quite remarkable.