Raze Heat - REPP Sports - Thermogenic
Benefits and Results:
Stimulant Free†
Intense Thermogenic†
Mental Clarity†
Focus†
Frequently Bought Together
REPP Sports Raze Heat - Thermogenic Fat Burner
What Is Raze Heat?
Raze Heat is a potent non-stimulant thermogenic designed to optimize your body's ability to convert fat into energy.† Thermogenesis increases metabolic activity to encourage the body's natural fat burning processes.† Featuring REPP Sports innovative CitraFuze energy blend, Raze Heat helps fight hunger and fatigue with superior mental clarity and focus.† Combine Raze Heat with your favorite training regimen to make your fat cry.† Don't sweat it, that means it's working.†
How Does It Work?
Ingredients:
Metabolic Matrix: designed to help increase metabolic activity that may help encourage the body's natural fat burning processes.†
L-Carnitine Matrix (L-Carnitine, Acetyl L-Carnitine, L-Carnitine L-Tartrate, L-Carnitine Fumarate)
Taurine
Betaine Anhydrous
Thermogenesis Blend: may promote thermogenesis in the body while also supressing appetite and providing focus.† Be prepared to sweat!†
Choline Bitartrate
L-Tryrosine
CitraFuze Citrus aurantium (fruit) (Standardized for Synephrine), Citrus aurantium (fruit) (Standardized for Hesperidin), Citrus grandis (fruit) (Standardized for Naringin), N-ethyl-L-glutamine, 2-(3,4-Dihydroxyphenyl)-3,5,7-trihydroxy-4H-chromen-4-one)
Gamma-butyrobetaine ethyl ester HCL
Grains of Pradise Extract (Aframomum melegueta)(seed)(std. min 6-paradol)
Black Pepper Extract (Piper nigrum)(fruit)(std. min 95% Piperine)
What Can I Expect?
Weight Loss†
Suppressed Appetite†
Sweat!†
Who Should Take It?
Raze Heat is ideal for people that are looking to lose weight but doesn't want to take a fat burner that is filled with stimulants.†
FAQ:
What flavors does it come in?
Currently there is 4 flavors: Baja Lime, Gummy Bear, Unflavored and Sour Rainbow.
Does it have any caffeine?
No, this product is caffeine free.
How many servings are there?
There is 40 servings if you take only 1 scoop. There is 20 servings if you take 2 scoops.
Similar Products:
Raze Heat VS Myoblox Rubix: Myoblox Rubix is very comparable product to Raze Heat as it is also a carnitine matrix that is designed to also help you sweat. Rubix doesn't contain the focus blend that Raze Heat has.
Stacks:
How Do I Take Raze Heat?
Suggested Dosage and Directions:
For beginners, take one (1) scoop of Raze Heat roughly 30-45 minutes prior to exercise with 6-8oz of water. After assessing your tolerance take one (1) to two (2) scoops of Raze Heat depending on the level of activity of your workout and/or exercise of the day. For best results when looking to expand on fat loss, take on an empty stomach first thing in the morning prior to starting fasted cardio or exercise.
Caution: Consuming Raze Heat may cause heavy sweating due to its thermogenic properties. Proceed with caution and assess your tolerance.
What's In Raze Heat?
Supplement Facts / Label: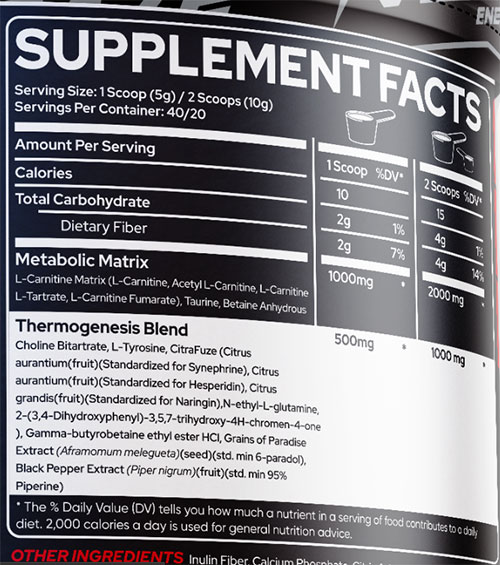 Warnings and Side Effects:
Keep out of reach of children. Consult your doctor prior to use. This product may contain ingredients that are banned by some sports organizations and/or increase risk of false positive on a drug test. Please consult with your sport organization or physician before taking this product.
Disclaimer:
PLEASE NOTE: Product images represent the product offered but may not contain exact attributes. Please read the product description for the specific attributes of this product.
†PLEASE NOTE: The intention of the information above is for reference only. It is our goal to maintain and display accurate information. Yet, we can't guarantee it represents the latest formulation of the product. If you have any concerns, please visit the manufacturer's website. The information above is not a representation of our views at Same Day Supplements. These are the views and information provided by the product's manufacturer. The Food and Drug Administration has not evaluated these statements. The intention of this product is not to diagnose, treat, cure or prevent any disease or illness.
*Prices are subject to change at any time and items may limit to stock on hand.
Other Information:
Visit REPP Sports' website for more information.
In-stock orders placed before 3pm EST ship out the same day.
We offer many shipping options to countries like:
Brazil
United Kingdom
Canada
Germany
Australia
Japan
India
France
Israel
Worldwide
More Information

| | |
| --- | --- |
| SKU | RAZE-HEAT |
| Manufacturer | REPP Sports |
Customer Reviews
Review Disclaimer:
The reviews posted below are based on individual customer experiences and not views or guarantees from SameDaySupplements.com. These results are not be typical. Actual results may vary.
Top customer reviews
Awesome

Pretty neat product. I sweat crazily every time I take it.