PQQ Energy - NOW Foods - 30 Veg Capsules
Benefits and Results:
Supports Mitochondrial Function†
Free Radical Scavenger†
Cognitive Support†
PQQ Energy By NOW Foods - 30 Veg Caps - Cognitive Support
What Is NOW PQQ Energy?
Mitochondria are the organelles that produce almost all of the cellular energy the body requires. While present in all cells, organs like the heart and brain are particularly dense with mitochondria due to their high energy demands. Pyrroloquinoline quinone (PQQ) is a B vitamin-like enzyme cofactor that helps to maintain the integrity of mitochondrial structures and promotes the generation of new mitochondria within cells.† PQQ may thus help to maintain robust cellular energy production, support heart health, and promote normal cognitive function.† CoQ10 and acetyl-L-carnitine have been included for their critical roles in mitochondrial function and energy production.†
Soy Free
Non-GMO
Vegan/Vegetarian
Nut Free
Made W/O Gluten
Corn Free
Dairy Free
Egg Free
Kosher
Ingredients:
Vitamin B-12 (as Methylcobalamin) - 1,000 mcg
PQQ (Pyrroloquinoline Quinone) (as PQQ disodium salt) - 20 mg
Acetyl-L-Carnitine (from Acetyl-L-Carnitine HCL) - 200 mg
Coenzyme Q10 (CoQ10) - 30 mg
How Do I Take It?
Dosage and Directions:
Take 1 capsule daily with a meal.
What's In NOW PQQ Energy?
Supplement Facts / Label: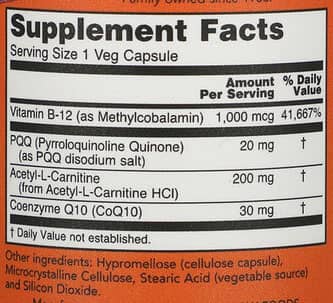 Warnings and Side Effects:
For adults only. Consult physician if pregnant/nursing, taking medication (especially warfarin or acenocoumerol), or have a medical condition. Keep out of children.
Disclaimer:
PLEASE NOTE: Product images represent the product offered but may not contain exact attributes. Please read the product description for the specific attributes of this product.
†PLEASE NOTE: The intention of the information above is for reference only. It is our goal to maintain and display accurate information. Yet, we can't guarantee it represents the latest formulation of the product. If you have any concerns, please visit the manufacturer's website. The information above is not a representation of our views at Same Day Supplements. These are the views and information provided by the product's manufacturer. The Food and Drug Administration has not evaluated these statements. The intention of this product is not to diagnose, treat, cure or prevent any disease or illness.
*Prices are subject to change at any time and items may limit to stock on hand.
References:
Alan D Dangour, Elizabeth Allen, Robert Clarke, Diana Elbourne, Astrid E Fletcher, Louise Letley, Marcus Richards, Ken Whyte, Ricardo Uauy, and Kerry Mills (2015). Effects of vitamin B-12 supplementation on neurologic and cognitive function in older people: a randomized controlled trial. https://pubmed.ncbi.nlm.nih.gov/26135351/
Nicola Veronese, Brendon Stubbs, Marco Solmi, Olesya Ajnakina, Andre F Carvalho, and Stefania Maggi (2018). Acetyl-L-Carnitine Supplementation and the Treatment of Depressive Symptoms: A Systematic Review and Meta-Analysis. https://pubmed.ncbi.nlm.nih.gov/29076953/
Alvaro Sarmiento, Javier Diaz-Castro, Mario Pulido-Moran, Naroa Kajarabille, Rafael Guisado, Julio J Ochoa (2016). Coenzyme Q10 Supplementation and Exercise in Healthy Humans: A Systematic Review. https://pubmed.ncbi.nlm.nih.gov/26526835/
In-stock orders placed before 3pm EST ship out the same day.
We offer many shipping options to countries like:
Brazil
United Kingdom
Canada
Germany
Australia
Japan
India
France
Israel
Worldwide
More Information

| | |
| --- | --- |
| SKU | NOW-0507 |
| Weight | 0.1000 |
| Manufacturer | NOW Foods |
| UPC | 733739031686 |
Customer Reviews
It works

Give it a try. Good stuff!