SKU
NOW-SPORTS-WHEY-PROTEIN
Benefits and Results:
With BCAAs
24 G Protein
Added Glutamine
NOW Whey Protein - Protein Powder
What is NOW Whey Protein?
NOW Whey Protein is a delicious blend of three high quality whey protein concentrates and isolates: ultrafiltered, microfiltered and enzymatically hydrolyzed (partially predigested). This blend of specially processed whey proteins is designed to maximize amino acid absorption and biological value (BV). Each 1 scoop serving typically has over 5,700 mg of branched-chain amino acids (BCAAs). In addition, extra glutamine has been added (420 mg per serving) to this blend.
Why choose NOW Sports Whey Protein?
Whey protein is considered to have the highest biological value (BV) of any protein source – superior in essential amino acid content to beef, milk, casein or soy. 
Ingredients
Essential Amino Acids
L-Histidine
L-Isoleucine
L-Leucine
L-Lysine
L-Methionine
L-Phenylalanine
L-Threonine
L-Tryptophan
L-Valine
Non-Essential Amino Acids
L-Alanine
L-Arginine
L-Aspartic Acid
L-Cysteine
L-Glutamic Acid
L-Glutamine
Glycine
L-Proline
L-Serine
L-Tyrosine
FAQ:
Is this product kosher?
Yes, this product is kosher.
How many total grams of fat are in this protein?
There are 2.5 grams of fat in each serving.
How many grams of protein in each serving?
There are 24 grams of protein in each serving.
Is it good for muscle?
Yes, protein can help your muscles with growth and repair from training. †
Is this product vegan friendly?
This product contains milk and soy.
Comparisons:
There is 25 g of protein per serving in Iso 100.
Iso 100 is low in carbohydrates per serving (1 g) compared to NOW Sports Whey protein (8 g).
Iso 100 is lower in calories per serving (110) compared to NOW Sports Whey Protein (160).
Gold Standard Whey has 24 g of protein per serving as well.
Gold Standard Whey is slightly lower in calories (130) and carbohydrates (5 g) per serving.
There is 25 g of protein per serving in Animal Whey.
How do I take NOW Whey Protein?
Dosages and Directions:
Add 1 level scoop daily to 8 oz. of cold water, milk, or your favorite beverage. Stir or blend.
What's In NOW Whey Protein?
Supplement Facts / Label (Varies Product to Product):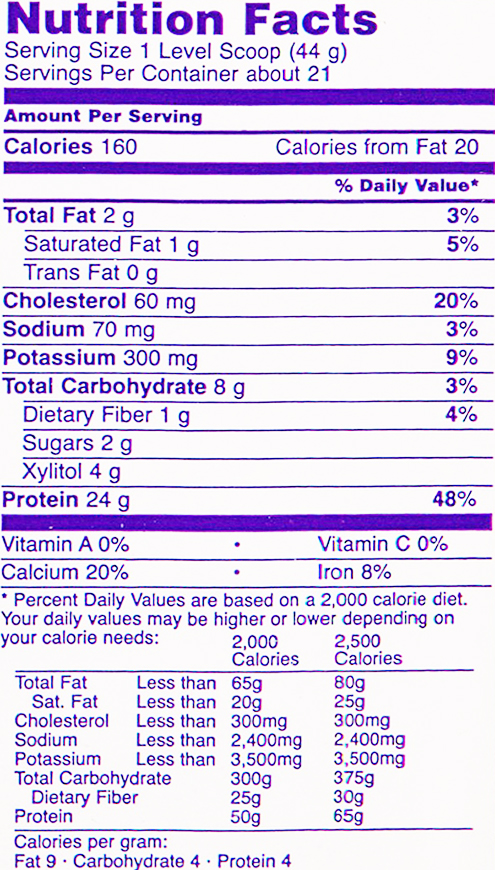 Warnings and Side Effects:
Use this product as a food supplement only.  Do not use for weight reduction. Xylitol is harmful to pets; seek veterinary care immediately if ingestion is suspected. Store in a cool, dry, dark place after opening. 
Disclaimer:
PLEASE NOTE: Product images represent the product offered but may not contain exact attributes. Please read the product description for the specific attributes of this product.
†PLEASE NOTE: The intention of the information above is for reference only. It is our goal to maintain and display accurate information. Yet, we can't guarantee it represents the latest formulation of the product. If you have any concerns, please visit the manufacturer's website. The information above is not a representation of our views at Same Day Supplements. These are the views and information provided by the product's manufacturer. The Food and Drug Administration has not evaluated these statements. The intention of this product is not to diagnose, treat, cure or prevent any disease or illness.
*Prices are subject to change at any time and items may limit to stock on hand.
References:
Luis Henrique A. Castro, Flávio Henrique S. de Araújo, Mi Ye M. Olimpio, Raquel B. de B. Primo, Thiago T. Pereira, Luiz Augusto F. Lopes, Erasmo B. S. de M. Trindade, Ricardo Fernandes and Silvia A. Oesterreich (2019 Sep 2.) Comparative Meta-Analysis of the Effect of Concentrated, Hydrolyzed, and Isolated Whey Protein Supplementation on Body Composition of Physical Activity Practitioners https://www.ncbi.nlm.nih.gov/pmc/articles/PMC6769754/
Lindsay S. Macnaughton, Sophie L. Wardle, Oliver C. Witard, Chris McGlory, D. Lee Hamilton, Stewart Jeromson, Clare E. Lawrence, Gareth A. Wallis and Kevin D. Tipton (2016 Aug 10.) The response of muscle protein synthesis following whole‐body resistance exercise is greater following 40 g than 20 g of ingested whey protein https://www.ncbi.nlm.nih.gov/pmc/articles/PMC4985555/
In-stock orders placed before 3pm EST ship out the same day.
We offer many shipping options to countries like:
Brazil
United Kingdom
Canada
Germany
Australia
Japan
India
France
Israel
Worldwide
More Information

| | |
| --- | --- |
| SKU | NOW-SPORTS-WHEY-PROTEIN |
| Manufacturer | NOW Foods |
Customer Reviews
Whey Protein

Tastes Great. Perfect for after your workouts.