HyperCuts - CTD Sports - 60 Capsules
Benefits and Results:
Extreme Energy and Fat Burning †
Reduced Appetite †
Mental Clarity, Focus and Mood †
Optimal Metabolic Rate †
Removal of Excess Water/Bloat †
Hypercuts By CTD Sports - 60 Caps - Weight Loss Support - New Formula
Are you tired of looking down at your gut and realizing that you have your own personal table? Are you looking for a fat burner that will actually deliver on what it promises? Then look no further than CTD Labs HyperCuts! Losing weight became a lot easier.
What is Hypercuts?
It is a top-selling thermogenic fat burner. It is designed to help you lose weight and boost your metabolism.
How does it work?
It contains ingredients that can increase energy, suppress appetite, and burn fat. †
Ingredients:
Caffeine Anhydrous: Provides energy and alertness. †
Infinergy Dicaffeine Malate: Can elevate energy levels and mood, and increase metabolism. †
Naringenin (std. min. 98% from Grapefruit Fruit Extract): Natural Energy Boost. †
Grains of Paradise: may activate brown adipose tissue and increase whole-body energy expenditure.†
Theacrin (as TeaCrine): Acts as a stimulant to improve energy, focus, and mood. †
Capsicum annum Fruit Extract: Has antioxidant properties. †
Theobromine: may provide energy and support a healthy mood and brain function.†
alpha-Glycerylphosphatidylcholine (Alpha GPC): Can enhance cognitive function and strength. †
Rauwolfia vomitoria Root Extract (std. min. 90% Alpha Yohimbine): Promotes weight loss. †
Huperzia serrata Club Moss Extract: Supports mental clarity and energy. †
Who should take it?
Anyone looking to burn fat and increase their energy can use Hypercuts.
This formula features as an:
Appetite Suppressant †
Energy Booster †
Who shouldn't take it?
Anyone that is:
Pregnant or nursing
Taking medication (consult with your doctor)
Sensitive to stimulants
Customer Reviews:
Review by Natalie K.
Gives me great energy all day, no crashing and definitely a great appetite suppressant.
FAQ:
What is the difference between the new and old formula?
Hypercuts new formula from May 2021 features a reduced total mg of active ingredients, but the ingredients now featured in this blend may be better for promoting overall weight loss, energy, and well-being.† The New formula now features Grains of Paradise, Theacrine, Theobromine, and Alpha-GPC. Meanwhile, Hypercuts has only removed Panthergy and Higenamine HCl. This may change may translate to increased thermogenesis, longer lasting energy, and an improved focus/mood complex.† Overall, this change seems like a positive one. If you've been a fan of the old Hypercuts, you shouldn't worry about the change!
Do I need to cycle Hypercuts?
Yes, you will need to cycle it. After 12 weeks of use, discontinue for at least 4 weeks before taking the product again.
Can I drink alcohol while taking it?
It is not recommended to take Hypercuts at the same exact time as consuming alcohol, but safe to consume at different times.
Will it show up on drug tests?
It does not contain any illegal ingredients. †
Can women take this?
Yes! This product doesn't contain any gender-specific ingredients.
Comparisons:
VS Lipodrene: Provides stronger energy. If you're looking for a fat burner with ephedra, Lipodrene is the way to go.
VS Insane Cutz: Stronger formula than Hypercuts. With 666 mg per serving, it can give you more energy. Both products can aid appetite suppression. †
How Do I Take It?
Dosage and Directions:
To asses tolerance take 1 capsule with eight (8) ounces of water or with food. Once tolerance is assessed take 1 capsule once or twice daily. Do not take after 5 PM. Do not exceed the recommended dosage.
What's In CTD Sports Hypercuts?
Supplement Facts / Label: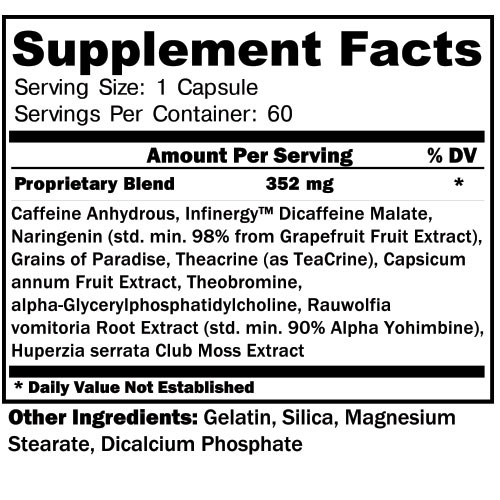 Warning and Side Effects:
Consult your health care provider before consuming this product. Do not use if you are pregnant or nursing. Not intended for use by persons under the age of 18.
Do not consume caffeine from other sources, including but not limited to coffee, tea, soda, and other dietary supplements containing caffeine. After 12 weeks of use, discontinue for at least 4 weeks.
Disclaimer:
PLEASE NOTE: Product image is representative of the product offered but may not have the exact attributes. Please read product description for the specific attributes of this product.
†PLEASE NOTE: The information above is intended for reference only. While we attempt to keep our information accurate, we cannot guarantee it is an accurate representation of the latest formulation of the product. If you have any concerns, please visit the manufacturer's website. The information above are the views of the product's manufacturer, not the views of Same Day Supplements. These statements have not been evaluated by the Food and Drug Administration. This product is not intended to diagnose, treat, cure, or prevent any disease.
*Prices are subject to change at any time and some items are limited to stock on hand.
References:
Alam, M. A., Subhan, N., Rahman, M. M., Uddin, S. J., Reza, H. M., & Sarker, S. D. (2014, July 07). Effect of citrus flavonoids, naringin and naringenin, on metabolic syndrome and their mechanisms of action. https://www.ncbi.nlm.nih.gov/pmc/articles/PMC4085189/
Maung Kyaw Moe Tun, Seth B Herzon 2012 Sep 5. The pharmacology and therapeutic potential of (−)-huperzine A https://www.ncbi.nlm.nih.gov/pmc/articles/PMC4863551/
Silver, H. J., Dietrich, M. S., & Niswender, K. D. (2011, February 02). Effects of grapefruit, grapefruit juice and water preloads on energy balance, weight loss, body composition, and cardiometabolic risk in free-living obese adults. https://www.ncbi.nlm.nih.gov/pmc/articles/PMC3039556/
In-stock orders placed before 3pm EST ship out the same day.
We offer many shipping options to countries like:
Brazil
United Kingdom
Canada
Germany
Australia
Japan
India
France
Israel
Worldwide
More Information

| | |
| --- | --- |
| SKU | CTD-0004 |
| Weight | 0.2000 |
| Manufacturer | CTD Labs |
| UPC | 748252904119 |
Customer Reviews
Super Energy

The level of energy is amazing!! They also control appetite. I got so much done in a week!!

Love them!

Gives me great energy all day, no crashing and definitely a great appetite suppressant.


4 stars

Good quality creatine, but not for me Review by Ishmail
Rating