ESP Extreme Pre Workout - Metabolic Nutrition - 50 Servings
Benefits and Results:
Explosive Power and Performance†
Intense Energy and Focus†
Multi-Strength†
Fast Acting†
Frequently Bought Together
Metabolic Nutrition ESP Extreme - Pre Workout

What Is It?
Metabolic Nutrition ESP Extreme is a pre workout like no other.† It was created for those who have a high tolerance to stimulants.
ESP Extreme provides a level of strength and energy unmatched by any pre workout on the market.† It is so strong, the recommended starting dose is only half a scoop!
Those of you that dare to take a full scoop can experience an energy rush like no other.†
How Does It Work?
ESP Extreme is made of mostly stimulants. These stimulants are potent and may provide you with an unbelievable energy boost.† This pre workout is designed to allow the consumer to choose the desired level of strength. The freedom to choose 1, 2, or 3 scoops allows you to meet any specific tolerance and workout needs.
The power in this blend is thanks to the Extreme Energy Complex, created with Caffeine Anhydrous and Theobromine. Due to its potency, be sure to assess your tolerance if this is the first time trying this product.
Ingredients
Caffeine Anhydrous: provides boost in energy.†
Theobromine: similar to caffeine, can help increase energy and focus.†
Di-Caffeine Malate: provides boost in energy.†
Choline Bitratrate: helps with focus.†
N-Acetyl-L-Tyrosine: can help with mental alertness.†
Eria Jarensis: can enhance concentration and alertness.†
Beta Alanine: for buffering lactic acid build up and can help increase endurance.†
Black Pepper Extract: aids in absorption of ingredients.†
What Can I Expect?
Explosive Energy†
Laser Focus†
Increased Strength and Intensity†
Improved Performance†
Increased Endurance†
Who Should/Shouldn't Take It?
ESP Extreme is intended for those looking for an incredibly powerful pre workout to completely elevate their intensity and energy in the gym.† Whether you are an experienced athlete or just learning the ropes, ESP Extreme can help you crush your goals in no time.†
If you are caffeine sensitive you may want to avoid this product. You should also avoid this product if you are pregnant/nursing, less than 18 years old, taking any products with caffeine or prescribed any medications.
Featured Customer Reviews:
Best Pre! Review by Tom
This is an extremely potent pre workout. Take half of the serving for several days and depending on your body tolerance increase the dose. Awesome product! I've been using it for several months now. (Posted 6/21/19)
Great Preworkout! Review By Jon B
I love this pre workout. Keeps you sharp and focused during your workout. No crash afterward. (Posted 12/5/17)
The Best! Review by Brian S
This is the best pre-workout supplement blend out there. Plenty of energy and lazer focus. I actually prefer this over Mesomorph. (posted 12/5/19)
FAQ:
How much caffeine is in ESP Extreme?
1 scoop contains 256 mg of caffeine. 2 scoops contain 512 mg of caffeine. 3 scoops contain 768 mg of caffeine.
What flavors are there?
Fruit Punch, Green Apple, Watermelon, and Blue Raspberry.
Is there DMHA?
This new formula does not have DMHA, but don't let that fool you! This advanced and updated formula is just as powerful as ever!
What is the best way to use this?
The absolute best way is to first assess tolerance by taking 1 scoop 20-30 mins before any fitness activity including strength training, High-Intensity-Interval Training, weight-lifting and conditioning.†
Can I take this for training at night?
Yes! It is important to understand how caffeine affects you and at what levels. To prevent the common restlessness and irritability at night, it is recommended to not take any stimulants within 3-4 hours of going to sleep.
What should I do if I take too much?
If you are concerned with the amount of caffeine you have taken or are experiencing uncomfortable symptoms such as but not limited to dizziness, vomiting, trouble breathing, headache, irritability, chest pain, irregular or fast heartbeat, you may want to sit, re-hydrate, and take long, slow, deep breathes.† If these symptoms remain unchanged or get worse, locate a hospital for immediate treatment.†
Similar Alternative Products:
ESP Extreme Vs. Mesomorph: Mesomorph is a popular and well-known pre workout meant for the experienced gym-goer. ESP Extreme stands strong against this powerhouse, delivering energy just as explosive!
ESP Extreme Vs. ESP Pre Workout: Metabolic Nutrition created ESP Extreme to top their already powerful pre workout ESP. Sharing similar ingredients, ESP delivers 500 mg of caffeine per Large Scoop.
ESP Extreme Vs. Venom: Venom offers 375 mg of caffeine per large scoop. Although less powerful, still considered to provide a moderate energy boost as well as promotes muscle pumps.
Stacks Well With:
How Do I Take ESP Extreme?

Suggested Dosage and Directions:
Due to the strength of E.S.P. Extreme, start with one serving (1 scoop) mixed with 6 fl. oz. of water, 20-30 mins before training.
Once tolerance has been assessed, you may take two servings (2 level scoops) mixed with 12 fl. oz. of water. Persons who have a high tolerance of stimulants, may take the maximum dose of three servings (3 level scoops) with 18 fl. oz.
Do not exceed three servings (3 scoops) in a 24 hour period, combine with other caffeinated products, or consume as a dry powder, doing so will pose risk of adverse health reaction
What's In ESP Extreme?

Supplement Facts/Label: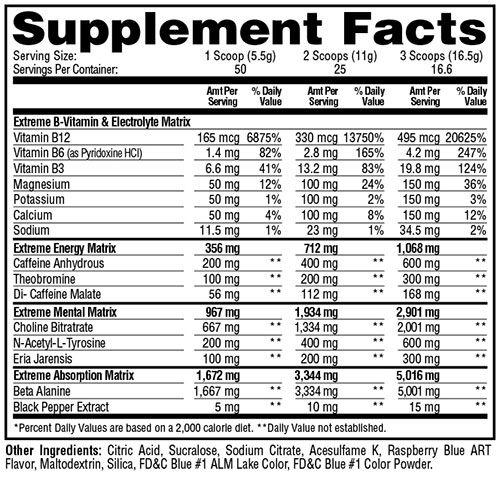 Warnings and Side Effects:
This product is only intended for healthy adults, 18 years of age or older, do not exceed recommendations for suggest use. Before using this product, consult a licensed, qualified health care professional if you are taking:
Any other dietary supplement
Prescription (such as, but not limited to: MAO-inhibitor or SSRI's)
Over-the-counter medication
Or if you have been treated for, diagnosed with or have a family history of any medical condition.
Immediately discontinue use and consult a licensed, qualified, healthcare professional if you experience any adverse reaction to this product. Not for use by women that are pregnant or nursing, trying to become pregnant, or men or women that are sensitive to caffeine.
This product should not be used in combination with caffeine or stimulants from other sources as it may cause:
Nervousness
Irritability
Sleeplessness
Rapid heartbeat
Discontinue use two weeks prior to surgery. Consuming this product 4 hours prior to bedtime may cause difficulty sleeping. Consumer assumes total liability if used in a manner inconsistent with label guidelines. Keep out of reach of children.
This product may contain ingredients that are banned by some sports organizations and/or increase risk of false positive on a drug test. Please consult with your sport organization or physician before taking this product.
This product can raise blood pressure and interfere with other drugs you may be taking. Talk to your doctor about this product.
California Residents Prop 65 WARNING:
This product contains a substance known to the State of California to cause birth defects or other reproductive harm.
Disclaimer:
PLEASE NOTE: Product images represent the product offered but may not contain exact attributes. Please read the product description for the specific attributes of this product.
†PLEASE NOTE: The intention of the information above is for reference only. It is our goal to maintain and display accurate information. Yet, we can't guarantee it represents the latest formulation of the product. If you have any concerns, please visit the manufacturer's website. The information above is not a representation of our views at Same Day Supplements. These are the views and information provided by the product's manufacturer. The Food and Drug Administration has not evaluated these statements. The intention of this product is not to diagnose, treat, cure or prevent any disease or illness.
*Prices are subject to change at any time and items may limit to stock on hand.
Other Information:
Visit Metabolic Nutrition's website for more information.
In-stock orders placed before 3pm EST ship out the same day.
We offer many shipping options to countries like:
Brazil
United Kingdom
Canada
Germany
Australia
Japan
India
France
Israel
Worldwide
More Information

| | |
| --- | --- |
| SKU | ESP-EXTREME |
| Manufacturer | Metabolic Nutrition |
Customer Reviews
Review Disclaimer:
The reviews posted below are based on individual customer experiences and not views or guarantees from SameDaySupplements.com. These results are not be typical. Actual results may vary.
4.8
100% of customers recommend this product
Top customer reviews
Best ever!

I've used every type and brand of pre-workout on the market, and the E.S.P Extreme is by far my favorite. Great taste, nice energy boost (with just the right amount tingly rush), and able to smash through long workouts. 10/10 would recommend.

Best preworkout but beware!!

One of the best pre workout ive taken. Gives sharp focus, low stim, and pushes me to my limit in every workout. I must warn you though, if you are sensitive to caffeine or have stomach issues this is not the preworkout for you as ive shared it with a few of my friends and they've all felt nauseous or there heart rate wont go down as soon as it would for me. But overall if you are looking for a pre that'll get you going after a stressful long day at work or out of the laziness vibe this is definitely it!

Absolutely love this product and it's a great deal when you buy two on same day supplements..

Helps increase energy in your workout

Timothy K

The company's service was excellent , the prices were good, and I got exactly what I wanted. Purchasing from same day supplements is five stars. The flavor of this is three stars, I has an aftertaste. Do yourself a favor and try something other than watermelon.

Energy!

The energy I get from ESP Extreme is intense, sometimes too intense. But its perfect for getting through my workouts and leaving me some energy to get through the rest of the day. Just newbies be warned– start off with half scoop.

Amazing supplement

if you take 1 scoop of this your for sure gonna get a PR the first time

Easy order, fast delivery and potent product

Woow! Awesome! Been looking for this. Gives me the motivation I need on lazy days. Take only 1 scoop. Don't exaggerate your training. Stick to your program and drink water even if you don't feel like it so you don't "crash". Hope I can get more of this product. Sadly out of stock atm

easy ordering/fast delivery

I have been looking for this product on the website of the maker for a while now with no luck. Found it here for a great price...placed my order on a Saturday, still shipped the same day, and arrived quickly!

Best pre

This is an extremely potent pre workout. Take half of the serving for several days and depending on your body tolerance increase the dose. Awesome product! I've been using it for several months now.

ESP extreme

man this pre workout was awesome, I had literally the best workout I've ever had. That being said this product claims there is no "crash" but multiple people get the crash and get very sick, all over YouTube there are the occurrences that I had. I had a great workout felt focused and intense but an hour in a half in I started to feel really odd, finished my workout about 30 mins later I was very tired, I ended up throwing up 5x!!! felt horrible. Not sure wether it was because lack of water intake that day or lack of food but that had me fucked up, my first time trying this preworkout I took 2 small scoops, I really enjoyed the workout but the crash and after affect scares me... what's in this shit? I might just do half a scoop and see wether it was the lack of food and water or that I just don't agree with this preworkout, hopefully I respond well because the workout was really good just the crash and throwing up was horrible.