ESP Pre Workout - Metabolic Nutrition - 300 Grams
Benefits and Results:
Fast Acting†
Maximum Energy†
Intense Focus†
Amplified Endurance†
Explosive Power†
Zero Crash†
Frequently Bought Together
Metabolic Nutrition ESP - Pre Workout

What is ESP Pre Workout?
ESP is a scientifically formulated pre workout designed to have a fasting acting and effective formula. Unlike most pre workouts, we have a specialized scoop. You can determine the amount you want to use before each workout. With ESP Pre Workout, getting amped up and powering through workouts has never been easier. 
Most pre workouts on the market are just stuffed with caffeine. ESP Pre workout uses specific forms of stimulants to give you the energy with a reduce drop-off effect.
Metabolic Nutrition has also included ingredients to help control anxiety.
How does it work?
ESP Pre Workout's formula has fast acting ingredients that provide you a burst of energy while giving you clear focus in the gym.
Ingredients:
Beta Alanine Citrate: can help buffer lactic acid build up which can help in overall performance. †
1,3,7-Trimethylpurine-2,6-dione: better known as Caffeine, can help with energy and focus.†
3,7-dimethyl-1H-Purine-2,6-dione: better known as It is another stimulant that can help with energy. †
N-Acetyl-L-Tyrosine: has nootropic effects. It can help increase attention, motivation and concentration. †
Choline Bitartrate: can help aid in overall performance.†
The next 4 ingredients are Electrolytes which can help with Hydration and can help rebuild damaged tissue.†
Calcium Gluconate
Magnesium Gluconate
Potassium Gluconate
Sodium
What can I expect?
Increase energy†
Prolong endurance†
Improve focus†
Overall stimulates your drive to exercise harder†
Who should / shouldn't take it?
If you are looking for a pre workout that is going to deliver clean energy and focus, ESP is for you. This pre workout can be taken by beginners, advanced, and experienced users. That is because you can take 1-2 small scoops or 1 large scoop. You can adjust to your tolerance level.
If you are looking for a pre workout with crazy pumps this isn't for you. You should take at look at PSP pre workout instead.
If you are looking to avoid stimulants, you shouldn't take this product. Please make to check the warnings and your doctor before use.
Reviews:
ESP Fruit Punch Review by Andrea M.
This stuff works very well and tastes better than most pre workouts.
Esp green apple pre workout Review by Jose M.
This is the best pre workout I ever had and nothing tops it off, the best workouts when you take this and no crash.
FAQ:
What flavors are available?
ESP Pre Workout comes in 4 flavors. They are Green Apple, Watermelon, Fruit Punch and Blue Raspberry.
Is this the original formula?
No, the original formula is no longer available. It does not contain DMAA, AMP Citrate and Picamilon. This shouldn't stop you from trying ESP. It is still a hard hitting pre workout.
Does it have creatine?
No, this pre workout is creatine free.
How much caffeine does it have?
One small scoop has 166.67mg of caffeine. One large scoop has 500mg of caffeine.
Is it banned?
No, it has just been reformulated.
Can I fail a drug test?
It really comes down to what they are testing for. We recommend contacting the governing body before using the product.
Comparisons:
VS PSP: S.P. is known for its nitric oxide boosting capabilities, meaning, it'll give you a solid pump during your workouts. P.S.P. also does not contain any caffeine, making it ideal for those sensitive to caffeine or the late night gym goers. It can be stacked together with ESP for the ultimate pre workout combo.
VS ESP Extreme: Looking at the labels, the formulas are very similar. However, ESP Extreme contains more caffeine per scoop than the original ESP. If you want a pre workout with even more stimulants go with ESP Extreme.
VS C4: ESP shares a couple of ingredients with C4 but, is much stronger per scoop than C4. If you are someone that isn't looking for a lot of stimulants in a pre workout, go with C4.
How Do I Take It?
Dosage and Directions:
Due to the strength of ESP Pre-Workout please assess your  tolerance.
Start by taking only 1 level small scoop with 5oz of water 15 minutes before your workout.
After assessment, if you require further energy stimulation, you may increase to 2 level small scoops.  Mix with 10 oz of water and once again access your tolerance.
*For advanced athletes or persons tolerant of high energy stimulants
*With caution, for maximum extreme energy release, you may take 1 level large scoop with 16oz of water. Do not exceed one large scoop dosage in any 24 hour period.
Do not take 4 hours before desired bedtime.
What's In ESP Pre Workout?
Supplement Facts / Label: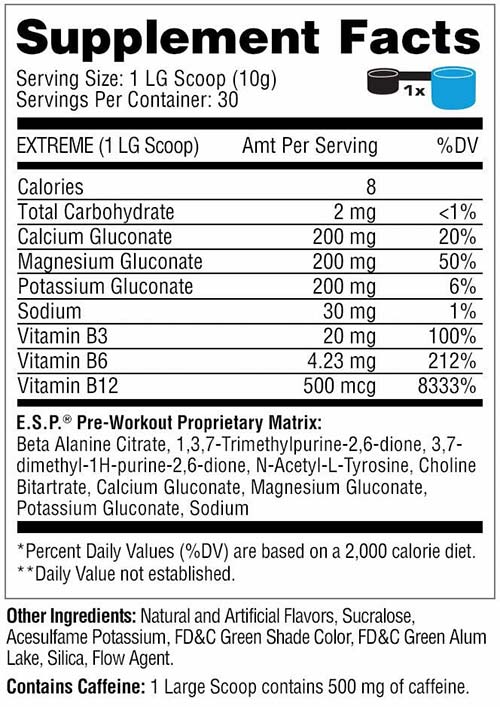 Warnings and Side Effects:
Read entire label before taking the product. E.S.P. is a powerful high-stimulant supplement that provides you the maximum dosage of caffeine and stimulants in only one large scoop.
Do not exceed 1 large scoop recommended dosage per 24 hour period. Doing so will not improve results and will result in adverse health effects. One Large Scoop of E.S.P. provides 500 mg of caffeine, which is more than three cups of coffee.
Do not use if you are under the age of 18 or elderly. Do not take with:
Any other stimulant or weight-loss supplement
Any prescription or over the counter medicine
Do not use if you are pregnant or nursing women. Not to be used by person(s) who have a pre-existing health condition(s) including but not limited to:
High or low blood pressure
Cardiac arrhythmia
Stroke
Heart/kidney/liver/thyroid disease
Seizure disorder
Psychiatric issues
Diabetes
Stimulant sensitivity or allergies
Prostate inflammation
Or while taking any other medication (such as, but not limited to: MAO-inhibitor or SSRI's).
Discontinue use and call a physician or licensed qualified health care professional immediately if you experience:
Rapid heartbeat
Dizziness
Severe headache
Shortness of breath
Other similar symptoms
This product is intended for use by healthy individuals only. The consumer assumes total liability of this product if used in a manner inconsistent with label guidelines. Do not use for weight reduction. KEEP OUT OF REACH OF CHILDREN.
California Residents Only:
WARNING: Consuming this product can expose you to chemicals including (lead and cadmium), which is (are) known to the State of California to cause cancer and birth defects or other reproductive harm.
Disclaimer:
PLEASE NOTE: Product images represent the product offered but may not contain exact attributes. Please read the product description for the specific attributes of this product.
†PLEASE NOTE: The intention of the information above is for reference only. It is our goal to maintain and display accurate information. Yet, we can't guarantee it represents the latest formulation of the product. If you have any concerns, please visit the manufacturer's website. The information above is not a representation of our views at Same Day Supplements. These are the views and information provided by the product's manufacturer. The Food and Drug Administration has not evaluated these statements. The intention of this product is not to diagnose, treat, cure or prevent any disease or illness.
*Prices are subject to change at any time and items may limit to stock on hand.
References:
Santos-Mariano AC, Tomazini F, Felippe LC, Boari D, Bertuzzi R, De-Oliveira FR, Lima-Silva AE1. 2019 Nov 7. Effect of caffeine on neuromuscular function following eccentric-based exercise. https://www.ncbi.nlm.nih.gov/
Smith CR, Harty PS, Stecker RA, Kerksick CM. 2019 Nov 7. A Pilot Study to Examine the Impact of Beta-Alanine Supplementation on Anaerobic Exercise Performance in Collegiate Rugby Athletes. https://www.ncbi.nlm.nih.gov/
In-stock orders placed before 3pm EST ship out the same day.
We offer many shipping options to countries like:
Brazil
United Kingdom
Canada
Germany
Australia
Japan
India
France
Israel
Worldwide
More Information

| | |
| --- | --- |
| SKU | ESP-PRE-WORKOUT |
| Manufacturer | Metabolic Nutrition |
Customer Reviews
So far so good!

Pretty strong! Def. watch out if you're not used to pre workout.

E.S.P

Product is as described and actually hits the spot when it comes into energy. The first time drinking this, i hit a new PR. Amazing

ESP

The watermelon flavor is great. I have seen an improvement in my workouts as I am more energized and focused.

The Don

I have been using ESP pre-workout for over 5 years it works GREAT! It also gives you a good clean energy and the best part is No jitters and No crash! if you are looking to shed some pounds then this is the pre-workout for you I would highly recommend it!!!!

Esp green apple pre workout

This is the best pre workout I ever had and nothing tops it off, the best workouts when you take this and no crash

ESP Fruit Punch

This stuff works very well and tastes better than most pre workouts.