Dexaprine XR By iForce Nutrition, 60 Caps
Dexaprine XR Benefits and Results:
Intense Energy †
Mind Blowing Mental Focus †
Reduced Appetite & Cravings †
DEXAPRINE XR - IFORCE NUTRITION - 60 CAPS - FAT BURNER

What Is Dexaprine XR?

Dexaprine XR is the world's strongest fat burner. It's the first 'Ultra Concentrated" Thermogenic Powerhouse capable of packing:
Insane levels of energy †
Mental focus †

Mood enhancement †

Appetite suppression †
All within a single caplet. 1 caplet is all it takes to feel the raw power of Dexaprine XR, and 1 bottle completely new you. What are you waiting for?
What Can I Expect From Taking Dexaprine XR?
You are 1 day away from the most insane fat burning experience of your life. Dexaprine XR uses only ingredients backed with science, and at the doses you need to shred body fat. Simply put, Dexaprine XR was designed to insure that you will never fail at losing weight again. Rest assured nothing compares to the raw power of Dexaprine XR. Your results will never be the same, and you will be amazed at how quickly Dexaprine XR works for you!
Can I Drink Alcohol While Taking Dexaprine XR?
Do not consume with alcohol while taking Dexaprine XR.
Dexaprine XR Ingredients:
Dexaprine Tri-Phase Ignition System 645 mg:

Thermophoric Amine Mood Enhancement Complex:
Acacia Rigidula Extract (98%), Citrus Aurantium (30% Active Amines)
Extended Release Energy Complex:
Caffeine Anhydrous, Green Tea Extract (Standardized for Theophylline)
Uncoupling Metabolic Adipose Destruction Matrix:
Rauwaolfia Serpentina (Standardized for Rauwolscine), Isopropyloctopamine
What's In Dexaprine XR?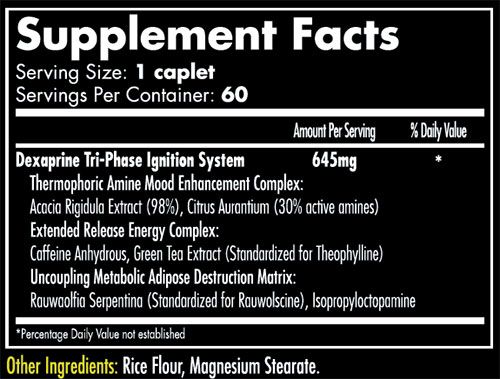 How Do I Take Dexaprine XR?
Dosage and Directions:
As a dietary supplement, take 1 caplet on an empty stomach before breakfast. For those who wish to experience extreme results, a second caplet may be consumed 4-8 hours later. Do not exceed 2 caplets in any 24 hour period. Read product warning prior to use.
Warnings and Side Effects:
This product can raise your blood pressure and interfere with other drugs you may be taking. Talk to your doctor about this product. Read entire label before taking the product. This product is only intended to be consumed by healthy adults 18 years of age or older. Do not exceed recommended dose. Do not consume caffeine from other sources or other stimulants. Contains Caffeine. Do not use for more than 8 weeks. Consult with your physician before use if you are taking medications. Consult your physician before use if you have a medical condition. Stop 2 weeks before surgery. Or If you experience rapid heartbeat, dizziness, severe headache, or shortness of breath . Do not use if the seal is broken or missing. Keep out of reach of children.
PLEASE NOTE: Product images represent the product offered but may not contain exact attributes. Please read product description for the specific attributes of this product.

† PLEASE NOTE: The intention of the information above is for reference only. It is our goal to maintain and display accurate information. Yet, we can't guarantee it represents the latest formulation of the product. If you have any concerns, please visit the manufacturer's web site. Also the information above is not a representation of our views at Same Day Supplements. These are the views and information provided by product's manufacturer. The Food and Drug Administration has not evaluated these statements. The intention of this product is not to diagnose, treat, cure or prevent any disease or illness.

*Prices are subject to change at any time and items may limit to stock on hand.
In-stock orders placed before 3pm EST ship out the same day.
We offer many shipping options to countries like:
Brazil
United Kingdom
Canada
Germany
Australia
Japan
India
France
Israel
Worldwide
More Information

| | |
| --- | --- |
| SKU | IF-0015 |
| Weight | 0.2600 |
| Manufacturer | iFORCE NUTRITION |
| UPC | 854503001039 |
Customer Reviews
Fantastic!

Great energy and appetite suppression! Paired it with L-Theanine.

recieved dexaprine xr /super fast shipping!!!

Product gives me energy to work out and it helps a little with my appetite. I take 1/2 a pill in morning and 1/2 in afternoon because a whole one at once makes me too shaky. I will probably purchase this again because it seems to be helping me lose some weight. I have lost 3 lbs so far.

Very disappointed, crap product.

Honestly don't feel any different taking Dexaprine XR and this is my first time taking anything like this. I was actually a bit nervous at first as the reviews had said how powerful these tablets were. So on day one I took half a capsule with no effect at all, day two I took a full capsule, still no effect at all. I feel like I've wasted my money on something that doesn't work.