Concret Creatine HCL - Promera Sports
Benefits and Results:
Patented Creatine HCL †
Increases Muscle Endurance †
Improves Recovery Time †
Increases Strength †
Sustainable Energy †
Micro-Dosing †
Frequently Bought Together
CONCRET CREATINE - PROMERA SPORTS - MUSCLE BUILDERS

What Is It?
Promera Sports released ConCret to showcase their patented Creatine HCL. This creatine was designed to be more concentrated and soluble while causing fewer side effects than the popular Creatine Monohydrate.
ConCret has less effect in water retention, supporting those who are working for a leaner physique. A unique feature of this product is the ability to tailor the amount of Creatine your body needs based on your body weight.
There is also no need to load on or cycle off, making taking Creatine as simple as it can get!
Why is the outer seal different?
Promera Sports used to use a heat shrink label for their products and now have moved to using a pressure sensitive label. Here is Promera Sports' official letter stating the change: Concret Packaging Change Notice.
How Does It Work?
To get results using Creatine Monohydrate (CM), you may have to load at a higher rate. Promera Sports developed Creatine Hydrochloride (C-HCl) as a form of creatine so superior it was awarded five patents.
With CONCRET, you only need 750mg per 100 pounds. This can help increase your workout intensity and maximize your gains†. Creatine HCl is sixty-four times more soluble and has 70% more plasma uptake than CM†.
CM is an inefficient ingredient that does not dissolve easily in water or in your body. † When CM fails to absorb into your bloodstream, it is not only wasted on your workout, but it can also cause water retention and cramping as well. †
Ingredients:
Patented Creatine HCL (750mg)
What Should I Expect?
Naturally Flavored †
Improved Athletic Performance †
Improved Muscle Endurance and Recovery †
Less Bloating/Cramping †
Who Should Take It / Who Shouldn't?
ConCret is designed for athletes and bodybuilders, who are looking to gain muscle, improve strength and physical performance. However, anyone who has similar goals can take this product!
Keep out of reach of children. Do not use this product if you are pregnant, contemplating pregnancy or nursing.
Reviews:
Noticeable Strength Gains! By Jetsfan
I tried concret for the first time and was immediately pleased with the results. Noticeable strength gains without side effects. I highly recommend the product!
Con-cret. By Daniel
It is very water soluble and easily administered. A little sour, but not bad with tea.
Great! By Will Als
No water retention. My favorite creatine! Pineapple tastes amazing.
FAQ:
Can this be added to my Pre-Workout?
Yes, if your supplements lack the desired creatine then it is safe to add. However, we recommend not adding additional Creatine to any other product that contains Creatine, including some Pre-Workouts for this can cause unwanted adverse effects such as stomach cramps and nausea.
Is Creatine bad for you?
Research supports the safe administration of Creatine in improving athletic performance, but it is also associated with some negative side effects such as stomach cramps, bloating, and nausea. †
When is the best time to take this Creatine?
It is suggested to take the product 30-60 minutes before training.
Will this effect muscle pumps at all?
Creatine aids in transport of water into the muscle cells, promoting muscle performance and size
Are there any side effects?
With Creatine HCL, there are fewer suspected side effects than when compared to Creatine Monohydrate. †
Comparisons:
Vs. Universal Creatine Monohydrate: This product uses Creatine Monohydrate, a popular ingredient among power lifters and bodybuilders. If you have a sensitive stomach, want a lean physique, or want to avoid excess water retention, you should try ConCret! †
Vs. CTD Kre Alkalyn: CTD Sports patented a pH-corrected form of creatine, also known as buffered creatine. The product is designed to be delivered via Capsules. This ingredient is equally as effective as the well-known Creatine Monohydrate. †
Vs. APS Creatine Nitrate: APS combined 3 forms of Creatine to create this product. The most noteworthy is the addition of Creatine Nitrate. According to a UCLA study, Creatine Nitrate is 1000% more water soluble than Creatine Monohydrate, resulting in increased absorption. †
How Do I Take Concret Creatine?
Suggested Dosage and Directions:
Take 30 to 60 minutes prior to training with 6 oz. of water or to desired taste. ConCret can be taken with or without food or protein.
Normal Training: 1 Serving (1 Scoop) per 100 pounds of body weight.
Intense Training: 1-2 Servings (1-2 Scoops) per 100 pounds of body mass.
Post & Off Days: Can take 1 serving (1 Scoop) per 100 pounds of body weight to assist in muscle recovery.
What's In Concret Creatine?
Supplement Facts / Label: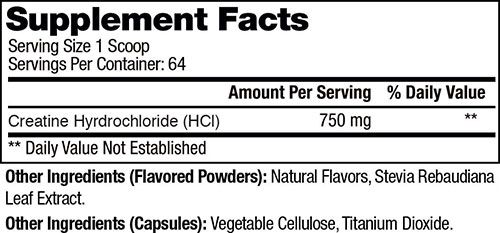 Warnings and Side Effects:
This product is not intended for individuals under the age of 18. Consult your physician prior to using this or any other supplement or if you are taking any OTC or prescription medications. Do not exceed the recommended serving.
Discontinue use immediately and consult your health care professional if you experience any adverse reaction to this product. Maintain adequate hydration. Exposure to moisture and humidity may cause clumping but will not affect product performance.
Keep out of reach of children. Do not use this product if you are pregnant, contemplating pregnancy or nursing.
Disclaimer:
PLEASE NOTE: Product images represent the product offered but may not contain exact attributes. Please read the product description for the specific attributes of this product.
†PLEASE NOTE: The intention of the information above is for reference only. It is our goal to maintain and display accurate information. Yet, we can't guarantee it represents the latest formulation of the product. If you have any concerns, please visit the manufacturer's website. The information above is not a representation of our views at Same Day Supplements. These are the views and information provided by the product's manufacturer. The Food and Drug Administration has not evaluated these statements. The intention of this product is not to diagnose, treat, cure or prevent any disease or illness.
*Prices are subject to change at any time and items may limit to stock on hand.
Other:
Donald W. Miller, Ph.D. April 2011. CON-CRET® – CREATINE MICRO-DOSING® DIETARY SUPPLEMENT
Donald W. Miller, Ph.D. August 3, 2017. CREATINE-HCL STABILITY NARRATIVE
In-stock orders placed before 3pm EST ship out the same day.
We offer many shipping options to countries like:
Brazil
United Kingdom
Canada
Germany
Australia
Japan
India
France
Israel
Worldwide
More Information

| | |
| --- | --- |
| SKU | CONCRET-CREATINE |
| Manufacturer | Promera Sports |
Customer Reviews
Review Disclaimer:
The reviews posted below are based on individual customer experiences and not views or guarantees from SameDaySupplements.com. These results are not be typical. Actual results may vary.
Top customer reviews
Excelente

Qualidade muito superior a creatina convencional. (Quality far superior to conventional creatine.)

Love the taste

The pineapple flavour is awesome, love the tartness of it.

top!

It's one of the best creatine. There is not any water retention and puffyness! Just more strength and durability in training. It's the 3th box I use. I didn't find it in my country (Romania) an I ordered it from here. It came in about 7-8 days. Thank you!

Mr Earl

creatine is great. Works well

Best creatine

Best creatine ever

Endurance

Good product for better endurance

CREATINE

BEST CREATINE I HAVE EVER USED! GREAT RESULTS EVERYTIME!

Con-crēt

Not sure if this stuff works. It is very water soluble tho, and easily administered. Very Very sour, but not bad with tea.

Great!

No water retention. My favorite creatine! Pineapple tastes amazing.