C4 Ultimate Benefits and Results:
Intense Energy †
Increases Endurance and Performance †
Intense Pumps †
C4 Ultimate By Cellucor - Pre Workout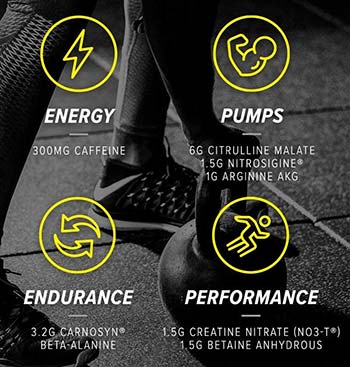 What Is C4 Ultimate?
ULTIMATE ISN'T JUST A CODE OF CONDUCT… It's the pursuit to kick ass and take names in the gym. Your crushing hunger to reach your new PR is the very reason why we've spent the last few years engineering the most hard-hitting, intense, and focused pre-workout on the market–one that matches your obsession with being better than you were yesterday.
C4 ULTIMATE IS THE MOST POWERFUL C4 WE'VE EVER CREATED.
It's not for the weak. It's not for the weekend warrior. This is for those that don't have limits in the gym. Those that aren't afraid to work, sweat, and bleed for their next best. It's dosed to the brim with the powerful ingredients that your body begs for. You will feel the explosive energy run through your veins as you prep for battle in the gym. This maxed-out formula also packs a heavy punch of nootropics, mood enhancers, pump amplifiers and endurance boosters to push you to your ultimate limit. C4 Ultimate will challenge you to push for one more rep, one more set, and to pick up that heavy dumbbell you've been thinking about for weeks.
Are you ready to see what you're made of?
Contains CarnoSyn® Beta Alanine, an amino acid, which converts to a compound in your body called carnosine. It is the only patented and clinically studied form of beta-alanine that has been shown to support muscular endurance.
C4 Ultimate caffeine amount is 300 mg.
Why Choose C4 Ultimate?
The Ultimate Formula 6g Citrulline Malate, 3.2g Beta Alanine, 1.5g Creatine Nitrate, 1g Arginine, 858mg nootropic energy blend, 300mg caffeine per scoop. 20/40 servings per container.
Premium Ingredients: Cellucor promises quality of ingredients and purposefully crafted blend of patented ingredients that promote energy and endurance to satisfy your fitness goals.
Unbeatable Flavors: There's a flavor for you. C4 Ultimate is offered in Raspberry Lemonade, Apple Berry, Icy Blue Razz, Orange Mango, Cherry Limeade, and Strawberry Watermelon.
C4 Ultimate VS C4 Original

What's In C4 Ultimate By Cellucor?
How Do I Take C4 Ultimate By Cellucor?
Dosage: Take one serving (1 scoop) of C4 Ultimate, mixed with 10-12 fl. oz. of water 20-30 minutes before training. During your workout, it is recommended that you drink plenty of water or performance beverage to stay hydrated. Some individuals may experience a harmless tingling sensation, which is attributable to beta alanine. USE ONLY AS DIRECTED.
Warnings and Side Effects:
THIS PRODUCT IS ONLY INTENDED TO BE CONSUMED BY HEALTHY ADULTS, 18 YEARS OF AGE OR OLDER. Do not use this product if you are pregnant, nursing, currently taking PDE-5 inhibitors or nitrates for chest pain. Do not take this product before consulting a licensed, qualified, health care professional if you are taking any other dietary supplement, prescription drug or over-the-counter medication; or if, you suspect you have or have been treated for, diagnosed with or have a family history of, any medical condition. This product contains caffeine and should not be used in combination with caffeine or stimulants from other sources. Discontinue use 2 weeks prior to surgery. Immediately discontinue use and contact a medical doctor if you experience any adverse reaction to this product. Do not use this product continuously for more than 8 weeks. Do not use if safety seal is broken or missing. Store in a cool dry place. KEEP OUT OF REACH OF CHILDREN. This product is sold by weight, not volume. Some settling of powder may occur during shipping and handling, which may affect density of powder. This product contains the servings indicated when measured exactly by weight.
PLEASE NOTE: Product image is representative of the product offered but may not have the exact attributes. Please read product description for the specific attributes of this product.
† PLEASE NOTE: The information above is intended for reference only. While we attempt to keep our information accurate, we cannot guarantee it is an accurate representation of the latest formulation of the product. If you have any concerns, please visit the vendor's web site. The information above are the views of the product's manufacturer, not the views of Same Day Supplements. These statements have not been evaluated by the Food and Drug Administration. This product is not intended to diagnose, treat, cure or prevent any disease.
*Prices are subject to change at any time and some items are limited to stock on hand.
We have a large selection of in-stock Cellucor products including and others for the lowest prices
It's always easy to shop for C4 Ultimate By Cellucor at SameDaySupplements.com because you can browse by reviews, brand, prices or search for specific ingredients using our search tool. In-stock orders placed before 3pm EST ship out the same day. We also offer many shipping options to countries like Brazil, United Kingdom, Canada, Germany, Australia, Japan, India, France, Israel and worldwide.
More Information

| | |
| --- | --- |
| SKU | C4-ULTIMATE |
| Manufacturer | Cellucor |
Customer Reviews
Ótimo

Recomendo

Very strong. Not for the weak.

Taste is very strong and bitter by itself. So, I mixed it with some flavored BCAA, that helped a lot. It does the job.

Good product

Good product and great value.

High energy. Great focus!

Gives me the boost I need for my workouts. Great overall performance.

AAAAA+

Great tastes and helps improve performance in the gym.

Be ready to work out great

Great energy booster for workout