Hydroxyelite VS Methyldrene Elite
As we come closer and closer to facing that DMAA ( or 1,3 Dimethylamylamine HCl) may be leaving us again, we are left with the question of what can replace it? When Oxyelite pro was gone, we had Hydroxyelite and now with hydroxyelite sharing it predecessors fate, we have Methyldrene Elite.
What is Methyldrene Elite?
Methyldrene Elite isn't a new fat burner coming to take the place of Hydroxyelite. Rather it's a classic that's stood tall through the battles of DMAA. Methyldrene Elite from Cloma Pharma is an effective weight loss aid that covers everything you're looking for in a fat burner. Containing ingredients for energy, appetite suppression, mood support and more.
How does it compare?
Methyldrene Elite and Hyrdoxyelite both work to achieve the same effects. Which include
Aiding in fat burn
Aiding in fat absorption and fat breakdown
Appetite suppression
Promoting extreme energy
Helping elevate mood
But how do they compare label to label?
Okay so the first thing that jumps out is the lack of proprietary blend in Methyldrene 25 Elite.  This way you can see exactly what you're getting and how much. Now to compare Hydroxyelite and Methyldrene Elite share a few ingredients including:
Bauhinia Purpurea
Bacopa Monnieri
Caffeine
Rauwolfia Serpentina Extract/ Yohimbine
The combination of these three ingredients have been shown to improve thermogensis, energy as well as cognitive abilities/ focus.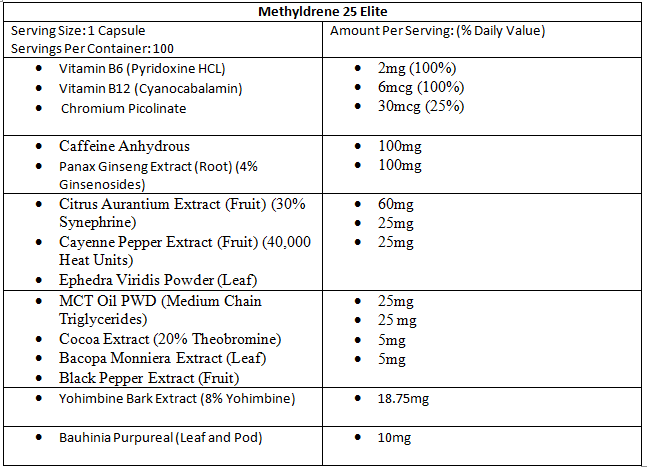 Diving in deeper, Hydroxyelite has DMAA, Cirsium oligophyllum and Garcina Cambogia extract. DMAA is the intense stimulants that fuels this product while Cirsium oligophyllum work in conjuction with caffeine and stimulants to enhance the slimming effects. The Garcina Cambogia extract is primarily used for it appetite suppressing properties. In total you have about 469.5 mg of active ingredients in Hydroxyelite.
Methyldrene Elite on the other hand, has around 661.75mg of active ingredients. Comprising of vitamins B6 and B12, Chromium Picolinate, Panax Ginseng Extract, Citrus Aurantium Extract, Cayenne Pepper Extract, Ephedra Viridis Powder, MCT Oil PWD, Cocoa Extract, and Finally Black Pepper Extract. But does more mean better for Methyldrene 25 Elite? To find the answer to this we need to understand the ingredients.
The Energy Source:
For starters we have Vitamin B6 and B12 to provide a natural energy source. While we also have Chromium Picolinate to improve athletic performance to increase energy. But the energy impacts don't stop there, Methyldrene 25 Elite also contains MCT Oil. Since MCT oil is processed by the liver, it is immediately burned to produce energy. Finally we have Ephedra not to be confused Ephedrine. Ephedra is an effective stimulant and weight loss aid even with the removal of ephedrine.
The Appetite Suppressants:
One of the key issues in dieting is the constant cravings haunting you. But with Methyldrene 25 Elite there are 2 strong appetite suppressants to keep you from cheating on your diet. Unlike in Hydroxyelite which only has 1, Garcina Cambogia. Firstly there is Citrus Aurantium Extract (aka Bitter Orange Extract). Citrus Aurantium Extract contains synephrine; a molecule that is similar to ephedrine in mechanism, but less potent. Secondly there is Cayenne Pepper Extract. Cayenne Pepper Extract can help curb your appetite, speed up your metabolism, and help you burn calories through thermogensis.
The Mood Supports:
Feeling grumpy and drained is a common dilemma when restrictive dieting but can be a thing of the past with Methyldrene 25 Elite. Mood/Cognitive enhancing ingredients such as  Panax Ginseng Extract can make dieting less feel as good as the results you get. Panax Ginseng Extract is an adaptogen. Adaptogens are compounds that are able to combat and prevent physical and chemical stressors. In addition to this Methyldrene 25 Elite also has Cocoa Extract. Which helps provide cardiovascular and cognitive benefits through improved blood flow and antioxidant effects.
Black Pepper Extract:
Black Pepper is traditionally used in food as a spice for its flavor but when it comes to weight loss it provides additionally benefits you may have not been aware of. Black pepper is an excellent diuretic, antioxidant and antibacterial food. In food you can see it contains a high level of
carbohydrates and dietary fiber, as well as Piperine. Piperine has been linked to fat burning properties, as well as a possible metabolism-boosting effect. Aiding in  stomach bloating, gas and in thermogenic processes. This results in burning more calories.
So in the case of Methyldrene 25 Elite, it can be safe to say more is better. But don't just take our word for it, look at the reviews below.
You can find Methyldrene 25 Elite from Cloma Pharma retailing for $27.89
Methyldrene Elite Reviews
I Keep Gettin' It I use this supplement for the quality ephedra in it- It Truly Makes Me Feel Good- and I don't need a whole pill- You can open it and take some of the powder thru out the day for a lift of Spirits and Energy - Love It!!! - Review by Staris

So far so good I have not been taking the Methyldrene 25 Elite for that long and I've already noticed a curb in my appetite! No jitters or other side effects. Will buy again - Review by Michelle

Great Product, I have struggled with my weight loss for a while and have bounced around fat burners. Methyldrene Elite is the best fat burner that I have tried. Great energy, and appetite suppression. I feel good throughout the day and don't feel like I need to snack. Definitely recommend trying this product if you're struggling to stick to your diet. - Review by Ben