Amino Decanate By MuscleMeds
Amino Decanate Benefits and Results:
DecaDrive™ Technology for Enhanced Absorption †
Full Spectrum Muscle Building Amino Acid Complex †
5g Anabolic 10:1:1 BCAA Ratio †
5g Glutamine †
500mg Critical Core Amino Acid Matrix †
Amino Decanate By MuscleMeds - Amino Acids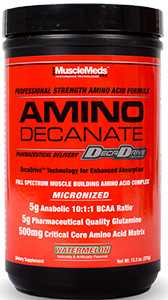 Amino Decanate Helps Your Power Through Your Workouts!
MuscleMeds AMINO DECANATE formula is shaking up the way bodybuilders view amino acids. A three-year research project by the MuscleMeds Research and Product Development Team has led them to identify the 19 critical aminos needed to support high intensity workouts and trigger advanced anabolic and anti-catabolic effects. To magnify the effects of these highly anabolic amino acids necessarty to create greater muscle building effects, MuscleMeds added their EXCLUSIVE Pharmaceutical DecaDrive Delivery. So get ready to experience the seismic effects of MuscleMeds AMINO DECANATE!
AMINO DECANATE: MuscleMeds scientifically advanced amino acid formula is designed to trigger greater anabolic effects and prevent rate limiting amino acid deficiencies and catabolism often experienced during intense workouts. New research shows that while BCAAs and glutamine are the major players in muscle growth, 15 other amino acids known as Critical Core Amino Acids (CCAAs) also play a critical role. In fact, once you are depleted of any of these aminos your muscle growth and performance can be compromised. This phenomenon is known as the "Rate Limiting Amino Acid Factor." Each serving of MuscleMeds AMINO DECANATE provides all 19 critical amino acids for peak muscle building, improving performance and speeding recovery. To enhance the bio-availability and potency of this highly anabolic formula, MuscleMeds AMINO DECANATE features MuscleMeds exclusive DecaDrive Delivery Technology!
Amino Decanate Feeds The Citric Acid Cycle For Maximum Muscle and Peak Performance
The Citric Acid Cycle is a critical energy producing biochemical cycle that takes place inside of the mitochondria of cells. When you work out, this effort increases the demand for cellular energy production that is needed to produce muscle contractions and support a variety of cellular functions. During physical activity, the Citric Acid Cycle accelerates to produce the extra energy your muscles and body need for performance. In turn, this places a supply demand on the 19 critical amino acids involved in driving the Citric Acid Cycle. So during workouts, deficiencies in any of these critical amino acids could have a direct negative impact on performance, and even muscle growth. MuscleMeds AMINO DECANATE is formulated to contain all 19 critical amino acids needed to fuel and help ensure you perform at your best and increase muscle building capacity.
What's In MuscleMeds Amino Decanate?
How to Take MuscleMeds Amino Decanate:
Mix one scoop of MuscleMeds Amino Decanate with 8 to 10 fl. oz. of water. Take 1 to 2 times daily.
Warnings:
Keep out of reach of children.
This product is manufactured in GMP compliant facilities and meets the highest quality standards. All ingredients meet the standards enforced by the U.S. Food and Drug Administration. The state of California requires the following warning:
WARNING: Consuming this product can expose you to chemicals including lead which is known to the state of California to cause cancer and birth defects or other reproductive harm. For more information go to www.P65Warnings.ca.gov/food.
PLEASE NOTE: Product image is representative of the product offered but may not have the exact attributes. Please read product description for the specific attributes of this product.
PLEASE NOTE: The information above is intended for reference only. While we attempt to keep our information accurate, we cannot guarantee it is an accurate representation of the latest formulation of the product. If you have any concerns, please visit the vendor's web site. The information above are the views of the product's manufacturer, not the views of Same Day Supplements. These statements have not been evaluated by the Food and Drug Administration. This product is not intended to diagnose, treat, cure or prevent any disease.
*Prices are subject to change at any time and some items are limited to stock on hand.
In-stock orders placed before 3pm EST ship out the same day.
We offer many shipping options to countries like:
Brazil
United Kingdom
Canada
Germany
Australia
Japan
India
France
Israel
Worldwide
More Information

| | |
| --- | --- |
| SKU | AMINO-DECANATE |
| Manufacturer | MuscleMeds |
Customer Reviews
Great Flavor

Already Tried both flavors the Citrus Lemon and the Watermellon and this was the best by far, Great Results using it

Very good

Product is EXCELLENT!!! Thanks SDS