Universal Nutrition Amino 1000 - 500 Capsules
Benefits and Results:
Combination Free Form & Peptide-Bonded Formula †
Full-Spectrum Amino Acids †
Completes EAA & BCAA †
Amino 1000 By Universal Nutrition - 500 Caps - Amino Acids
What Is It?
Universal Amino 1000 is a high quality, full-spectrum amino acid formula. It contains all of the essential amino acids (EAA) and branched-chain amino acids (BCAA). It contains pure peptide-bonded and free-form amino acids for maximum absorption and assimilation. †
How Does It Work?
Ingredients:
Amino Acid Formula
Alanine, Arginine, Aspartic Acid, Cystine, Glutamic Acid, Glycine, Glutamine, Histidine, Isoleucine, Leucine, Lysine, Methionine, Ornithine, Phenylalanine, Proline, Serine, Threonine, Tryptophan, Tyrosine, and Valine: These amino acids work to improve the recovery process. They can reduce muscle fatigue and enhance athletic performance, leading to shorter recovery times and increased muscle growth. †
What Can I Expect?
Improved Recovery †
Enhanced Performance †
Increased Strength †
Who Should Take It?
Amino 1000 is perfect for bodybuilders or athletes looking to increase their amino acid intake. †
Featured Customer Reviews:
Review by Jeff R: I can definitely feel a difference the day after lifting when taking this compared to when not taking it.
Review by Brian C: These are some high quality aminos! My muscle soreness has gone down since taking this.
FAQ:
Is this vegan?
No it is not. It contains both whey protein concentrate and gelatin.
Can I take this every day?
Yes! The manufacturer recommends taking it daily.
Can women take this?
Of course! This does not contain any gender-specific ingredients.
Will this help me lose weight?
While this doesn't contain any fat burning ingredients, BCAAs may enhance energy and weight loss. †
Comparable Products:
Stacks:
If you are looking to boost strength and performance, you can stack Amino 1900 with: Universal Nutrition Creatine Capsules. †
If you are interested in a complete multivitamin, we recommend taking: Daily Formula by Universal Nutrition. †
If you are looking for a protein powder to fuel your muscle growth, we suggest trying: Animal Whey Protein. †
How Do I Take It?
Dosage and Directions:
As a dietary supplement, take 10 capsules daily (on an empty stomach) or as directed by a healthcare professional. For best results, take 5 capsules in the morning and 5 capsules immediately after training.
What's In Universal Nutrition Amino 1000?
Supplement Facts / Label: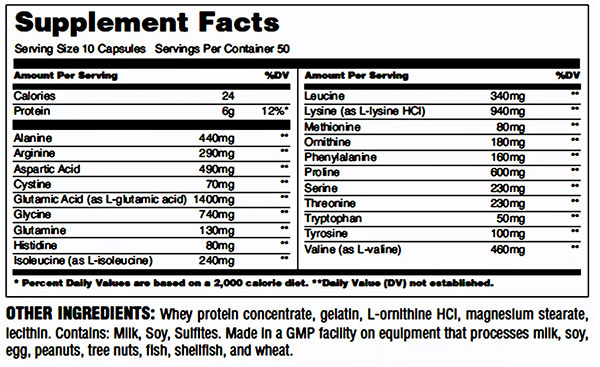 Warnings and Side Effects:
Not for use by those under the age of 18. Consult a physician before using this product. Athletes should consult with their sanctioning authority before use.
Disclaimer:
PLEASE NOTE: Product images represent the product offered but may not contain exact attributes. Please read the product description for the specific attributes of this product.
†PLEASE NOTE: The intention of the information above is for reference only. It is our goal to maintain and display accurate information. Yet, we can't guarantee it represents the latest formulation of the product. If you have any concerns, please visit the manufacturer's website. The information above is not a representation of our views at Same Day Supplements. These are the views and information provided by the product's manufacturer. The Food and Drug Administration has not evaluated these statements. The intention of this product is not to diagnose, treat, cure or prevent any disease or illness.
*Prices are subject to change at any time and items may limit to stock on hand.
References:
Marco Gervasi, Davide Sisti, Stefano Amatori, Sabrina Donati Zeppa, Giosuè Annibalini, Giovanni Piccoli, Luciana Vallorani, Piero Benelli, Marco B. L. Rocchi, Elena Barbieri, Anna R. Calavalle, Deborah Agostini, Carmela Fimognari, Vilberto Stocchi, and Piero Sestili (2020 Jan 20) Effects of a commercially available branched-chain amino acid-alanine-carbohydrate-based sports supplement on perceived exertion and performance in high intensity endurance cycling tests https://www.ncbi.nlm.nih.gov/pmc/articles/PMC6971972/
Trisha A. VanDusseldorp, Kurt A. Escobar, Kelly E. Johnson, Matthew T. Stratton, Terence Moriarty, Nathan Cole, James J. McCormick, Chad M. Kerksick, Roger A. Vaughan, Karol Dokladny, Len Kravitz, and Christine M. Mermier (2018 Oct 1) Effect of Branched-Chain Amino Acid Supplementation on Recovery Following Acute Eccentric Exercise https://www.ncbi.nlm.nih.gov/pmc/articles/PMC6212987/
Melvin Williams (2005 Dec 9) Dietary Supplements and Sports Performance: Amino Acids https://www.ncbi.nlm.nih.gov/pmc/articles/PMC2129148/
In-stock orders placed before 3pm EST ship out the same day.
We offer many shipping options to countries like:
Brazil
United Kingdom
Canada
Germany
Australia
Japan
India
France
Israel
Worldwide
More Information

| | |
| --- | --- |
| SKU | UN-0238 |
| Weight | 1.9000 |
| Manufacturer | UNIVERSAL NUTRITION |
| UPC | 039442042385 |
Customer Reviews
Recommend

These are some high quality aminos! My muscle soreness has gone down since taking this.

Noticeable Difference

I can definitely feel a difference the day after lifting when taking this compared to when not taking it.