Proto Whey Benefits and Results:
20 Grams of Protein Per Serving †
Pure High-DH Hydrolyzed Whey Protein †
100% Micro Peptides †
Targeted Protein Delivery †
Proto Whey By BNRG - Protein
Proto Whey is a Pure High-DH Hydrolyzed Whey Protein. Hydrolysis is the natural intestinal process of breaking down whole proteins found in food and supplements into smaller proteins, called peptides (Micro Peptides), and amino acids. DH is the Degree of Hydrolysis, which indicates the extent to which the protein has been broken down. Higher DH means more rapid and complete absorption. In order to be absorbed, protein must be hydrolyzed down to amino acids or to the smallest peptides, called di and tripeptides.Whole proteins, including whey isolates, concentrates, caseins, soy, and blends are large proteins and naturally contain little to no Micro Peptides, and no di andtripeptides. Proto Whey is 100% Micro Peptides, of which, up to 40% are di and tripeptides.
Targeted Protein Delivery:
The di and tripeptides in Proto Whey target the PEPT-1 transporter which transports over 8,400 different di and tripeptides. Whole protein digestion relies heavily on amino acid transporters which are far more specific and transport only a fraction of what PEPT-1 transporters do. The speed and efficiency of the PEPT-1 transport system allows for faster delivery of protein throughout the body and bypasses other systems that can limit the delivery of amino acids. Di and tripeptides carry metabolic information not present in amino acids. High-DH proteins delivery protein into the blood primarily as di and tripeptides whereas whole protein digestion often results in single amino acids.
More Proto Whey Advantages:
Proto Whey Requires less breakdown and digestive energy than whole proteins. Proto Whey Contains 10 grams of essential amino acids per serving. EAAs cannot be synthesized by the body and must be supplied by the diet.. Employs DEM (digestive energy matrix), a unique combination of SoftPsil micronized psyllium fiber and MCTs (medium chain triglycerides) to provide digestive energy and help maintain optimum intestinal health. High-DH reduces allergenicity. Low glycemic response. Proto Whey Mixes easily - no blender required. Industry-leading, rich and creamy taste profile.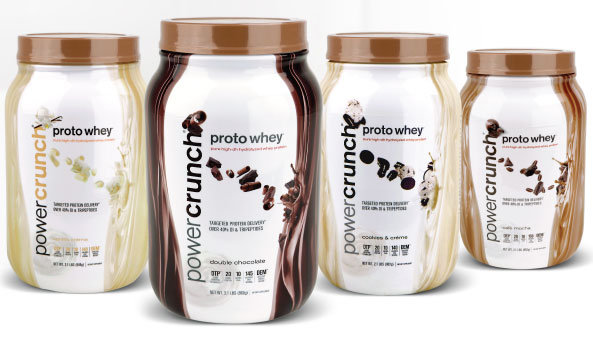 Proto Whey Highlights:
- Hydrolyzed Whey Protein Powder
- 20 Grams of Protein Per Serving
- 100% Micro Peptide Formula
- Rich and Creamy Taste!
- Ideal Protein for people on a fat loss program
- Protein Engineered for the Human Race
- Targeted Protein Delivery
- 10 Grams of EAAs
Scientifically Advanced
PowerCrunch Proto Whey Protein Powders are the perfect complement to a life well lived. The most advanced scientific thinking is combined with the tastiest flavors to provide you with smart nutrition to keep you active and healthy. They are perfect to add to drinks or shakes when you're on the go or as supplemental nutrition when you need it. Don't compromise your busy lifestyle, fuel it with Proto Whey Protein Powders.
The Science:
Proto Whey protein is uniquely designed for human nutrition. We don't cut any corners when it comes to delivering superior protein nutrition to your body. Proto Whey Protein is for you. It's a pretty simple idea: We take normal, everyday whey protein, and hydrolyze it (break it down) to the smallest of protein peptides (molecules) called di and tri peptides which are in Proto Whey. These proteins are absorbed rapidly and completely, so your body can fully utilize all of the protein you eat providing you with the greatest nutritional benefit. Simply put, when you choose a Power Crunch product such as Proto Whey, you know you're making the smart protein choice. Discover a lot more about the genius behind our science.
What's in BNRG Proto Whey?
How to Take BNRG Proto Whey:
Add 2 scoops (37g) of Proto Whey to 3/4 cup (6oz) cold water and shake or stir. Proto Whey is designed for use as a primary source of protein and may be used at any time of the day. Proto Whey may be consumed alone or with carbohydrate foods, depending on individual caloric needs.
Warnings:
This product is accurately packed by weight. Some settling may occur during shipping. To loosen the powder prior to use, simply shake or roll the jar. Allergens: milk, soy (from lecithin).
PLEASE NOTE: Product image is representative of the product offered but may not have the exact attributes. Please read product description for the specific attributes of this product.
PLEASE NOTE: The information above is intended for reference only. While we attempt to keep our information accurate, we cannot guarantee it is an accurate representation of the latest formulation of the product. If you have any concerns, please visit the vendor's web site. The information above are the views of the product's manufacturer, not the views of Same Day Supplements. These statements have not been evaluated by the Food and Drug Administration. This product is not intended to diagnose, treat, cure or prevent any disease.
*Prices are subject to change at any time and some items are limited to stock on hand.
In-stock orders placed before 3pm EST ship out the same day.
We offer many shipping options to countries like:
Brazil
United Kingdom
Canada
Germany
Australia
Japan
India
France
Israel
Worldwide
More Information

| | |
| --- | --- |
| SKU | PROTO-WHEY |
| Manufacturer | BNRG |
Customer Reviews
Best taste ever

The best whey protein that I've seen, faster delivery

Great

The best whey

Proto Whey

Excellent protein, one of the best!
Thank you Sameday Supplements


Great Product

Great product. Received very fast.

The best Proten

Delicious and the best protein I have proved

Best taste

Very good whey protein with the best taste at any flavor.

Best product

Best protein on the market, great taste!

Best one

The best whey protein ever.

very good protein

Very good protein, good concentration of amino acids. Very tasty.

Best Value

After years of searching for the perfect protein I finally found it. Proto Whey. Looking for a good tasting protein that mixes great, and doesn't contain crap. While here it is. If you haven't tried Proto Whey yet, you should buy it right now.