NOW Potassium Plus Iodine - 180 Tablets
Benefits and Results:
Supports Electrolyte Balance †
Nutrition for Healthy Thyroid Function †
Thyroid Support †
Potassium Plus Iodine By NOW Foods - 180 Tabs - Vitamins / Minerals
What Is NOW Potassium Plus Iodine?
Potassium Iodide (KI) is a compound that contains Iodine, a nutrient necessary for normal thyroid function. † Iodine, in the form of Iodide, is an integral part of the thyroid secretions that regulate cellular metabolism and energy production. † NOW Potassium plus Iodine also supplies Potassium, a mineral that is essential for the maintenance of healthy water and electrolyte balance, as well as whole body pH. †
Natural color variation may occur in this product.
Dairy Free
Egg Free
Made W/O Gluten
Non-GMO
Soy Free
Vegan/Vegetarian
Ingredients:
Iodine (from Potassium Iodide)
Sodium (from Sodium Alginate)
Potassium (from Potassium Chloride and Iodide)
Sodium Alginate
How do I take NOW Potassium Plus Iodine?
Dosage and Directions:
Take 1 tablet daily with a meal. Store in a cool, dry place after opening.
What's In NOW Potassium Plus Iodine?
Supplement Facts / Label: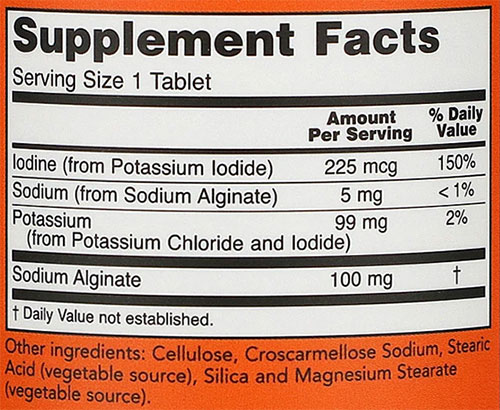 Warnings and Side Effects:
For adults only. Consult physician if pregnant/nursing, taking any medications (especially those that may affect kidney function or blood potassium levels), or have a medical condition (especially heart/kidney condition or diabetes). Keep out of reach of children.
Do not eat freshness packet. Keep in bottle.
Disclaimer:
PLEASE NOTE: Product images represent the product offered but may not contain exact attributes. Please read the product description for the specific attributes of this product.
†PLEASE NOTE: The intention of the information above is for reference only. It is our goal to maintain and display accurate information. Yet, we can't guarantee it represents the latest formulation of the product. If you have any concerns, please visit the manufacturer's website. The information above is not a representation of our views at Same Day Supplements. These are the views and information provided by the product's manufacturer. The Food and Drug Administration has not evaluated these statements. The intention of this product is not to diagnose, treat, cure or prevent any disease or illness.
*Prices are subject to change at any time and items may limit to stock on hand.
References:
Yong Sun, Chang Hyun Byon, Youfeng Yang, Wayne E. Bradley, Louis J. Dell'Italia, Paul W. Sanders, Anupam Agarwal, Hui Wu, and Yabing Chen (2017 Oct 5) Dietary potassium regulates vascular calcification and arterial stiffness https://www.ncbi.nlm.nih.gov/pmc/articles/PMC5841863/
Kristen L Nowak, Linda Fried, Anna Jovanovich, Joachim Ix, Kristine Yaffe, Zhiying You, and Michel Chonchol (2018 Jan 24) Dietary Sodium/Potassium Intake Does Not Affect Cognitive Function or Brain Imaging Indices https://www.ncbi.nlm.nih.gov/pmc/articles/PMC5815363/
Fabian Rohner, Michael Zimmermann, Pieter Jooste, Chandrakant Pandav, Kathleen Caldwell, Ramkripa Raghavan, and Daniel J. Raiten (2014 Jun 25) Biomarkers of Nutrition for Development—Iodine Review https://www.ncbi.nlm.nih.gov/pmc/articles/PMC4093988/
In-stock orders placed before 3pm EST ship out the same day.
We offer many shipping options to countries like:
Brazil
United Kingdom
Canada
Germany
Australia
Japan
India
France
Israel
Worldwide
More Information

| | |
| --- | --- |
| SKU | NOW-0561 |
| Weight | 0.4500 |
| Manufacturer | NOW Foods |
| UPC | 733739014528 |
Customer Reviews
Really works

I still workout at an older age. Often I get leg cramps when I sleep. Making sure I take this daily is a big help preventing them.

Highly Recommend

I take this now because I was so fatigued for no apparent reason. I could sleep for 14 hours & still have a very hard time getting out of bed. I have more energy & it's finally easy to get up in the morning. I am still tired at night and able to sleep easily. I had my blood work done after taking this for a few weeks & the Dr said my counts were perfect so keep taking it.

Worked well

Great for thyroid heath and blood pressure.