Noxygen Pre Workout - Purus Labs
Benefits and Results:
Increased Energy†
Muscle Pumps†
Laser Like Focus†
Frequently Bought Together
Purus Labs Noxygen Pre Workout - 30 Servings
What Is It?
Purus Labs Noxygen pre workout is exactly what the name says... a pre workout. This product combines the original stim free noxygen formula with a energy and focus blend of ingredients. So if you are someone that loves the original noxygen and always stacked it with your pre workout of choice, this product is for you. There is no need to purchase two products again. You can get the all-in-one Noxygen Pre workout!
How Does It Work?
Ingredients:
Beta Alanine 3200mg: helps buffer lactic acid build up which may lead to better performance.†
Glycerol Powder (std. min. 50% glycerol)(as Hydromax EZ Flow) 1500mg: may help hydrate muscle cells, increasing endurance and muscle pumps.†
Citrulline Nitrate (as NO3-T) 1000mg: may aid in increasing nitric oxide production leading to better muscle pumps.†

Betaine Nitrate (as NO3-T) 1000mg: aids in increasing Nitric Oxide levels, promoting vasodilation.†

Choline L(+) Bitartrate (as VitaCholine) 750mg: may help boost athletic endurance and help with muscle recovery.†

L-Tyrosine 500mg: may support mental alertness.†
Caffeine Anhydrous 200mg: aids in energy and focus.†
zumXR Extended Release Caffeine (std. min. 70% caffeine) 67mg: a sustained release form of caffeine to help provide energy through out the workout.†
Huperzia serrata Extract (std. min. 1% huperzine A)(club moss) 10mg: improves brain function (focus).†

What Can I Expect?
Increased Energy from a dual caffeine form formula.†
Increased Muscle Pumps from multiple nitric oxide producing ingredients.†
Who Should / Shouldn't Take It?
If you are looking for a moderate stimmed pre workout that also aids in muscle pumps and focus this product is for you.† If you are someone that is looking to avoid stimulants such as caffeine, this product isn't for you. We recommend a stimulant free product such as the original noxygen.
FAQ:
How many servings are there?
There is 30 servings per container.
How much caffeine does it have?
The total caffeine content is 267 mg.
What flavors are there?
Currently there is two flavors: Blue Raspberry and Strawberry Candy.
Can I stack this with the original NOXYGEN?
Noxygen Pre Workout already contains the ingredients from the original formula. You may still stack it if you would like for additional muscle pumps.
Can it still get clumpy?
Yes, due to the ingredient Glycerol Powder, the powder tends to clump. It is still safe to consume even though it is in clumpy. Once mixed in water, it will dissolve in water easily.
Similar Products:
Chemix Pre Workout: features similar ingredients such as glycerol for muscle pumps and caffeine for energy in a 1-2 scoop formula so you can adjust to your needs.
Stacks:
How Do I Take It?
Suggested Dosages and Directions:
Mix one serving with 8-10 fl oz of cold water and consume 20-30 minutes before your workout. Do not exceed one scoop.
What's in Noxygen Pre Workout?
Supplement Facts / Label: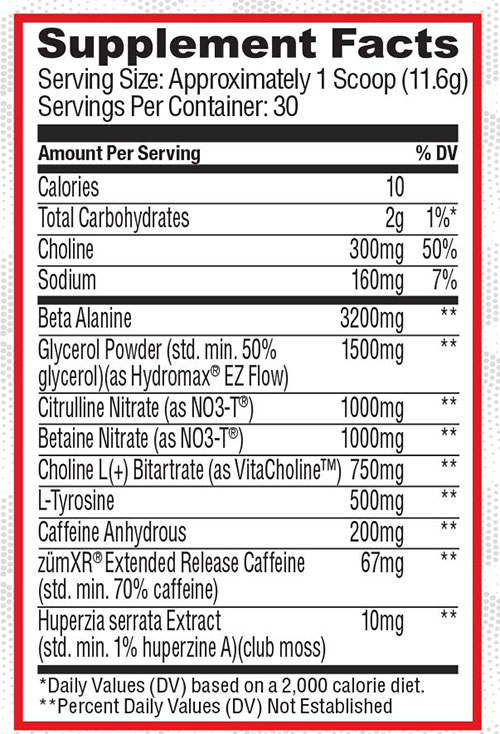 Warnings and Side Effects:
NOXYGEN Pre Workout is intended for healthy adults above the age of 18. All individuals should consult a licensed healthcare practitioner before using this product. Do not use if you are currently pregnant or nursing. Keep out of reach of children. Store in a cool, dry area away from direct sunlight.
This product may contain ingredients that are banned by some sports organizations and/or increase risk of false positive on a drug test. Please consult with your sport organization or physician before taking this product.
Disclaimer:
PLEASE NOTE: Product images represent the product offered but may not contain exact attributes. Please read the product description for the specific attributes of this product.
†PLEASE NOTE: The intention of the information above is for reference only. It is our goal to maintain and display accurate information. Yet, we can't guarantee it represents the latest formulation of the product. If you have any concerns, please visit the manufacturer's website. The information above is not a representation of our views at Same Day Supplements. These are the views and information provided by the product's manufacturer. The Food and Drug Administration has not evaluated these statements. The intention of this product is not to diagnose, treat, cure or prevent any disease or illness.
*Prices are subject to change at any time and items may limit to stock on hand.
Other Information:
Visit Purus Labs' website for more information.
In-stock orders placed before 3pm EST ship out the same day.
We offer many shipping options to countries like:
Brazil
United Kingdom
Canada
Germany
Australia
Japan
India
France
Israel
Worldwide
More Information

| | |
| --- | --- |
| SKU | NOXYGEN-PRE-WORKOUT |
| Manufacturer | Purus Labs |
Customer Reviews
Review Disclaimer:
The reviews posted below are based on individual customer experiences and not views or guarantees from SameDaySupplements.com. These results are not be typical. Actual results may vary.
Top customer reviews
Great Pre. I recommend.

Felt really good with this pre! Taste good and mixes well too which is a great bonus. I really liked the pumps I got with this pre and how it wasn't stim-heavy. But the extended release caffeine also makes this a great pre workout for the morning, no crash just sustained energy.