NOW Tri Amino - 120 Capsules
Benefits and Results:
L-Arginine †
L-Ornithine †
L-Lysine †
Supports Protein Metabolism †
NOW Foods Tri-Amino - 120 Caps - Amino Acids
What is NOW Tri Amino?
Tri-Amino is a comprehensive product that combines three important amino acids into one easy-to-take formula. Arginine and ornithine are essential components of the urea cycle. † This detoxifying cycle allows the body to convert ammonia, the toxic byproduct of amino acid breakdown, to urea. † Tri-Amino also has lysine, an essential amino acid known for its role in the maintenance of nitrogen balance. †  Together these amino acids are critical for protein metabolism. †
Natural color variation may occur in this product.
Dairy Free
Egg Free
Kosher
Made W/O Gluten
Non-GMO
Nut Free
Soy Free
Ingredients:
L-Arginine (Free-Form)
L-Lysine (from L-Lysine HCl)
L-Ornithine (from L-Ornithine HCl)
How do I take NOW Tri Amino?
Dosage and Directions:
Take 2 capsules daily with juice or water. Take before exercise or at bedtime.
Store in a cool, dry place after opening.
What's In NOW Foods Tri Amino?
Supplement Facts / Label (Varies Product to Product):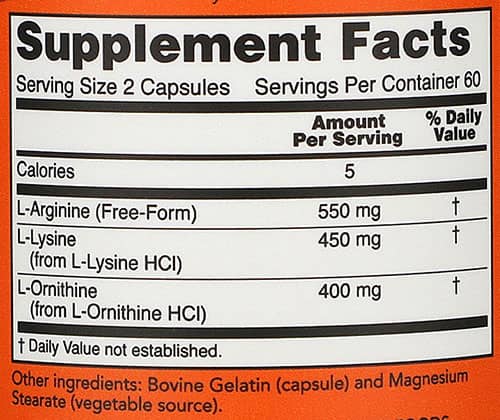 Warnings and Side Effects:
For adults only. Not intended for individuals with history of coronary heart disease and/or myocardial infarction. Individuals with glaucoma or herpes simplex should avoid using this product unless directed by a physician. Consult physician if pregnant/nursing, taking medication, or have a medical condition. Keep out of reach of children.
Disclaimer:
PLEASE NOTE: Product images represent the product offered but may not contain exact attributes. Please read the product description for the specific attributes of this product.
†PLEASE NOTE: The intention of the information above is for reference only. It is our goal to maintain and display accurate information. Yet, we can't guarantee it represents the latest formulation of the product. If you have any concerns, please visit the manufacturer's website. The information above is not a representation of our views at Same Day Supplements. These are the views and information provided by the product's manufacturer. The Food and Drug Administration has not evaluated these statements. The intention of this product is not to diagnose, treat, cure or prevent any disease or illness.
*Prices are subject to change at any time and items may limit to stock on hand.
References:
Thiago Silveira Alvares, Carlos Adam Conte-Junior, Joab Trajano Silva, and Vânia Margaret Flosi Paschoalin (2012 Jun 12) Acute L-Arginine supplementation does not increase nitric oxide production in healthy subjects https://www.ncbi.nlm.nih.gov/pmc/articles/PMC3489573/
Vinicius Fernandes Cruzat, Maurício Krause, and Philip Newsholme (2014 Dec 14) Amino acid supplementation and impact on immune function in the context of exercise https://www.ncbi.nlm.nih.gov/pmc/articles/PMC4272512/
Saulo Geraldeli, Eveline F. Soares, Andres J. Alvarez, Tanaz Farivar, Robert C. Shields, Mario A.C. Sinhoreti, and Marcelle M. Nascimento (2017 Jun 3) A new arginine-based dental adhesive system: formulation, mechanical and anti-caries properties https://www.ncbi.nlm.nih.gov/pmc/articles/PMC5568561/
In-stock orders placed before 3pm EST ship out the same day.
We offer many shipping options to countries like:
Brazil
United Kingdom
Canada
Germany
Australia
Japan
India
France
Israel
Worldwide
More Information

| | |
| --- | --- |
| SKU | NOW-0078 |
| Weight | 0.4700 |
| Manufacturer | NOW Foods |
| UPC | 733739001528 |
Customer Reviews
Good results

works great for me and I am seeing great results. I will definitely be ordering a new bottle when I begin to get low on this one that I have.

Amazing results

The product is amazing. I have had great results with it. It helped me to cut to nearly no body fat and I had to stop taking it and lower my dosage to once every other day. Everybody is different and this has worked great for me.