NOW TMG - Trimethylglycine - 1000 mg - 100 Tablets
Benefits and Results:
Supports Healthy Homocysteine Levels †
Promotes Normal Methylation Processes †
Liver Support †
NOW TMG, Trimethylglycine, 1000 mg, 100 Tabs - Liver Support

What Is NOW TMG?
Betaine Anhydrous, or TMG (Trimethylglycine) is known to facilitate methylation processes. † Methylation is a normal biological process that is critical for DNA repair, liver detoxification mechanisms, lipid metabolism, and the production of SAMe. † It is also an important step in the conversion of homocysteine, a damaging amino acid, into a friendlier amino acid, methionine. † Supplementation with TMG has been shown in clinical and non-clinical studies to support healthy homocysteine levels already within normal range.
Soy Free
Nut Free
Sugar Free
Vegan/Vegetarian
Non-GMO
Egg Free
Dairy Free
Corn Free
Made W/O Gluten
Ingredients:
Trimethylglycine (TMG) (Betaine Anhydrous)
How do I take NOW TMG?
Dosage and Directions:
Take 1-3 tablets twice daily, preferably with food.
What's NOW TMG?
Supplement Facts / Label: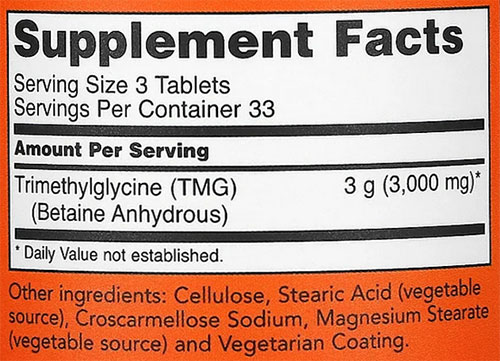 Warnings and Side Effects:
For adults only. Consult physician if pregnant/nursing, taking medication, or have a medical condition. Keep out of reach of children.
Disclaimer:
PLEASE NOTE: Product images represent the product offered but may not contain exact attributes. Please read the product description for the specific attributes of this product.
†PLEASE NOTE: The intention of the information above is for reference only. It is our goal to maintain and display accurate information. Yet, we can't guarantee it represents the latest formulation of the product. If you have any concerns, please visit the manufacturer's website. The information above is not a representation of our views at Same Day Supplements. These are the views and information provided by the product's manufacturer. The Food and Drug Administration has not evaluated these statements. The intention of this product is not to diagnose, treat, cure or prevent any disease or illness.
*Prices are subject to change at any time and items may limit to stock on hand.
References:
Jason Michael Cholewa, Andrea Hudson, Taylor Cicholski, Amanda Cervenka, Karley Barreno, Kayla Broom, McKenzie Barch, and Stuart A. S. Craig (2018 Jul 31) The effects of chronic betaine supplementation on body composition and performance in collegiate females: a double-blind, randomized, placebo controlled trial https://www.ncbi.nlm.nih.gov/pmc/articles/PMC6069865/
Ana Maria Grizales, Mary-Elizabeth Patti, Alexander P Lin, Joshua A Beckman, V Anik Sahni, Emilie Cloutier, Kristen M Fowler, Jonathan M Dreyfuss, Hui Pan, Chisayo Kozuka, Adrienne Lee, Rita Basu, David M Pober, Robert E Gerszten, and Allison B Goldfine (2018 May 31) Metabolic Effects of Betaine: A Randomized Clinical Trial of Betaine Supplementation in Prediabetes https://www.ncbi.nlm.nih.gov/pmc/articles/PMC6692715/
Guangfu Zhao, Fang He, Chenlu Wu, Pan Li, Nengzhang Li, Jinping Deng, Guoqiang Zhu, Wenkai Ren, and Yuanyi Peng (2018 May 24) Betaine in Inflammation: Mechanistic Aspects and Applications https://www.ncbi.nlm.nih.gov/pmc/articles/PMC5976740/
In-stock orders placed before 3pm EST ship out the same day.
We offer many shipping options to countries like:
Brazil
United Kingdom
Canada
Germany
Australia
Japan
India
France
Israel
Worldwide
More Information

| | |
| --- | --- |
| SKU | NOW-0313 |
| Weight | 0.4300 |
| Manufacturer | NOW Foods |
| UPC | 733739004949 |
Customer Reviews
Suggest to everyone!

As a Nutritionist, this is the product I have my clients use to bring down their Homocysteine levels, along with B-12 & Folic Acid. This is the best value for TMG. Homocysteine is even more important than cholesterol for heart health. Make sure to tell your doctor to add this test to your blood panel if you're over 40.

Really works

I uses this to my pre work out for help in the gym and it works well. After research I learned it helps with liver function and heart health. Since I've been taking betaine my liver function has improved lower bilirubin. I've seen lowered enzymes every month for past 4 months. I am close to normal range.

Highly Recommend

This pill was recommended by a sports doctor so I gave it a try. My knee and joint pain is gone. I feel an overall general improvement in my body and health. I love it. Try TMG