NOW Super Enzymes (Capsules / Tablets)
Benefits and Results:
Supports Healthy Digestion†
Breaks down Fats, Carbs and Proteins†
Optimizes Nutrient Availability†
Frequently Bought Together
NOW SUPER ENZYMES - DIGESTIVE HEALTH
What Is NOW Super Enzymes?
NOW Super Enzymes is a comprehensive blend of enzymes that supports healthy digestion.† Formulated with Bromelain, Ox Bile, Pancreatin and Papain. Super Enzymes helps to optimize the breakdown of fats, carbohydrates and protein.† Natural color variation may occur in this product.†
Soy Free
Nut Free
Made W/O Gluten
Dairy Free
Egg Free
Keto Friendly
Ingredients:
Betaine HCl
Ox Bile Extract (min. 45% Total Cholic Acids)
Papaya Fruit Powder
Pancreatin 11X (Supplying: Amylase 37,000 USP Units, Protease 37,000 USP Units, Lipase 2,960 USP Units)
Bromelain (from Pineapple) (120 GDU)
Acid Stable Protease (Aspergillopepsin) (50 SAPU)
Papain (from Papaya) (100,000 FCC PU)
Cellulase (10 CU)
How Do I Take Super Enzymes?
Suggested Dosage and Directions:
Take 1 capsule / tablet with a meal. Store in a cool, dry place after opening.
What's In NOW Super Enzymes?
Capsule Supplement Facts / Label: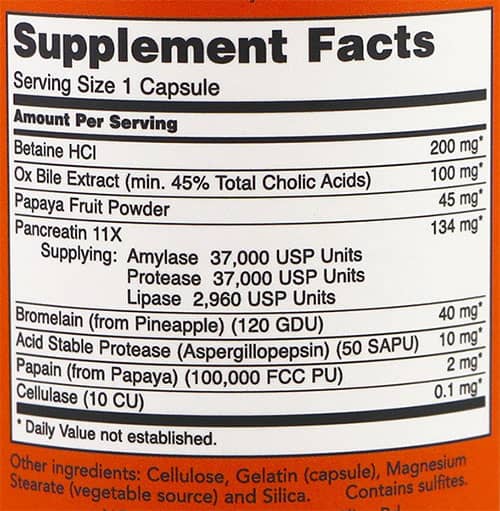 What's In NOW Super Enzymes?
Tablets Supplement Facts / Label:
Warnings and Side Effects:
For adults only. Consult physician if pregnant/nursing, taking medication (especially blood thinners), or have a medical condition (including allergy to papaya, pineapple). Keep out of reach of children. Do not eat freshness packets. Keep in bottle.
Disclaimer:
PLEASE NOTE: Product images represent the product offered but may not contain exact attributes. Please read the product description for the specific attributes of this product.
†PLEASE NOTE: The intention of the information above is for reference only. It is our goal to maintain and display accurate information. Yet, we can't guarantee it represents the latest formulation of the product. If you have any concerns, please visit the manufacturer's website. The information above is not a representation of our views at Same Day Supplements. These are the views and information provided by the product's manufacturer. The Food and Drug Administration has not evaluated these statements. The intention of this product is not to diagnose, treat, cure or prevent any disease or illness.
*Prices are subject to change at any time and items may limit to stock on hand.
Other Information:
Visit NOW FOODS website for more information.
In-stock orders placed before 3pm EST ship out the same day.
We offer many shipping options to countries like:
Brazil
United Kingdom
Canada
Germany
Australia
Japan
India
France
Israel
Worldwide
More Information

| | |
| --- | --- |
| SKU | NOW-SUPER-ENZYMES |
| Manufacturer | NOW Foods |
Customer Reviews
Review Disclaimer:
The reviews posted below are based on individual customer experiences and not views or guarantees from SameDaySupplements.com. These results are not be typical. Actual results may vary.
Top customer reviews
Exactly what I expected .

Suporte indispensável, as enzimas ajudam a quebrar os alimentos, aumentando a absorção de aminoácidos. (Essential support, enzymes help break down food by increasing the absorption of amino acids.)

NOW Super Enzymes really works great! When ever your digestive system isn't working to well or when you feel bloated, etc. Super Enzymes works super. 5 Stars all around

I have tried other enzyme products and by far this one is the best. It really works. I Highly recommend this product and will order it again when i run out.

I noticed a huge difference after only 5 days taking this product. No gas, no bloating, nothing. Really Great

The product is excellent, I recommend!