NOW L-Tryptophan - 500 mg - 120 Veg Capsules
Benefits and Results:
Supports Relaxation †
Encourages Positive Mood †
Promotes Restful Sleep †
NOW L-Tryptophan - 500 mg - 120 VCaps - Amino Acids
What Is NOW L-Tryptophan?
L-Tryptophan is an essential amino acid; therefore, it is not synthesized by the body and must be obtained from the diet. † L-Tryptophan is critical for the production of serotonin and melatonin, which help to support a positive mood, healthy sleep patterns, and proper immune system function. † Every lot of NOW L-Tryptophan is tested to be free of Peak E and microbial contamination.
Natural color variation may occur in this product.
Soy Free
Non-GMO
Vegan/Vegetarian
Nut Free
Made w/o Gluten
Dairy Free
Egg Free
Halal
Kosher
Ingredients:
L-Tryptophan - 1 g (1,000 mg)
How Do I Take NOW L-Tryptophan?
Directions and Dosages:
Take 1-2 capsules 2 to 3 times daily on an empty stomach, with final dose at bedtime, or as directed by your physician.
What's In NOW L-Tryptophan?
Supplement Facts / Label (Varies Product to Product):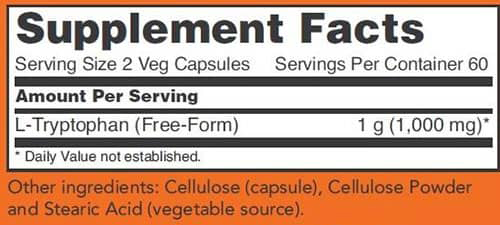 Warnings and Side Effects:
For adults only. Consult physician if pregnant/nursing, taking medication (especially antidepressants such as SSRIs and MAOIs), or have a medical condition. May cause drowsiness. Do not use with alcoholic beverages or while operating heavy machinery. Keep out of reach of children. Store in a cool, dry place after opening.
Disclaimer:
PLEASE NOTE: Product images represent the product offered but may not contain exact attributes. Please read the product description for the specific attributes of this product.
†PLEASE NOTE: The intention of the information above is for reference only. It is our goal to maintain and display accurate information. Yet, we can't guarantee it represents the latest formulation of the product. If you have any concerns, please visit the manufacturer's website. The information above is not a representation of our views at Same Day Supplements. These are the views and information provided by the product's manufacturer. The Food and Drug Administration has not evaluated these statements. The intention of this product is not to diagnose, treat, cure or prevent any disease or illness.
*Prices are subject to change at any time and items may limit to stock on hand.
References:
Mendel Friedman (2018 Sep 26) Analysis, Nutrition, and Health Benefits of Tryptophan https://www.ncbi.nlm.nih.gov/pmc/articles/PMC6158605/
Trisha A. Jenkins, Jason C. D. Nguyen, Kate E. Polglaze, and Paul P. Bertrand (2016 Jan 20) Influence of Tryptophan and Serotonin on Mood and Cognition with a Possible Role of the Gut-Brain Axis https://www.ncbi.nlm.nih.gov/pmc/articles/PMC4728667/
Dawn M Richard, Michael A Dawes, Charles W Mathias, Ashley Acheson, Nathalie Hill-Kapturczak, and Donald M Dougherty (2009 Mar 23) L-Tryptophan: Basic Metabolic Functions, Behavioral Research and Therapeutic Indications https://www.ncbi.nlm.nih.gov/pmc/articles/PMC2908021/
In-stock orders placed before 3pm EST ship out the same day.
We offer many shipping options to countries like:
Brazil
United Kingdom
Canada
Germany
Australia
Japan
India
France
Israel
Worldwide
More Information

| | |
| --- | --- |
| SKU | NOW-0085 |
| Weight | 0.3200 |
| Manufacturer | NOW Foods |
| UPC | 733739001672 |
Customer Reviews
It works!!

I have been using this product for sleep for years and it always works. I take 2 of them along with calcium and magnesium and off to sleep I go.

I feel like superwoman!

I was previously prescribed a low dosage antidepressant for anxiety and OCD. Been taking Tryptophan for a couple months now and I feel great overall. It doesn't feel like just a fix, I actually feel better! I joke that I feel like superwoman on my new supplements, but I feel such a difference.