Lipodrene Weight Loss Stack By Hi-Tech Pharmaceuticals
In stock
SKU
LIPODRENE-WEIGHT-LOSS-STACK-BUNDLE
Benefits and Results:
Promotes Appetite Suppressant†
Helps Promote Weight Loss and Extreme Energy†
Contains 25 mg Thermo-Z brand Ephedra Extract†
Frequently Bought Together
Lipodrene Weight Loss Stack By Hi-Tech Pharmaceuticals
What Is Lipodrene?
Maintaining a proper diet, disciplined exercise program, and a strategic supplementation are essential requirements to successfully achieve desirable levels of body weight, especially as we age. Strategic supplementation becomes even more critical if you desire to lose weight. Whether you are a male bodybuilder trying to get shredded, or a female looking for sexy curves…Lipodrene is just the right product for you!
Lipodrene is Hi-Tech's original Weight Loss & Energy Enhancement Supplement and has become the benchmark standard for the weight loss industry. It's everywhere. Anyone who has shopped around for a good weight loss product has seen the yellow hexagon Lipodrene tablets in tens of thousands of health food stores and internet retailers. Now, more than a fifteen years after its introduction, and after more than 1billion tablets sold, Lipodrene not only remains Hi-Tech's flagship weight loss aid, but also America's #1 selling ephedra containing weight loss aid for one simple reason: When it comes to weight loss ingredients, Lipodrene has them all!
What Is CLA 1000?
Hi-Tech CLA 1000 is a highly concentrated form of the naturally occurring Conjugated Linoleic Acid. When combined with regular exercise CLA can help you get a lean body. It assists in lean muscle development which in turn supports natural fat-burning as the body burns calories to sustain proper muscle function. By supporting a higher metabolic activity CLA 1000 helps dieters to achieve their body composition goals.
What Is CarniSlim?
Carnislim is a complex of 5 different Carnitine series compounds that form the most complete Carnitine product for Better Physiques, Performance and weight loss! Since the heart, brain and liver are three organs with very high energy needs, Carnislim supplementation with carnitine ensures they have all the energy they need to function. Hi-Tech researchers discovered different forms of carnitine benefit different parts of the body. That's why Carnislim includes five different forms of carnitine series compounds.
CarniSlim contains carnitine silicate (as CarniPlex) - a unique proprietary and state-of-the-art carnitine compound only manufactured by Hi-Tech for the revolutionary CarniSlim. This mixture of Carnitine, Inositol, and Potassium Silicate combines the coronary function improving effects of both Carnitine and Silicate in an inositol-stabilized form the promises improved bioavailability of both the silicate and the carnitine. Research has shown dramatic protective effects of the novel amino acid compound Carnitine Silicate in pre-clinical studies. CarniPlex research concluded that the Carnitine Silicate Inositol complex is abosorbed efficiently, raises plasma carnitine levels, and is more biologically effective than a carnitine base.
How Do I Take Lipodrene Weight Loss Stack Properly?
Weeks 1-6: Take 1 capsule of Lipodrene two times a day. Once in the morning with breakfeast and once after lunch.
Weeks 1-4: Take 2 tablets of Carnislim two times a day 8-12 hours apart.
Weeks 1-2: Take 2 softgels of CLA 1000 three times a day with food (Breakfeast, Lunch and Dinner).
What's In Lipodrene?
Supplement Facts / Label: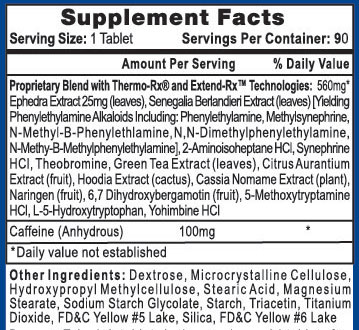 What's In Hi-Tech CLA 1000?
Supplement Facts / Label:
What's In Hi Tech Pharmaceuticals Carnislim?
Supplement Facts / Label: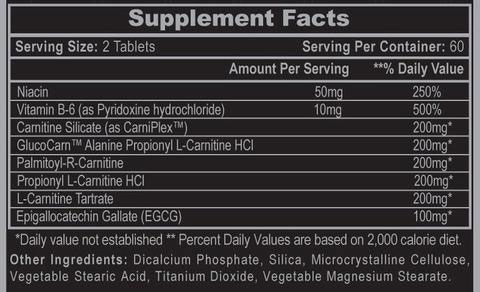 Warnings and Side Effects:
Not for use by individuals under the age of 18 years. Do not use if you are pregnant or nursing. Talk to your doctor about these products. Keep away from children.
This product should not be used in place of or as a substitute for recommendations by your healthcare professional. No clinical study has been performed on Lipodrene®. These statements are based upon the active ingredients: Senegalia Berlandieri, Ephedra, Theobromine, Yohimbe, Citrus aurantium, Caffeine, Green tea, 5-HTP, 5-methoxytryptamine and Phenylethylamine.
This product may contain ingredients that are banned by some sports organizations and/or increase risk of false positive on a drug test. Please consult with your sport organization or physician before taking this product.
This product can raise blood pressure and interfere with other drugs you may be taking. Talk to your doctor about this product.
Disclaimer:
PLEASE NOTE: Product images represent the product offered but may not contain exact attributes. Please read the product description for the specific attributes of this product.
†PLEASE NOTE: The intention of the information above is for reference only. It is our goal to maintain and display accurate information. Yet, we can't guarantee it represents the latest formulation of the product. If you have any concerns, please visit the manufacturer's website. The information above is not a representation of our views at Same Day Supplements. These are the views and information provided by the product's manufacturer. The Food and Drug Administration has not evaluated these statements. The intention of this product is not to diagnose, treat, cure or prevent any disease or illness.
*Prices are subject to change at any time and items may limit to stock on hand.
Other Information:
Visit Hi-Tech Pharmaceuticals' website for more information.
In-stock orders placed before 3pm EST ship out the same day.
We offer many shipping options to countries like:
Brazil
United Kingdom
Canada
Germany
Australia
Japan
India
France
Israel
Worldwide
More Information

| | |
| --- | --- |
| SKU | LIPODRENE-WEIGHT-LOSS-STACK-BUNDLE |
| Weight | 1.060000 |
| UPC | LIPODRENE-WEIGHT-LOSS-STACK-BUNDLE |
Customer Reviews
Review Disclaimer:
The reviews posted below are based on individual customer experiences and not views or guarantees from SameDaySupplements.com. These results are not be typical. Actual results may vary.
Top customer reviews
I like these products together . I will be ordering them again

At the first week you starting to taking it, it makes your body shaking and your blood pressure gets more and more high.. At the beginning i felt a little scare for those symptoms but later it stops and don't happen again.. Nevertheless the thing i love is that you can see visible results in 2 weeks, and that's awesome !

Great products! Very fast delivery!

After 50, we all need a little help. This stack, in combination of a reasonable diet and those pesky gym visits, allow me to still look like a person that can see his shoes while looking down. !! Thanks

I have been taking these for a week now. I dropped 9 lbs. yet my arm size stayed the same. I just came off of the blast your mass stack.

Great for weight-loss and energy

LIPODRENE IS AMAZING, it gives me energy to workout and has cut my appetite allowing me to stop eating at night and WAY smaller portions. I do suggest not drinking coffee in the morning for this until you asses your tolerance, 1 pill is good for me. I take it morning and mid-day or Lunch. I dont recommend taking it 5 hours before bed. The carnislim as helped in my performance in how much cardio, I can do (at home), it works silently and helps with the weight loss. The CLA helps me cut fat, and overall The bundle does wonders! Absolutely recommend it and will order more.

At first I was a little scared to take all these pills but they're essentially plant and leaf extracts as well as amino acids. So basically you pee out what your body doesn't need! Yes it accelerates you and you feel the heat (probably the lipodrene) but all is good so far. One of these has niacin in it which if I'm not mistaken helps You with detox.. so, the first day I had a little break out rash and after that it subsided. These products have curbed my appetite, I've been eating cleaner and I feel more energized.

Karate Instructor/bodybuilder

I've found my holy grail of weight loss. I've literally tried everything with no luck. I've been on medication that made me gain 16 lbs in 3 months and I lost 11 of those lbs within the first 2 weeks of using this stack. It's incredible! Ive lost 17 lbs total and going into my 4th week. Nothing has helped me this much and this fast. It helped suppress my appetite yet I'm still strong enough to still lift what I was, so I know I didn't lose muscle mass. I've still been able to maintain my strength lifting exercises and my cardio is a hell of a lot better, I can last longer on runs and I don't get winded as easily. These are the best supplements I've come across. I already bought another stack to use after I've taken the recommended break from these. These helped me get past my initial weight loss goal, and now I have a new one, I have no doubt these will help me reach them again!