Lean and Mean Stack - Hi Tech Pharmaceuticals
Benefits and Results:
Extreme Muscle Gains†
Increase Dry Muscle Mass†
Increase Explosive Power†
Frequently Bought Together
Lean and Mean Stack - Hi Tech Pharmaceuticals - ProHormone Stack

What's Included In This Stack?
What Is It?
"The Lean and Mean Stack is your ultimate companion in the pursuit of a chiseled physique and unmatched strength.† This carefully crafted stack combines four powerful products: Dymethazine, Trenabolin, Decabolin, and Arimiplex PCT, to help you achieve your fitness goals like never before.†
Dymethazine: Packed with 3Beta-hydroxy-5alpha-androstan-17-one azine, Dymethazine is your key to lean muscle gains and enhanced athletic performance.† It supports lean muscle development while helping you carve out a more defined physique.†
Trenabolin: Featuring 3b-enanthoxy-19-nor-androst-4-ene-17-one and 6-oxo-△4-pregnene-3,20-dione, Trenabolin is a powerhouse in this stack. It promotes muscle hardness, vascularity, and explosive strength gains, making it an essential component of your journey to a leaner, meaner you.†
Decabolin: With 19-NorAndrost-4-ene-3b-ol, 17-one Decanoate, Decabolin is the cornerstone of muscle recovery and growth in this stack.† It supports the development of quality muscle mass and aids in post-workout recovery, helping you train harder and longer.†
Arimiplex PCT: To ensure your gains are protected and your hormone levels are balanced, Arimiplex PCT is included in the Lean and Mean Stack.† It assists in post-cycle therapy, helping you maintain the progress you've achieved and keeping you on the path to a leaner, meaner physique.†
The Lean and Mean Stack is designed for those who are serious about transforming their body composition, enhancing strength, and achieving peak physical performance.† Whether you're aiming to sculpt a more defined physique or take your athletic performance to the next level, this stack is your all-in-one solution."†
FAQ:
How long does this stack last?
8 Weeks. 4 weeks on cycle followed by 4 weeks with PCT.
When do I take the PCT?
After finishing the 30 day cycle of the prohormones, you will immediately start taking the Arimiplex PCT the following day.
How Do I Take It Properly?
Suggested Dosage and Directions:
Trenabol: take one (1) tablet in the morning and one (1) tablet in the evening.
Dymethazine: take one (1) tablet 30 minutes to 2 hour in the morning and one (1) in the evening.
Decabolin: take 1 tablet in the morning and 1 tablet in the evening.

After Prohormones Cycle:
Arimiplex PCT: take 1 tablet in the morning and 1 tablet in the evening. It can be taken with or without food.

What's In Hi-Tech Trenabol?
Supplement Facts/Label: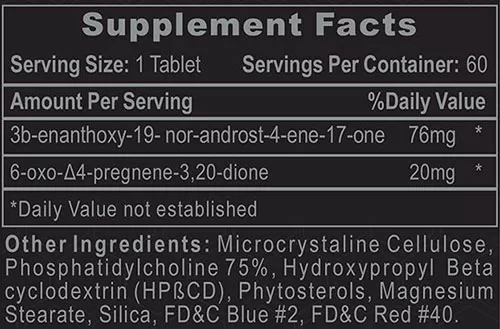 What's In Dymethazine?
Supplement Facts/Label: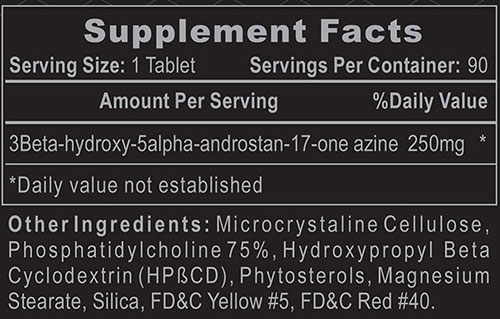 What's In Decabolin?
Supplement Facts/Label: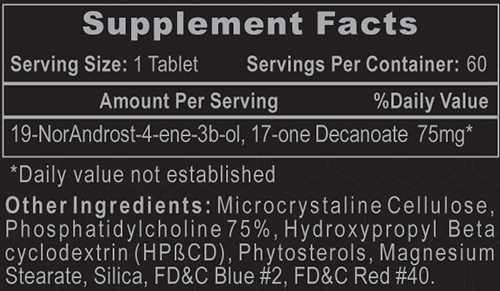 What's In Arimiplex PCT?
Supplement Facts/Label:

Warnings and Side Effects:
Keep out of reach of children. Not for use by individuals under the age of 21 years. Do not use if governed by any governing body that prohibits prohormone use. This product should not be used in place of or as a substitute for recommendations by your doctor.
This product may contain ingredients that are banned by some sports organizations and/or increase risk of false positive on a drug test. Please consult with your sport organization or physician before taking this product.
This product can raise blood pressure and interfere with other drugs you may be taking. Talk to your doctor about this product.
Disclaimer:
PLEASE NOTE: Product images represent the product offered but may not contain exact attributes. Please read the product description for the specific attributes of this product.
†PLEASE NOTE: The intention of the information above is for reference only. It is our goal to maintain and display accurate information. Yet, we can't guarantee it represents the latest formulation of the product. If you have any concerns, please visit the manufacturer's website. The information above is not a representation of our views at Same Day Supplements. These are the views and information provided by the product's manufacturer. The Food and Drug Administration has not evaluated these statements. The intention of this product is not to diagnose, treat, cure or prevent any disease or illness.
*Prices are subject to change at any time and items may limit to stock on hand.
Other Information:
Visit Hi-Tech Pharmaceuticals' website for more information.
In-stock orders placed before 3pm EST ship out the same day.
We offer many shipping options to countries like:
Brazil
United Kingdom
Canada
Germany
Australia
Japan
India
France
Israel
Worldwide
More Information

| | |
| --- | --- |
| SKU | LEAN-AND-MEAN |
| UPC | LEAN-AND-MEAN |
Customer Reviews
Review Disclaimer:
The reviews posted below are based on individual customer experiences and not views or guarantees from SameDaySupplements.com. These results are not be typical. Actual results may vary.
Top customer reviews