JetFuse NOX By GAT, Pre-Workout
JetFuse Benefits and Results:
Supports Explosive Muscle Strength & Power †
Helps Promote Muscle Growth †
Increases Muscle Endurance †
Improves Alertness and Focus †
JetFuse NOX By GAT - Pre-Workout
THE JETFUSE NOX ADVANTAGE
Fast-Acting, Results Driven Pre-Training Formula. Intensify your pumps and experience smooth, focused energy from the time you walk into the gym until your workout ends with JetFuse. JETFUSE is a complete hard hitting pre-workout with clinically studied ingredients proven to increase strength, size and muscle endurance. *
- JetFuse NOX Supports lasting muscle pumps, muscle size, and stamina.*
- Not over-stimulating. JetFuse NOX Produces a smooth, focused energy feeling.*
Key Ingredients In JetFuse NOX:
- Helps optimize muscle anabolism with "critical cluster" amino acids: glutamine, arginine, and BCAAs.
- Multi-creatine blend: creatine monohydrate and anhydrous.
- Beta-alanine has been added to support training performance.
- Highly economical 52-serving container.
JetFuse NOX works well with…
JetMass Fast Acting Muscle Volumizer
What's In GAT JetFuse NOX?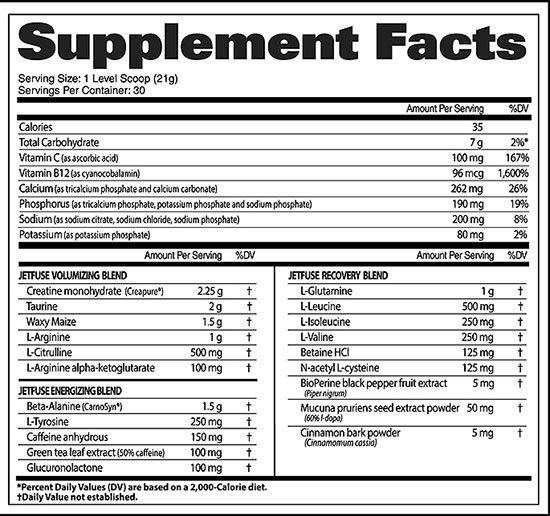 How to Take GAT JetFuse NOX:
Training Days: Once your tolerance is established, mix 1-3 scoops of JetFuse NOX with 5-18 oz of cold water and consume 30-45 minutes before and during training. Use approximately 5-6 oz of cold water per 1 scoop of JetFuse NOX. Vary the amount of water to achieve your desired flavor and sweetness level.
Non-Training Days: Mix 1-3 scoops of JetFuse NOX with 5-6 oz of cold water and consume on an empty stomach. Take 1-3 scoops of Jetfuse NOX: Before and during training, Before doing sports, First thing in the morning instead of coffee, Before physical activity requiring energy, stamina, focus, intensity.
Warnings:
Before consuming GAT JetFUSE seek advice from a health care practitioner if you are unaware of your current health condition or have any pre-existing medical condition including but not limited to: high or low blood pressure, cardiac arrhythmia, stroke; heart, liver, or thyroid disease; anxiety, depression, seizure disorder, psychiatric disease, diabetes, pemicious anemia, difficulty urinating due to prostate enlargement, or if you are taking a MAO inhibitor or any other medication. Do not use if you are pregnant, nursing, prone to dehydration, or exposed to excessive heat. Reduce or discontinue use if sleeplessness, tremors, dizziness, nervousness, headaches, or heart palpitation occur. GAT JetFUSE is only intended to be consumed by healthy adults 18-50 years of age. Keep out of reach of children and pets. Before beginning any program of weight loss, consult your health care practitioner.
PLEASE NOTE: Product image is representative of the product offered but may not have the exact attributes. Please read product description for the specific attributes of this product.
PLEASE NOTE: The information above is intended for reference only. While we attempt to keep our information accurate, we cannot guarantee it is an accurate representation of the latest formulation of the product. If you have any concerns, please visit the vendor's web site. The information above are the views of the product's manufacturer, not the views of Same Day Supplements. These statements have not been evaluated by the Food and Drug Administration. This product is not intended to diagnose, treat, cure or prevent any disease.
*Prices are subject to change at any time and some items are limited to stock on hand.
In-stock orders placed before 3pm EST ship out the same day.
We offer many shipping options to countries like:
Brazil
United Kingdom
Canada
Germany
Australia
Japan
India
France
Israel
Worldwide
More Information

| | |
| --- | --- |
| SKU | JETFUSE-NOX |
| Manufacturer | GAT Sport |
Customer Reviews
Perfect deal

Hi Sameday guys!

Congrats my package arrived just on time in Brazil, good job!

Very good !!

Produto muito bom !!! Não me dou bem com pré treinos que contenham cafeína, o JET FUSE é perfeito pois não contém cafeína !!! Muita força e resistência, o pump é animal !! Recomendo e já estou com outro pedido !!!

real anabolic

powerfull p.w. provides great pumps and a strength boost.helped a lot on my workouts

perfect pre workout

very complete supplement. with high quality ingredients. and great price on SDS

Great product

I think I've built up a tolerance to almost every other P.W supplement on the market, but I've heard JetFuse NOX uses a different formula so it's more effective for people like me. I didn't seem to get the same boost that other people have received, but it definitely helped me more than the other NO supplements I've taken lately. I'm going to buy more of it today to see if I get used to it.