Equibolin® By Hi-Tech Pharmaceuticals®, 60 Tabs
Equibolin® Benefits and Results:

Increase Protein Synthesis †
Increase Testosterone †
Increase Lean Muscle Gains †
Powerful Strength Gains †
Converts to Boldenone (Equipoise) †
DSHEA Compliant †
Frequently Bought Together
Details
Equibolin By Hi-Tech Pharmaceuticals - 60 Tabs - ProHormones

What Is Equibolin?
Equibolin is the last precursor to the prized anabolic "Boldenone" and uses a unique pathway to convert in the body. This naturally occurring compound is a direct precursor to Boldenone.
Equibolin is based upon the novel compound 3β-Hydroxy-1,4-androstadien-17-one undecanoate (1,4 ANDRO), which is an extremely effective aid for increasing receptor activation and initiating the muscle tissue rebuilding process that yields solid gains in lean muscle mass.
The 1,4 ANDRO found in Equibolin has a very high level of bioavailability with a majority of the chemical passing through the liver without being deactivated by 17-ketosteroid.
The potential conversion rate to estrogen is favorable for increasing tissue growth and repair, but minimal enough that very little noted side effects occur such as increased body fat, gynecomastia, or water retention.
What Can I Expect While Taking Equibolin?
Equibolin will increase greatly your appetite, strength, energy and muscle mass. † One advantage of Equibolin is the gains start to appear after 3 or 4 weeks of supplementation. †
How Does Equibolin Work?
Hi-Tech Equibolin is a direct precursor to Boldenone (AKA Equipoise), and converts to this steroid at an extreme high rate. Boldenone is one of the most coveted steroids for the following benefits:
100% as Anabolic yet only 50% as Androgenic as Testosterone †

Increase hunger †

Increase vascularity †

Do I Need To Take A Liver Support Product While Taking Equibolin?
Since Equibolin is non methylated, it's not necessary to take a liver or full support supplement for a cycle.
Do I Need to Take a PCT?
Yes. Upon completion the use of a PCT is REQUIRED. NO EXCEPTIONS.
What's In Equibolin?
Equibolin Supplement Facts: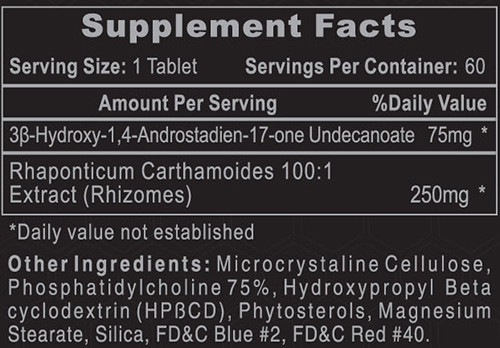 How Do I Take Equibolin ProHormone?

Dosage and Directions:
Take 2 tablets of Hi-Tech Equibolin spread out during the day.
Do not exceed 4 tablets of Hi-Tech Equibolin daily.
Warnings and Side Effects:
Read entire label before taking this product. Like any prohormone we suggest that you be over 21. Of course have a good diet and exercise program and be in good general health as checked by a doctor.
PLEASE NOTE: Product images represent the product offered but may not contain exact attributes. Please read product description for the specific attributes of this product.

† PLEASE NOTE: The intention of the information above is for reference only. It is our goal to maintain and display accurate information. Yet, we can't guarantee it represents the latest formulation of the product. If you have any concerns, please visit the manufacturer's web site. Also the information above is not a representation of our views at Same Day Supplements. These are the views and information provided by product's manufacturer. The Food and Drug Administration has not evaluated these statements. The intention of this product is not to diagnose, treat, cure or prevent any disease or illness.

*Prices are subject to change at any time and items may limit to stock on hand
More Information
More Information

| | |
| --- | --- |
| SKU | HIT-0017 |
| Weight | 0.1100 |
| Manufacturer | Hi-Tech Pharmaceuticals |
| UPC | 811836020922 |
Questions (0)