Dust Extreme, By Blackstone Labs
The Perfect Pre Workout
Naturally and Artifically Flavored
More Information

| | |
| --- | --- |
| SKU | DUST-EXTREME-DMAA |
| Manufacturer | BlackStone Labs |
Details
Dust Extreme By Blackstone Labs - Pre Workout
It is a dark time for pre-workouts. Industry over regulation and arbitrary bans have driven supplement compounds back from their rightful homes atop the fitness hierarchy. Some have managed to survive and still work well, but many report that things just aren't what they used to be. A new hope has arisen for all of you stimulant junkies. Evading the dreaded regulatory powers that be, a group of freedom fighters have pushed back against the seemingly inexorable tide of wussification in fitness supplements. Lead by Blackstone Labs, these liberators of ferocity have taken back what is rightfully theirs in the galaxy of hardcore substances from our secret base in Boca Raton. Behold: Dust Extreme cometh! Don't get us wrong, Dust still sits upon the iron throne of pre-workout formulas, that much can not be denied, but,a sizeable contingent of people seeking the truly profane still exists. We haven't forgotten about you and would like to extend an olive branch of sorts.
What Is Blackstone Labs Dust Extreme?
Dust Extreme is Blackstone Labs new, balls-to-the-wall, over-the-top, forbidden formula. The bulls are out of the pen and running wild. Dust Extreme now comes with a whopping 4g of Citrulline Malate and 1g of Agmatine Sulfate. Rich, full, swole; go hard all day with a pump that lasts all damn day. For an extra added boost, Dust Extreme includes 350 mg of caffeine anhydrous. Rocket straight out of the station and get right to work with the additional jolt from fast-absorbing, highly-stimulating caffeine. It doesn't stop there! Get ready to experience a pre workout like never before. At the gym, home, or wherever you train, distractions are always present. While taking many forms, the result and detriment to your hard work stays the same. Don't let anything stand in your way and stay focused. We all understand the importance of diligence in the gym. We want to remove distractions from the picture.
Key Ingredients In Dust Extreme:
Beta Alanine - Helps

reduces lactic acid build up while training allowing for more sets and reps throughout the course of a workout.

Citrulline Malate 2:1 -

Citrulline Malate actively delays pH buildup in the muscles. By keeping muscle pH levels at a manageable level, Citrulline Malate aids in recovery and helps to alleviate soreness.



Caffeine Anhydrous - T

riggers a range of performance-specific benefits including improved focus, elevated alertness, faster reaction time, reduced fatigue, increased endurance and elevated mood.

L-Tyrosine -

B

enefits include mood enhancement, counteracting negative side effects of stimulants by lowering anxiety, and promoting healthy blood pressure during times of stress

.
What Kind of Results Can I Expect From Using Dust Extreme?
Extreme Focus
Shredded Muscle Pumps
Explosive Strength and Power
Extreme Energy Release
Enhanced Athletic Performance
What's In Blackstone Labs Dust Extreme?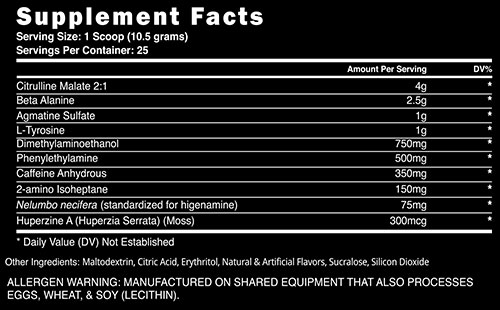 How Do I Take Blackstone Labs Dust Extreme?
On training days take 1 scoop of Dust Extreme 30 mins before your workout. On non-training days take 1 scoop of Dust Extreme in the morning. *DUE TO EXTREME POTENCY, NEW USERS MAY WANT TO ASSESS TOLERANCE WITH 1/2 SCOOP OF DUST EXTREME .*
Warnings:
Do not exceed 1 scoop of Dust Extreme per day. Keep Out of Reach of Children. California Residents Prop 65 WARNING: This product contains a substance known to the State of California to cause birth defects or other reproductive harm.
PLEASE NOTE: Product image is representative of the product offered but may not have the exact attributes. Please read product description for the specific attributes of this product.
PLEASE NOTE: The information above is intended for reference only. While we attempt to keep our information accurate, we cannot guarantee it is an accurate representation of the latest formulation of the product. If you have any concerns, please visit the vendor's web site. The information above are the views of the product's manufacturer, not the views of Same Day Supplements. These statements have not been evaluated by the Food and Drug Administration. This product is not intended to diagnose, treat, cure or prevent any disease.
*Prices are subject to change at any time and some items are limited to stock on hand.
More Information
More Information

| | |
| --- | --- |
| SKU | DUST-EXTREME-DMAA |
| Manufacturer | BlackStone Labs |
Questions (0)