Hype Reloaded - Blackstone Labs
Benefits and Results:
Skin Splitting Pumps†
Increased Vascularity†
Extreme Cell Volumization†
Frequently Bought Together
Hype Reloaded By Blackstone Labs - Pump Complex
If you love Hype, then you'll love Hype Reloaded even more. This formula is stronger than the original to give you the best of the best when it comes to muscle pumps.
What Is It?
Hype Reloaded contains ingredients to promote blood flow and nitric oxide production. This results in skin-splitting pumps and extreme cell volumization. It is also stimulant-free so it will never disrupt your sleep schedule.
How Does It Work?
Ingredients:
Citrulline Malate 2:1: Enhances nitric oxide production by increasing arginine levels in the blood. †
Glycerol Monostearate: Can improve hydration and increases the absorption of other supplements. †
Alpha GPC (L-alpha-glycerylphosphorylcholine): Can improve mental and physical performance. †
Icariin Horny Goat Weed extract: Enhances nitric oxide synthase to promote greater blood flow. †
Potassium: Helps transfer nutrients through cell membranes. †
L-Norvaline: Further promotes Arginase activity for longer-lasting pumps. †
Who Should Take It?
This product is perfect for anyone looking to seriously improve their muscle pumps. †
Who Shouldn't Take It?
It is unsafe to take this with other nitrate-containing products or medications. Please consult with your physician before use.
Featured Customer Reviews:
Review by Oscar:
Best pump supplement
FAQ:
Is this a pre-workout?
This doesn't contain ingredients that will drastically enhance your energy, but it is a stimulant free pre workout drink.
Will this product give me jitters?
Users have not experienced jitters or shakes. †
Can this be stacked with a pre-workout?
Since this doesn't contain any stimulants, it should be safe to pair with a pre-workout.
Will this show up on a drug test?
This does not contain any stimulants or prohormones so it should not show up on a drug test. It is best to consult with your physician or sports organization before use if you have any concerns.
Can women take this?
Yes! This product can benefit both men and women.
Comparisons:
VS Blackstone Labs Hype: This contains very similar ingredients. However, Hype Reloaded is the stronger version of Hype.
VS Nutrex Alpha Pump: Both contain ingredients to increase muscle pumps and power output. This product also contains ingredients to support muscle recovery and energy.
VS Animal Pump Pro: This contains 5000mg of creatine, which will help you build more muscle. This is a stronger formula than Hype Reloaded.
Stacks:
This product can be stacked with creatine or protein if your goal is grow more muscle. It can also be paired with another pre-workout for extra energy, as it does not contain caffeine.
How Do I Take It?
Directions and Dosages:
As a dietary supplement, take one (1) scoop mixed with 6-8 oz. of water, 30 minutes before a workout. Do not exceed one (1) scoop per 24 hour period.
What's In Hype Reloaded?
Hype Reloaded Supplement Facts / Label: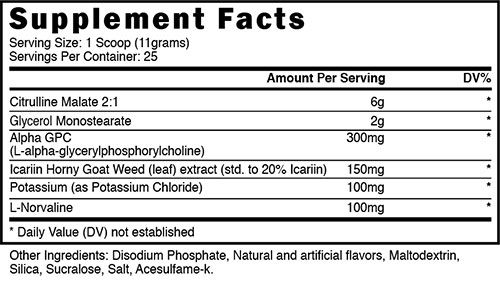 Warnings and Side Effects:
This product is intended to be consumed by healthy adults 18 years of age or older. This product should only be used under medical or dietetic supervision. This product is not intended as a sole source of nutrition and should be consumed in conjunction with an appropriate physical training or exercise program.
Do not take this product if:
You are pregnant or nursing
You have any current or pre-existing medical conditions
You are currently taking any prescription or over-the-counter medications intended to promote vasodilation and/or erectile dysfunction
You take other nitrate-containing medications, as this can cause an unsafe drop in blood pressure.
Do not consume more than one serving per day. Keep out of reach of children.
Disclaimer:
PLEASE NOTE: Product images represent the product offered but may not contain exact attributes. Please read the product description for the specific attributes of this product.
†PLEASE NOTE: The intention of the information above is for reference only. It is our goal to maintain and display accurate information. Yet, we can't guarantee it represents the latest formulation of the product. If you have any concerns, please visit the manufacturer's website. The information above is not a representation of our views at Same Day Supplements. These are the views and information provided by the product's manufacturer. The Food and Drug Administration has not evaluated these statements. The intention of this product is not to diagnose, treat, cure or prevent any disease or illness.
*Prices are subject to change at any time and items may limit to stock on hand.
Other:
In-stock orders placed before 3pm EST ship out the same day.
We offer many shipping options to countries like:
Brazil
United Kingdom
Canada
Germany
Australia
Japan
India
France
Israel
Worldwide
More Information

| | |
| --- | --- |
| SKU | HYPE-RELOADED |
| Manufacturer | BlackStone Labs |
Customer Reviews
Review Disclaimer:
The reviews posted below are based on individual customer experiences and not views or guarantees from SameDaySupplements.com. These results are not be typical. Actual results may vary.
Top customer reviews
Goes great with dust x

Love it