Allmax D-Aspartic Acid - 100 Grams
Benefits and Results:
Boosts Natural Testosterone†
Backed by Clinical Research†
Increase in Strength†
Frequently Bought Together
Allmax Nutrition D-Aspartic Acid  - 100 Grams - Testosterone Stimulator
Clinical research has shown that Allmax D-Aspartic Acid can increase Testosterone by 42% in just 12 days! You can experience improvements in and out of the gym.
What Is It?
Allmax D-Aspartic Acid is a natural testosterone booster. As men age, their testosterone levels start to decrease. Higher levels of testosterone can lead to increased muscle strength, libido, and fertility.
How Does It Work?
Ingredients:
D-Aspartic Acid: Can increase natural testosterone levels – which can lead to enhanced libido and sexual performance. †
Who Should Take It?
This product is person for men who are looking to boost their natural testosterone levels.
Who Shouldn't Take It?
This product should not be consumed by women. Please consult with your physician before use if you have a known medical condition or are taking medication.
Featured Customer Reviews:
Review by Stimow:
not all ppl know the benefits of the D aspartic acid ...its a great product !
FAQ:
Can women take this?
This product is not recommended for use by women.
Should I cycle this?
This product works best when taking 2 weeks on and 1 week off.
When is the best time to take this?
It is recommended to take this in the morning on an empty stomach.
Will this make me lose hair?
It should not result in hair loss. †
Comparisons:
VS Purus Labs DPOL: These contain the same amount of DAA. However, DPOL also contains NO3-T Sodium Nitrate to increase blood flow and oxygen transportation. It also has vitamins D3, B6, B9, and B12, while Allmax D-Aspartic Acid only contains DAA.
VS Hi Tech Tribesterone: This only contains Bulgarian Tribulus Extract, to support increased testosterone and libido.
VS Blue Star Status: This product contains Ashwagandha and Diindolylmethane to boost testosterone and fertility.
Stacks:
For additional increases in testosterone, you can try pairing this with Fenugreek.
How Do I Take It?
Directions and Dosages:
Mix 1 rounded teaspoon (3.12g) in water or juice once daily upon waking on an empty stomach.
What's In Allmax D-Aspartic Acid?
Supplement Facts / Label: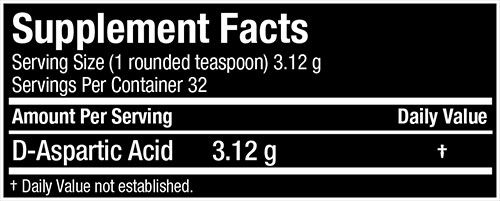 Warnings and Side Effects:
For adult use only. Consult a healthcare practitioner prior to use if you:
Have a kidney disorder
Are pregnant or breastfeeding
Are taking prescription medication
Are taking hormone replacement therapy
Have medical conditions.
This product is not recommended for women. Keep out of reach of children. Store in a cool, dry place.
CALIFORNIA WARNING: Lead is known to the State of California to cause birth defects or reproductive harm. Consuming this product can expose you to more than 0.0000005 g of lead. For more information, go to www.P65Warnings.ca.gov.
ALLERGEN WARNING: Produced in a facility that also handles milk, soy, egg, tree nut, peanut, fish, crustacean, and shellfish products.
This product contains ingredients that may be banned by some sports organizations and/or increase risk of false positive on a drug test. Please consult with your sport organization or physician before taking this product.
Disclaimer:
PLEASE NOTE: Product images represent the product offered but may not contain exact attributes. Please read the product description for the specific attributes of this product.
†PLEASE NOTE: The intention of the information above is for reference only. It is our goal to maintain and display accurate information. Yet, we can't guarantee it represents the latest formulation of the product. If you have any concerns, please visit the manufacturer's website. The information above is not a representation of our views at Same Day Supplements. These are the views and information provided by the product's manufacturer. The Food and Drug Administration has not evaluated these statements. The intention of this product is not to diagnose, treat, cure or prevent any disease or illness.
*Prices are subject to change at any time and items may limit to stock on hand.
References:
In-stock orders placed before 3pm EST ship out the same day.
We offer many shipping options to countries like:
Brazil
United Kingdom
Canada
Germany
Australia
Japan
India
France
Israel
Worldwide
More Information

| | |
| --- | --- |
| SKU | AMN-0131 |
| Weight | 0.3000 |
| Manufacturer | AllMax Nutrition |
| UPC | 665553202112 |
Customer Reviews
Great

not all ppl know the benefits of the D aspartic acid ...its a great product !