Carnivor Mass By MuscleMeds
Carnivor Mass Benefits and Results:
720 Muscle-Building Calories †
50g Hydrolyzed Beef Protein Isolate †
125g High Impact Reactive Carbs †
1.5g Fat and NO Sugar †
Loaded With Creatine and BCAAs †
Carnivor Mass By MuscleMeds- Weight Gainer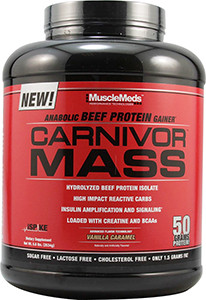 Ignite Anabolism!
It takes more than just calories to gain muscle mass. In order to stimulate muscle growth without accumulating body fat, it takes both calories and improved nutrient partitioning to create a highly anabolic environment. This is best achieved with (1) properly timed, high-speed macronutrient delivery and (2) properly-timed insulin optimization.
1.
High-Speed Macronutrient Delivery:
Proteins and carbohydrates that are absorbed at high speeds can help spike your blood amino acid and glucose levels. In turn, this stimulates the potential for higher speeds of protein and glycogen synthesis (anabolism), which can result in faster gains in muscle mass.
2.
Properly-Timed Insulin Optimization:
Insulin is a powerful muscle growth and recovery hormone, so much so that pro bodybuilders and athletes seek to increase their natural product and proclaim amazingly fast gains. Yes, insulin is that anabolic and effectively triggers muscle growth, especially in combination with a fast acting protein. Read on to discover how MuscleMeds Carnivor Mass can help you reap insulin's extreme muscle building effects.
You Can Feel The Anabolic Impact
MuscleMeds Carnivor Mass is called by some "an anabolic superfood" and is more advanced than the typical mass gainer. Where regular foods and typical gainers may be limited in terms of speed of absorption and the potential for insulin spiking, MuscleMeds Carnivor Mass excels. It combines a unique best-of-breed hydrolyzed beef protein isolate (BPI) with a dual-action insulin signal amplifying technology known as iSpike™. BPI and iSpike act in tandem to support improved muscle anabolism while minimizing fat storage. MuscleMeds Carnivor Mass is a fast, clean and highly anabolic gainer. Welcome to a new era in mass building supplementation with MuscleMeds Carnivor Mass, the fast, clean, highly anabolic mass gainer!
Beef Protein Isolate: Beef has proven itself as an anabolic protein over centuries of use. Now MuscleMeds provides bodybuilders with a beef protein isolated from its proprietary matrix and giving it the freedom to spike blood amino acid and insulin levels at speeds comparable with whey – resulting high impact anabolic effects. MuscleMeds beef protein isolate (BPI) is 350% more concentrated in amino acids than steak and more concentrated than whey, with no fat or cholesterol. Plus MuscleMeds Carnivor Mass is further enhanced with 5 grams of creatine and fortified with BCAAs for additional anabolic power. With MuscleMeds Carnivor Mass, you get the mass building benefits of beef protein at the speed of whey without the lactose, allergies and other issues potentially associated with the use of dairy products.
Ideal Times of Use:
With its Beef Protein Isolate and iSpike Technology, MuscleMeds Carnivor Mass allows the advanced bodybuilder to benefit from high-speed macronutrient delivery and improved insulin management in one convenient product. Because its insulin-spiking actions last 30 minutes up to 2 hours), MuscleMeds Carnivor Mass is ideal for consumption:
Post-workout (to speed recovery and muscle growth).
Upon awakening in the morning (to suppress catabolism and restore anabolism).
Any other time when several hours have passed since your last meal.
What To Expect:
In a pre-market consumer test conducted by the MuscleMeds R&D team, bodybuilders using MuscleMeds Carnivor Mass according to the directions and in conjunction with their weight training regimen reported benefits *including but not limited to:
1-7 days of use: Increases in muscle fullness and strength; faster recovery from workouts.
7-14 days of use: Additional increases in muscle strength; reduction in perceived effort ; sensation of greater overall power; reports of gains of 2 lbs. or more.
1 days and beyond: Significant increases in muscle mass, strength and power
*Results may not be typical
What's in MuscleMeds Carnivor Mass?

How to Take MuscleMeds Carnivor Mass:
Add 16 fl. oz. of water to a shaker bottle, blender or other container. Add 4 scoops of MuscleMeds Carnivor Mass. Mix or blend until the desired texture is achieved before drinking. For a thicker, sweeter shake, add less water. For a thinner shake, add more water.
Warnings:
Keep out of reach of children. Store at 15-30C (59-86F). Protect from heat, light and moisture. Do not purchase if seal is broken.
This product is manufactured in GMP compliant facilities and meets the highest quality standards. All ingredients meet the standards enforced by the U.S. Food and Drug Administration. The state of California requires the following warning:
WARNING: Consuming this product can expose you to chemicals including lead which is known to the state of California to cause cancer and birth defects or other reproductive harm. For more information go to www.P65Warnings.ca.gov/food.
PLEASE NOTE: Product image is representative of the product offered but may not have the exact attributes. Please read product description for the specific attributes of this product.
PLEASE NOTE: The information above is intended for reference only. While we attempt to keep our information accurate, we cannot guarantee it is an accurate representation of the latest formulation of the product. If you have any concerns, please visit the vendor's web site. The information above are the views of the product's manufacturer, not the views of Same Day Supplements. These statements have not been evaluated by the Food and Drug Administration. This product is not intended to diagnose, treat, cure or prevent any disease.
*Prices are subject to change at any time and some items are limited to stock on hand.
In-stock orders placed before 3pm EST ship out the same day.
We offer many shipping options to countries like:
Brazil
United Kingdom
Canada
Germany
Australia
Japan
India
France
Israel
Worldwide
More Information

| | |
| --- | --- |
| SKU | CARNIVOR-MASS |
| Manufacturer | MuscleMeds |
Customer Reviews
Good Product

This product has been helpful in gaining muscle mass.

Review

I love the taste quality effectiveness and the fact it gona last me a while till I have to buy more

Does its job!

This mass gainer helped me achieve the caloric surplus I needed to gain weight and put on some mass. I have gained around 25lbs of mass (muscle plus fat). Important to notice that it was not the mass gainer by itself, I also had to increase my meal portions and frequency. I tried strawberry flavor and it's got a very good taste. The product mixes well though I use a blender, I haven't tried with a shaker cup. This will be one of my main options for bulking.

Great shake!

I'm 6'1" and only about 165lbs. I really want to gain mass, so I tried this. Watch the video review; it's pretty accurate. I had some random issues with mixability. Like 2 out of 14 total shakes I've had chunks of caramel or powder that were like molasses, BUT they were very tasty. :) The flavor is good, but I'm going with strawberry this time. I do wish there were more than 14 servings. I really like muscle meds products. Get this one!

Great

Fast delivery, nice service, good product.

Carnivor Mass

The product is good and the shipment was fast, i will order again.

Good stuff

Works well, mixes well, tastes good. No complaints. Great product!

Carnivor Mass

Beef protein weight gainer! Tastes Great and mixes well too!