Tropinol XP By iForce Nutrition, 100 Caps
Tropinol XP Benefits and Results:
Advanced Androgenic and Testosterone Booster †
Lean, Dense, Hard Muscle †
Increases Libido †
Enhances Workout Intensity and Endurance †
Provides Massive Pumps †
Tropinol XP By iForce Nutrition - 100 Caps - Muscle Builder
Testosterone is the key deciding factor in how much muscle you can gain. Too little testosterone, and no matter how well you eat, no matter how hard you train, and no matter how much you wish it would happen, you just won't grow. Testosterone is what separates boys from men, and odds are that your testosterone is lower now than it has been since before you hit puberty. That means there is only one solution to adding slabs of lean, hard, and dense muscle to your frame, and that is MORE testosterone. The most effective way to enhance your testosterone to super-human limits is to use iForce Tropinol XP, the most advanced testosterone booster ever created.
Every Single Angle is Covered:
Tropinol XP is the one testosterone booster on the market that focuses on using only clinically proven compounds to ensure that your testosterone is raised higher than ever before, and that you can actually FEEL the extra testosterone coursing through your body. Having a massive increase in testosterone can give users a huge increase in libido, alpha-male mentality, workout intensity & endurance, serious size and strength gains, and even provides a massive pump unlike anything you've ever experienced before!
Unlocking Your Growth Potential:
Testosterone works by floating through our blood stream, and coming in contact and connecting with Androgen Receptors. Androgen Receptors are similar to a lock in a door, in that they sit there and do nothing until a key is used to either lock or unlock them. In this instance, testosterone is the key and its purpose is to unlock the Androgen Receptor. By "unlocking" or activating our Androgen Receptors with testosterone, we send a signal to our brain that it is time to GROW. The more androgen receptors you have "unlocked", the stronger the signal to the brain, and the stronger the growth signal will be to your muscles. iForce Nutrition just released the strongest all natural product the world has ever seen. It is the ONLY natural product that can raise testosterone levels into the supra-physiological level. That's right. It's the ONLY one. Stop wasting your time on a product that boasts a measly 42% increase in testosterone, and use one that actual works! This product has been in the works almost an entire year, and after countless hours spent on research and development, iForce is confident we are years ahead of our time, and we will all see pigs flying before a stronger natural product is created.
Nothing Like It Has Ever Been Made:
With this in mind, it would seem to make sense that a testosterone booster would not only increase how much testosterone we have in our body, but would also find a way to activate more Androgen Receptors, as well as making every single Androgen Receptor more sensitive. While this may seem logical, no formula has ever been able to accomplish this until now! iForce Tropinol XP will flood your body with INSANE amounts of testosterone, while simultaneously sensitizing, and activating every single Androgen Receptor physically possible. This potent combination is a 1-2 punch that will deliver IMMEDIATE results.
Feel The Surge!
Imagine raising your testosterone level so high that you can actually FEEL the surge as it rushes through your veins. This cascade of hormonal overload will enable you to up your intensity and endurance on your very first dose! No longer do you have to wait the typical 4-6 weeks for a testosterone booster to start showing any sort of effects, as Tropinol XP will have you pushing out more reps, with higher weights instantaneously. By harnessing the power of our bodies natural cellular signaling mechanisms, iForce Tropinol XP will provide your muscles with additional blood, oxygen, and nutrients to ensure that every single workout causes your body to be pushed to the absolute max, resulting in the quickest gains in size and strength you have ever experienced.
Dry Up and Lean Out:
When our testosterone is absolutely maxed out, our libido is at its highest in years, and our muscles are primed and full, it's important to LOOK as good as we feel! Tropinol XP ensures that you will not only feel amazing, but you will look your best as well. Through the use of key compounds, iForce Tropinol XP will force your body to release stubborn water stores to help give you that dry and lean look that every athlete desires. This means your muscles will show more definition, you'll lose useless body weight, and be able to literally WATCH as your body transforms right in front of your eyes!
Put It To The Test:
Never settle for anything less than the absolute best. Tropinol XP contains the most tried and true ingredients ever put together in a testosterone booster, and will work so well you can actually FEEL the insane increase in testosterone as is surges through your body. Just 1 dose to feel the magic… imagine what you'll feel in 30 days!
What's In iForce Nutrition Tropinol XP?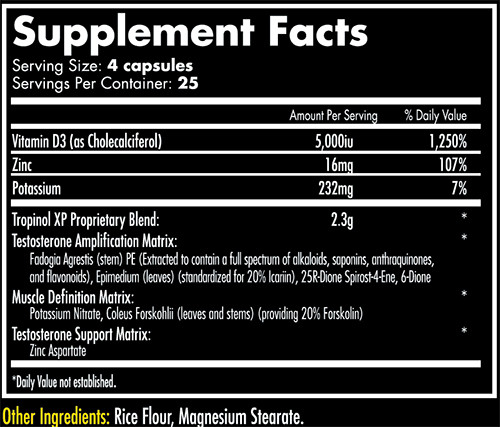 How to Take iForce Nutrition Tropinol XP:
Workout Days: On workout days, consume 4 servings (4 capsules) of Tropinol XP approximately 30-60 minutes pre-workout. Non Workout Days: On non-workout days, consume 2 servings (2 capsules) upon waking, and an additional 2 servings (2 capsules) approximately 6-8 hours later. Do not use Tropinol XP for longer than 8 continuous weeks without a 4 week break afterward. For continuous gains, you may begin using Intimidate SRT directly after your 8 week cycle of Tropinol XP.
Warnings:
Exceeding the recommended servings, not following the directions, or not following the warnings may lead to unwanted effects. This product is only intended to be consumed by healthy individuals 18 years of age or older. Pregnant or nursing women should not use this product. Consult with your health care provider before using this product, especially if you are taking any prescription, over the counter medication, dietary supplement product or if you have any pre-existing medical condition including but not limited to:
High or low blood pressure, cardiac arrhythmia, stroke, heart, liver, kidney or thyroid disease, seizure disorder, psychiatric disease, diabetes, difficulty urinating due to prostate enlargement or if you are taking MAO-B inhibitor or any other medication, including but not limited to MAOIs, SSRIs or any other compounds with serotonergic activity. Do not combine with alcohol. Discontinue use and immediately consult your health care professional if you experience any adverse reaction to this product. Do not exceed recommended serving. Do not use if safety seal is broken or missing. User assumes all risks, liabilities or consequences respecting testing. Keep Out Of Reach Of Children. Please store in a cool dry place.
PLEASE NOTE: Product image is representative of the product offered but may not have the exact attributes. Please read product description for the specific attributes of this product.
PLEASE NOTE: The information above is intended for reference only. While we attempt to keep our information accurate, we cannot guarantee it is an accurate representation of the latest formulation of the product. If you have any concerns, please visit the vendor's web site. The information above are the views of the product's manufacturer, not the views of Same Day Supplements. These statements have not been evaluated by the Food and Drug Administration. This product is not intended to diagnose, treat, cure or prevent any disease.
*Prices are subject to change at any time and some items are limited to stock on hand.
In-stock orders placed before 3pm EST ship out the same day.
We offer many shipping options to countries like:
Brazil
United Kingdom
Canada
Germany
Australia
Japan
India
France
Israel
Worldwide
More Information

| | |
| --- | --- |
| SKU | IF-0045 |
| Weight | 0.3300 |
| Manufacturer | iFORCE NUTRITION |
| UPC | 081950001200 |