Thorne Calcium Magnesium Malate - 240 Capsules
Benefits and Results:
Magnesium relaxes smooth and skeletal muscle.†
Magnesium and enzymes are cofactors needed to produce cellular energy.†
Frequently Bought Together
Thorne Calcium Magnesium Malate - 240 Capsules - Vitamin/Minerals
What is it?
Thorne's Calcium-Magnesium Malate is a convenient way to support bone and muscle health.† The easy-to-consume calcium and magnesium supplement is in an optimally absorbed form, so the minerals can get to work right away.†
How Does it Work?
Magnesium and calcium work together in muscle cells – magnesium causes muscle fibers to relax, while calcium causes them to contract.† And because the heart is a muscle these minerals are both important to help maintain normal hearth rhythm.†
Ingredients:
Calcium (Malate)
Magnesium (Malate)
Other Ingredients: Hypromellose (derived from cellulose) capsule, medium chain triglyceride oil, Calcium Laurate
What Can I Expect?
Calcium-Magnesium Malate provides a balanced blend of calcium and magnesium, both essential for bone density.† Magnesium also supports heart and lung health and muscle relaxation.†
Featured Customer Review:
Kristi B.- Good quality and reasonably priced!
As with the other supplements I get from you, these are easy to swallow. Some companies give those hard, big pills that seem to have an edge on them.
Amanda K.- Great addition
I really like this magnesium and it's at a fantastic price! Thorne is by far one of my favorite supplement brands.
Nancy A.- This is my go-to calcium!
I have taken this calcium for several years now and it is easy to digest and seems to be well absorbed. I recommend it to others who need to increase calcium intake. I try to avoid dairy due to food sensitivity.
Similar Alternative Products:
How Do I Take Thorne Calcium Magnesium Malate?
Suggested Dosage and Directions:
Take 1 capsule three times daily or as recommended by a health-care practitioner.
What's In Thorne Calcium Magnesium Malate?
Supplement Facts/Label: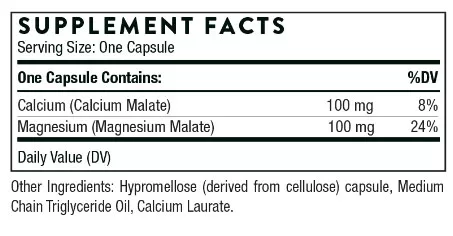 Warning and Side Effects:
This product is contraindicated in an individual with a history of hypersensitivity to any of its ingredients. If pregnant, consult your health-care practitioner before using this product. Gas, bloating, or diarrhea can occur in some individuals taking magnesium supplements. This can occur at varying amounts depending on the individual and will resolve when the amount is reduced.
Disclaimer:
PLEASE NOTE: Product images represent the product offered but may not contain exact attributes. Please read the product description for the specific attributes of this product.
†PLEASE NOTE: The intention of the information above is for reference only. It is our goal to maintain and display accurate information. Yet, we can't guarantee it represents the latest formulation of the product. If you have any concerns, please visit the manufacturer's website. The information above is not a representation of our views at Same Day Supplements. These are the views and information provided by the product's manufacturer. The Food and Drug Administration has not evaluated these statements. The intention of this product is not to diagnose, treat, cure or prevent any disease or illness.
*Prices are subject to change at any time and items may limit to stock on hand.
Other Information:
Visit Thorne's website for more information.
In-stock orders placed before 3pm EST ship out the same day.
We offer many shipping options to countries like:
Brazil
United Kingdom
Canada
Germany
Australia
Japan
India
France
Israel
Worldwide
More Information

| | |
| --- | --- |
| SKU | TH-0019 |
| Weight | 0.680000 |
| Manufacturer | Thorne |
| UPC | 693749006718 |
Customer Reviews
Review Disclaimer:
The reviews posted below are based on individual customer experiences and not views or guarantees from SameDaySupplements.com. These results are not be typical. Actual results may vary.
Top customer reviews